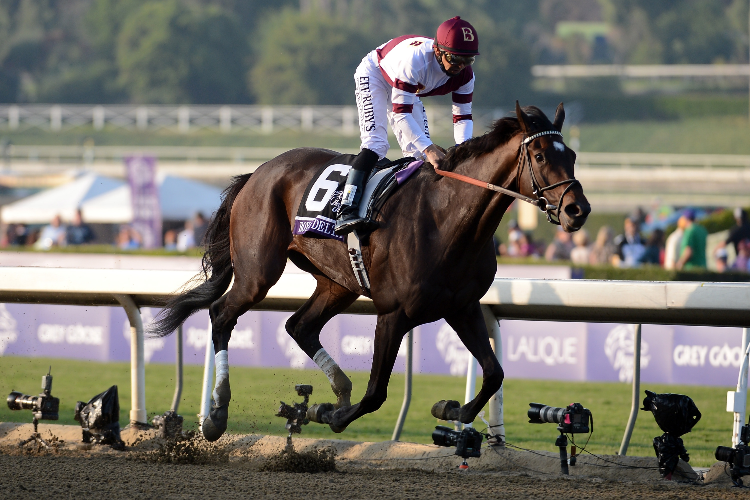 The 2019 induction class is comprised of jockey Craig Perret, champion racehorses Royal Delta, My Juliet and Waya and 12 noted racing industry figures to be recognised as Pillars of the Turf.
The dozen illuminaries to be inducted are James E. "Ted" Bassett III, Christopher T. Chenery, Richard L. "Dick" Duchossois, William S. Farish, John Hettinger, James R. Keene, Frank E. "Jimmy" Kilroe, Gladys Mills Phipps, Ogden Phipps, Helen Hay Whitney, Marylou Whitney and Warren Wright Sr.
Perret and Royal Delta were elected to the Hall via the contemporary voting process; My Juliet and Waya were chosen by the Museum's Historic Review Committee; and the Pillars were selected by the Pillars of the Turf Committee.
Craig Perret, 68, was North America's leading apprentice jockey by earnings in 1967 and won the 1990 Eclipse Award for Outstanding Jockey.
He won 4415 races in a career that spanned almost 40 years that included the Kentucky Derby, Belmont Stakes, four Breeders' Cup races, the Travers Stakes twice and Queen's Plate twice.
Royal Delta, trained by Hall of Famer Bill Mott, won three Eclipse Awards as Champion 3-Year-Old Filly in 2011 and Champion Older Mare in 2012 and 2013.
She won consecutive runnings of the GI Breeders' Cup Ladies Classic among nine graded stakes wins including six G1 events, retiring with a record of 12 wins and six placings from 22 starts for earnings of $4,811,126.
My Juliet won the 1976 Eclipse Award for Champion Sprinter before there were separate championship designations for males and females.
My Juliet raced 36 times with a record of 24-4-2 and earnings of $548,859 including 17 stakes wins.
Waya, a filly bred in France where she competed for her owner/breeder Daniel Wildenstein and trainer Angel Penna, Sr, won the G2 Prix de l'Opera and the G3 Prix de Royaumont as a 3-year-old before being sent to the US at age four.
In her first American campaign, Waya equalled the world record for nine furlongs on grass en route to winning the G1 Diana Handicap at Saratoga.
She also defeated males in the G1 Man o' War Stakes and G1 Turf Classic at Belmont before she was sold to George Strawbridge, Jr. and Peter M. Brant prior to her 5YO season.
She went on to win the 1979 Eclipse Award for Champion Older Mare while being trained by David Whiteley, winning five stakes that year including three G1 races.
Waya was retired with a record of 14-6-4 from 29 starts and earnings of $822,948.
Among the most notable of the Pillars of the Turf inductees, William S. Farish, 80, is the renowned owner of Lane's End Farm in Kentucky that is recognized as one of the world's leading breeding operations.
He has been a two-time Eclipse Award winner for Outstanding Breeder, served as the Chairman of the Board of Churchill Downs from 1992 until 2001 and won the Eclipse Award of Merit in 2009.
Farish has raced more than 165 stakes winners and Lane's End has bred more than 300 stakes winners including Horse of the Year winners A.P. Indy, Charismatic and Mineshaft and Lemon Drop Kid.
Ogden Phipps (1908-2002) graduated from Harvard University and served in the Navy in World War II before he bought a group of horses from the estate of Col. E. R. Bradley's dispersal in 1946 that built on his family's already extensive legacy in racing.
Breeding and developing his horses at Claiborne Farm, Phipps bred 12 champions and was the leading breeder in money won twice.
He won two Eclipse Awards as outstanding owner and one as outstanding breeder, having bred 108 stakes winners either individually or in partnership.
Marylou Whitney, 93, is a renowned actress, author and philanthropic socialite who took up her pursuit of racing following the death of her husband CV Whitney in 1992.
She spent a substantial amount of time and money trying to buy back mares associated with the Whitney family for breeding including Dear Birdie, who was named Broodmare of the Year in 2004, dam of the classic winner Birdstone and Bird Town, who gave Mrs. Whitney the distinction of being the only woman to breed and own a Kentucky Oaks winner.
She is one of the founding members of the Thoroughbred Retirement Foundation and a major contributor to the Secretariat Center at the Kentucky Horse Park, being an advocate for finding retired thoroughbreds new careers and homes once their racing careers have ended.
Also known for her substantial charitable work with stable workers, Mrs. Whitney was awarded the Eclipse Award of Merit in 2010 and was elected to The Jockey Club the following year.