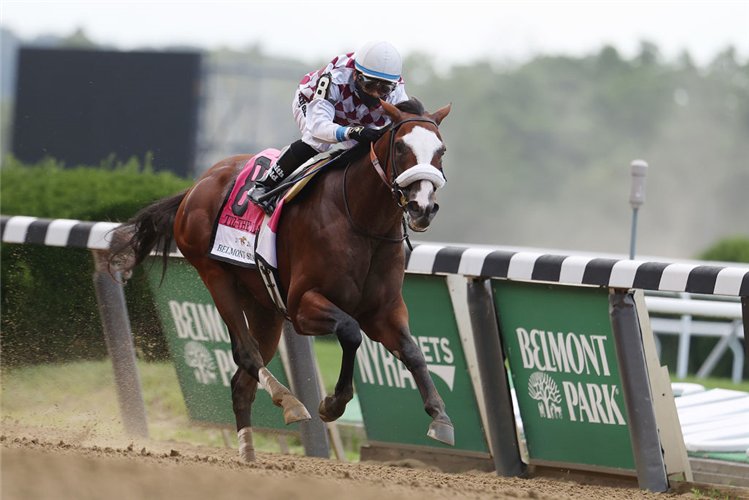 In winning all four of his starts in 2020, the Barclay Tagg-trained colt has barely put a foot wrong, taking three G1s – Florida Derby, Belmont and Travers – to firmly establish himself as the leader of his generation ahead of the $3 million contest.
That's why Tiz The Law (Manny Franco) is odds on to emulate Funny Cide, his fellow New York-bred who won the Kentucky Derby for owners Sackatoga Stable and veteran trainer Tagg back in 2003 – when the race was run in its traditional slot, the first Saturday in May, and not the first Saturday in September in this COVID-19 year.
More than any of Tiz The Law's opponents, certain other factors may be cause for concern for his connections. A draw in gate 17 out of 18 can hardly be regarded as a bonus, while the dirt surface was sloppy for midweek workouts after rain at Churchill Downs, where Tiz The Law suffered his only career defeat as a two-year-old – on a wet track.
With Art Collector ruled out with a foot issue and set to rejoin the fray for the Preakness, other leading fancies are the Bob Baffert pair Authentic (John Velazquez) and Thousand Words (Florent Geroux) plus Santa Anita Derby winner Honor A.P. (John Shirreffs/Mike Smith).
British jockey Adam Beschizza makes his Derby debut on Enforceable (Mark Casse), while there is a doubt over King Guillermo, who missed his Thursday workout over a minor ailment. "It's a big race and a little problem is a big problem for me," suggested trainer Juan Carlos Avila.
Shall we talk about it?
Attachment Rate: "I thought his race at Ellis made him worthy of trying the Derby. It's just an honour to be involved in the Derby and this horse keeps showing he's not reached his best yet." Dale Romans (trainer)
Authentic: "He's coming up to the race in great shape, and that's all you can ask for right now. I've really seen a big difference in Authentic since his Haskell win. He's maturing now and he shipped a lot better than he did going to the Haskell. He's probably my best chance, but he is going to have to break well from that outside post; he's going to have to use him up a little bit to get position." Bob Baffert (trainer)
Enforceable: "I kind of feel like each day, he's gotten bigger and better, and his race in the Blue Grass, I thought it was a good race. Obviously speed is dangerous at Keeneland and there was no way that he could have been 100% ready for that given that he had two months off. I thought it was a good comeback race. He was probably 80-85% and I feel he's 100% now. That's why we're trying it." Mark Casse (trainer)
Finnick The Fierce: "He always showed a lot of talent, he was very smart. When we ran in the Kentucky Jockey Club, it was pretty much the eventual top three-year-olds in that race. And when you run second over the same track you run the Derby, it gives you a good feeling." Rey Hernandez (co-owner and trainer)
Honor A.P.: "He's really coming into this very well – I'm very happy with him and we're good to go. Now we just need a bit of luck. You need some of that in that race." John Shirreffs (trainer)
Max Player: "He goes over the racetrack very well. I think his energy level is great. I'm extremely excited about how he's going to run. I love how he looks going over the racetrack. His attitude is really good; he is coming into the race in great shape." Steve Asmussen (trainer)
Money Moves: "We got together after his last breeze and weighed the pros and cons and they [ownership group] felt like we don't get these opportunities but once in a horse's life, so let's take a shot. He's a horse who has some tactical speed so I think we'll try and establish position going into the first turn and work out the best trip from there." Todd Pletcher (trainer)
Mr. Big News: "I know we don't have some of the numbers like Tiz The Law and Honor A.P. but this horse is improving. I think he is absolutely going to love the distance and will make a big run late."
Chester Thomas (owner)
NY Traffic: "Blinkers seem to have really taken him to a new aspect – he's more steady in his races, more focused. He's been on the improve. All we need is one more improvement from him and he's going to be a horse that is going to make a name for himself Saturday." Saffie Joseph (trainer)
South Bend: "This horse, he's a very consistent horse if you look at all his races and he tries hard every time. His Travers race was certainly not a bad race. He obviously needs to move forward off of that race but he seems to like this track here. We've seen over the years that some horses look like a cinch coming in but they couldn't get it done." Bill Mott (trainer)
Thousand Words: "He's one of these horses that is just steady and the mile and a quarter is not going to be a problem. I think he'll be a threat. Both of them, Authentic and him, they're threats. When you see a horse like Tiz The Law, he looks like right now he'll be so tough to beat, but I'm happy right now the way they're coming in. They're coming in the right way and that's all you can ask for right now." Bob Baffert (trainer)
Tiz The Law: "This horse just does what you ask him to do. He's strong and he's on the muscle right now. I like a fast track for him, but he seems to handle everything. I like it being on the outside – I didn't particularly want to be out that far, but we have been. It gives you a chance if you have any speed at all." Barclay Tagg (trainer)
Winning Impression: "It's a cliche but he seems to really be training well. We're in the big dance and we'll be ready to roll." Dallas Stewart (trainer)