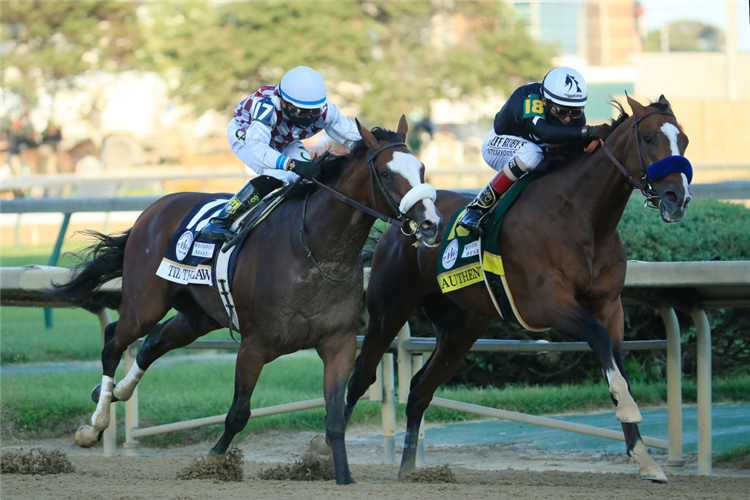 What's going on?
Baffert equals Kentucky Derby record
Authentic was trainer Bob Baffert's sixth Kentucky Derby winner after Real Quiet (1997), Silver Charm (1998), War Emblem (2002), American Pharoah (2015) and Justify (2018), equalling the all-time record of Calumet Farm's trainer Ben Jones.
"I really never think about stuff like that because I don't think I'm done yet," said Baffert who, like Jones, has trained two Triple Crown winners. (American Pharoah and Justify for Baffert; Whirlaway in 1941 and Citation in 1948 for Jones.)
Preakness rematch possible – but far from certain
Beaten favourite Tiz The Law may take on Authentic in the rescheduled Preakness Stakes in four weeks' time.
"Even though it didn't turn out the way we hoped it would, certainly no shame in the race he ran," said Jack Knowlton, managing partner of Tiz The Law's owners, Sackatoga Stables.
"He'll be back. Hopefully he'll come out of the race well and we'll look to go onto Baltimore and hopefully win that and get some revenge."
However, later trainer Barclay Tagg indicated he may prefer to train Tiz The Law up to the Breeders' Cup Classic.
Baffert's mishaps before and after – but not during
The Baffert team was involved in drama before and after the race. Thousand Words, his intended second string, was scratched by the vets after rearing up in the paddock and hitting his head and shoulder.
According to the trainer, his senior assistant Jimmy Barnes was taken to hospital after the incident with a fractured right wrist.
"You go from the bottom to the top – this is so emotional, the ups and downs in this game," said a visibly emotional Baffert after the race – only to be knocked to the floor himself in the winner's enclosure when the winner acted up and cannoned into connections.
Fortunately, nobody seemed hurt. "That was more embarrassing than anything," said Baffert.
200 up for Johnny V
Authentic was a third Kentucky Derby winner for 48-year-old rider John Velazquez after Animal Kingdom (2011) and Always Dreaming (2017); he was also the 200th G1 winner of the Puerto Rican's 30-year Hall of Fame career.
Baffert heaped praise on the jockey's efforts. "Mostly that guy won it for me today," he said, indicating Velazquez during post-race interviews.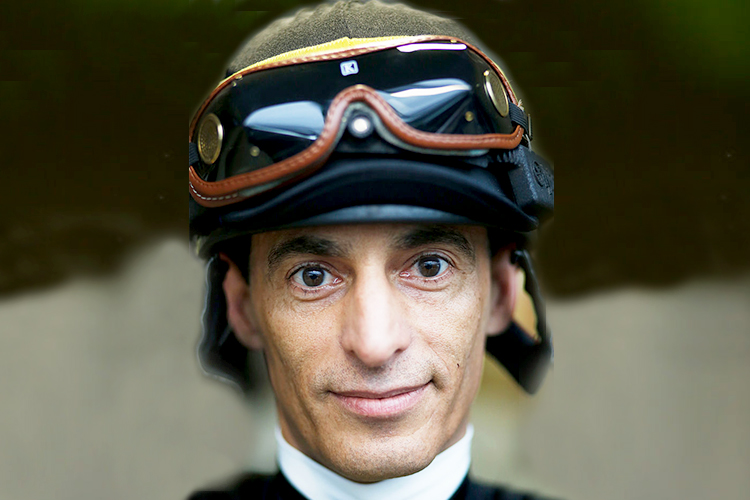 Five out of six for Authentic
The gutsy winner is a son of Spendthrift Farm stallion Into Mischief who has been beaten just once in his six-race career, when he was run down by Kentucky fourth Honor A.P. in the Santa Anita Derby.
Beyers: Authentic matches American Pharoah
Authentic is a front-runner – but he did not make all, having been a step slow at the break and starting a length behind Tiz The Law before being ridden to lead at the first turn.
He proceeded to set honest fractions of 22.92s, 46.41s and 1m10.23s before turning back Tiz The Law, who joined issue at the head of the stretch and looked sure to run past.
Authentic stopped the clock in 2m0.61s on an ultra-fast dirt strip. According to the Daily Racing Form, he recorded a Beyer speed figure of 105, the same as American Pharoah.
'That's my racehorse': the Derby winner with 4,500+ owners
Among Authentic's partnership owners is Myracehorse.com, a website-based syndicate operation allowing subscribers to purchase tiny shares in their horses. As a result, more than 4,500 individuals can claim to be among the Derby winner's owners.
Others in the partnership are Spendthrift, Madaket Stables and Starlight Racing.
Blow your Kentucky horn
Lack of a crowd was by no means the only unusual feature of the 146th Kentucky Derby, where there was no sign of the traditional singalong to My Old Kentucky Home.
With protestors outside the gates to Churchill Downs, the controversial antebellum hymn was played solo by bugler Steve Buttleman after the Call To The Post.
Anger at the gates
Anti-racism protestors demanding justice for the police killing of Breonna Taylor in Louisville in March organised a peaceful protest march from the city's South Central Park to Churchill Downs.
However, according to local reports, right-wing counter-protestors – so-called 'patriots' lead by an online rabble-rouser called the 'Angry Viking' – brandishing pistols and Trump flags squared off with members of the black militia NFAC ('Not F***ing Around Coalition') during the afternoon before the race but the flashpoint did not flare up beyond a bit of shoving.
Tensions have been running high-to-powderkeg in Louisville since Taylor was shot, and activists argued the race should not be staged.
The racetrack issued a statement on Thursday defending the decision for the race going ahead despite civil unrest. "We know there are some who disagree with our decision to run the Kentucky Derby this year," it said.
"We respect that point of view but made our decision in the belief that traditions can remind us of what binds us together as Americans, even as we seek to acknowledge and repair the terrible pain that rends us apart."
Velazquez and other riders wore a band on their legs reading 'Equality', while Baffert in his moment of triumph acknowledged that any elation was tempered by the social situation.
"I'd like to be up here pounding my chest, but this is not a very happy time," he said. "So many people are suffering right now."
Shall we talk about it?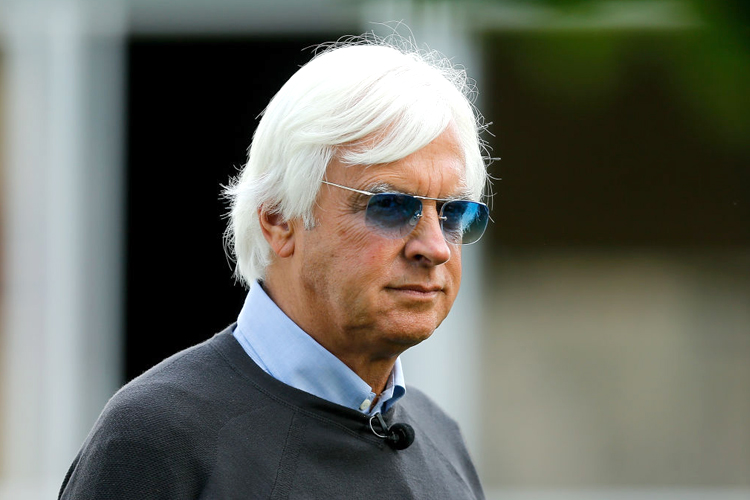 Bob Baffert (Authentic's trainer): "Unbelievable. All I can say is this horse ran out of his mind. Johnny V – perfect ride. The key to this race was the break. We've been planning this out the last couple of nights at Jeff Ruby's. We knew we had to get away from there. We talked about where certain people would be.
"Johnny is a world-class jockey and knows where everyone should be. I told him what I thought and he told me what he thought. I said: 'I like your plan.' I told him what the horse likes and what he can do. I've been fortunate to have some great jockeys, this race was won by Johnny, just the way he handled the horse and how he finished.
"He earned this. He beat a really good horse. Tiz The Law is a top-notch horse. I feel bad for the connections. I've been there. But this never gets old. We just feel so fortunate and blessed."
John Velazquez (Authentic's jockey): "It's always a concern that you let the horse do too much early in the race. You like to save ground and save some horse for the end. Bob was pretty certain the horse was ready today. I let him get loose and get comfortable. I waited until the horses got to him to get after him and he responded right away.
"Bob kept telling me to make sure I saved that last eighth of a mile. I want that eighth of a mile. He said I want you to hit left-handed and he responded. It worked out the way we had planned it. Very proud of the horse."
Barclay Tagg (Tiz The Law's trainer): "We didn't win it. Baffert's hard to beat. He's run well every time. He ran a good race today. He got beat."
Jack Knowlton (Tiz The Law's owner): "Obviously we'd hoped to win. He was a big morning-line favourite, went off odds-on, but it just wasn't to be. Authentic ran a tremendous race. It was a fast pace, and he never came back. 'Tiz' has been able to pass horses all year and today he ran into one he couldn't get by.
"At the top of the stretch, the way he's been running all year, basically Manny hasn't had to ask him. Manny was asking him and he was trying. Authentic ran a great race. He got the inside trip, and obviously our plan was to be outside. It's worked all year.
"When you look probably at the number of the feet each of the horses ran, when it's all said and done we probably ran quite a bit farther, farther than we got beat. But that was our plan, that's the way this horse likes to run. Credit Authentic, I mean he came from the far outside and managed to get to the lead and just ran a great race. No shame on our part.
"Bob, he's got the magic touch. He had this horse ready at the right time and he beat us today. Hopefully we'll get some more shots at him and we'll turn the table on him."
Manny Franco (Tiz The Law's jockey): "I had the trip that I expected. He just couldn't go by the other horse. The other horse fight so hard. He was ready for today too. The trip was perfect, no excuse."
Bret Calhoun (trainer of Mr. Big News, 3rd): "He ran huge; quite a thrill. Going to the three-eighths pole, I thought we had a chance to win the whole thing. They didn't quite come back to us. Just an incredible race on his part."
Mike Smith (jockey of Honor A. P., 4th): "I was proud that he still put in an effort and ran OK. It wasn't his best race by no means. I never dreamed he would struggle with the track. When we saw him train over the track this week, he was bouncing over it, but it was sloppy. He seemed to like that. His deepier, cuppier track – he has a big 'ol flat foot. He just couldn't get a hold out of it. He spun out from the word go. Really did."