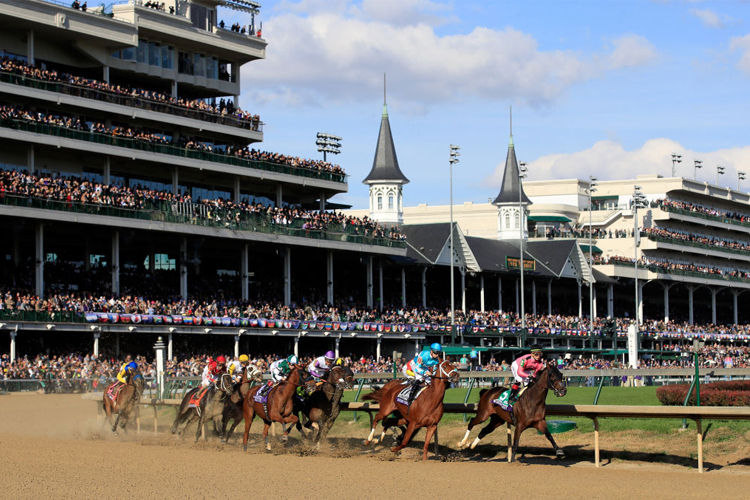 Despite being beaten at the same venue a month ago, the son of Into Mischief – also sire of last year's Kentucky winner Authentic – was sent off favourite in an 11-runner field. After stalking the pace, Mandaloun overcame the resolve of his Lecomte Stakes conqueror Midnight Bourbon (finished third) in the stretch before holding off Godolphin's Proxy by a length and a quarter.
Midnight Bourbon stayed on to be close-up third but second favourite Senor Buscador never got involved from the rear, making an outside move on the far turn before flattening out in the closing stages.
Brad Cox (Mandaloun's trainer): "More than anything, it was just the experience of having the race going two turns under his belt.. He had two great works under his belt since so we expected him to move forward, the way he was training. I think the blinkers did help out – Florent immediately made a comment after the race. Much more focused in the post parade, more focused on his job. We didn't put a bunch of cup on him, just like a one-inch cup, but it seems to have done the trick to get him mentally over the top, mentally getting him where he needs to be.
"He's got enough speed to be close and he stays on. He's got the physical make-up of a mile-and-a-quarter horse so we're optimistic he'll get better with more ground."
Florent Geroux (Mandaloun's jockey): "Blinkers on was a difference-maker today for sure. We knew he needed it racing, but he's been winning without them. He's always been a little funny down the lane. He's never given me his full potential. Today we had the same kind of trip we had in the Lecomte, but when I pushed on the gas today, he responded right away. Last time I feel like he wasn't giving me his best. He was a little more focused."
Mike Stidham (Proxy's trainer): "We all know that we're all hoping that we can be as good as we can be on a certain day and he's inching in the right direction. The main thing is you want them to come out of these races healthy, you have something to work with, and you can inch forward and culminate for the big day in May."