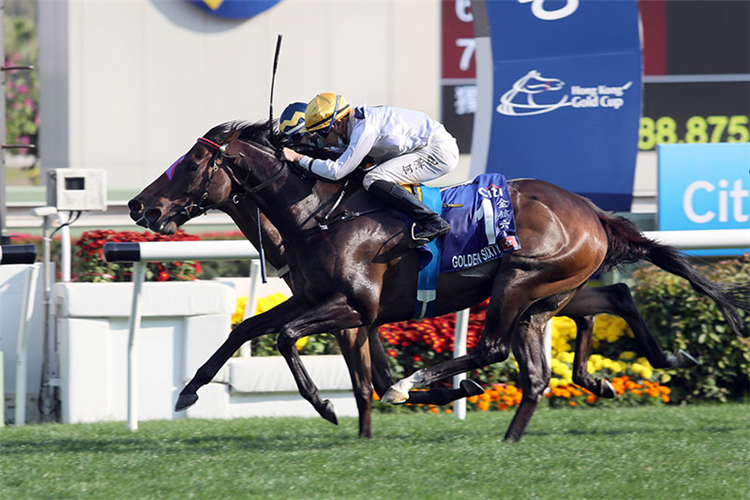 The two provided a great battle down the straight in the Gold Cup, one of the three Cups on the card. But it was Golden Sixty who notched up his 13th consecutive win. Exultant ran third and our roughie Glorious Dragon was not disgraced in fourth.
The earlier races saw former Chilean runner Panfield salute in the Ambitiious Dragon, part of a Millard treble on the day. Flying Quest was second and early leader Reliable Team clung on for third.
Waikuku obliged in the Queen's Silver Jubilee Cup with Southern Legend 1 ¼ lengths away in second and Might Giant third.
The Lucky Nine went to the elegant grey Silver Fig. We have to confess he wasn't in our selections but had we been in HK and seen him the parade we would have changed that – he's a beautiful grey horse, and although we are partial to greys he really is very good looking. We The South who got a flying start into the 1200m race stayed close to the front and was second and Red Desert third. This was the third of Tony Millard's treble and the other thing that took our eye was that like Panfield earlier Millard's staff had presented them beautifully with plaited manes.
It was Healthy Happy who took out the Classic Cup and in the process took out a few of the other runners earning Alexei Badel a suspension. They were on 22.0, second Russian Emperor in 80.0 and third Shadow Hero on 8.8. Excellent Proposal and Tourbillon Diamond followed on and there were no large margins here so that the order of finish should not be a dominant factor in future deliberations. Sky Darci got blocked for a run and there were a few other hard luck stories.