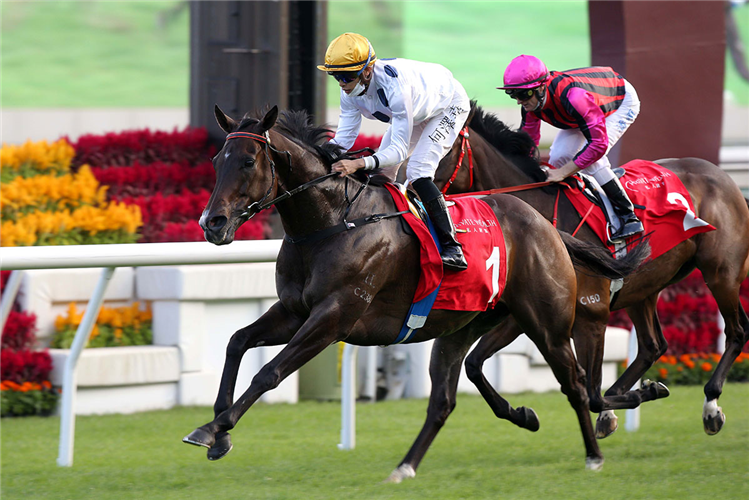 The first of these was the Sprint over 1200m where a lack of pace created some confusion in the field and then at the 200m Courier Wonder, who perhaps should be renamed Courier Wander, came under pressure and went left cutting across a few horses and then had a further wobble after Moreira had straightened him up. Lucky Patch went on to win the race but in the process interfered with several runners including Super Wealthy who was cut off and this earned jockey Chau a hefty fine and suspension. Trainer Lui has Zac Purton pencilled in for the ride in the International.
The big boy Naboo Attack ran on well for second and Sky Field who had suffered more than his fair share of interference was third. Courier Wonder finished up fifth.
The Mile saw Golden Sixty return in brilliant form, coming from last to easily take in the other runners and surge ahead and in the words of the commentator it was a Ferrari versus 6 Hong Kong taxis! Of those "taxis" Waikuku finished second and Sky Darci third. Golden Sixty will now go on to defend his title in the International Mile.
The Cup was another upset when Reliable Team under a great ride from Derek Leung got the win despite a laceration on his right hind pastern. Ka Ying Star continued with another placing and Glorious Dragon, who had started as an odds-on favourite, was third. Panfield didn't respond to Teetan's urging in the straight and finished at the wrong end of the field without any obvious reason.
The first of the Class 2s over the 1000m saw Master Eight master Nervous Witness with Hong Kong Win third and Gold Chest fourth.
The second went to Celestial Power from Zabrowski in a very exciting finish with Berlin Tango also in the photo but placing third.