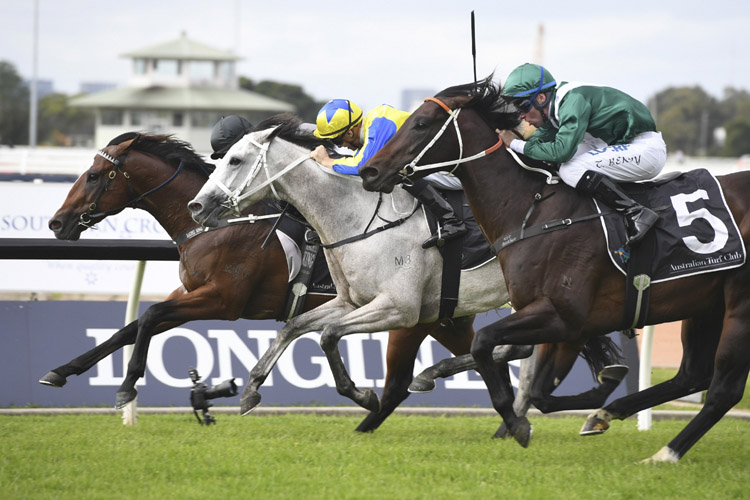 We've not 'Squeezed Time' for a while now, with most of the recent entries to this time-based series written in praise of our speed-blessed hero Nature Strip, but one has dragged 'A Squeeze Of Time' back from it's slumber with a clock-busting canter out in Sydney's west.
If the sectional times provided by our good friends at Punters Intel - which you can (and should) examine in the results here - are to be believed, the Team Hawkes-trained Exceedance has a very big future indeed.
Exceedance had to settle for third at Rosehill on Saturday in a handicap that was solid rather than spectacular. But it's not what he did as much as how he did it that is of interest. The raw sectionals (displayed ordered by last 600m below) show Exceedance the fastest home across the Rosehill card on Saturday. That's some sort of achievement for a two-year-old in and of itself but as we can see the race produced the fastest six closers on the day. Context required!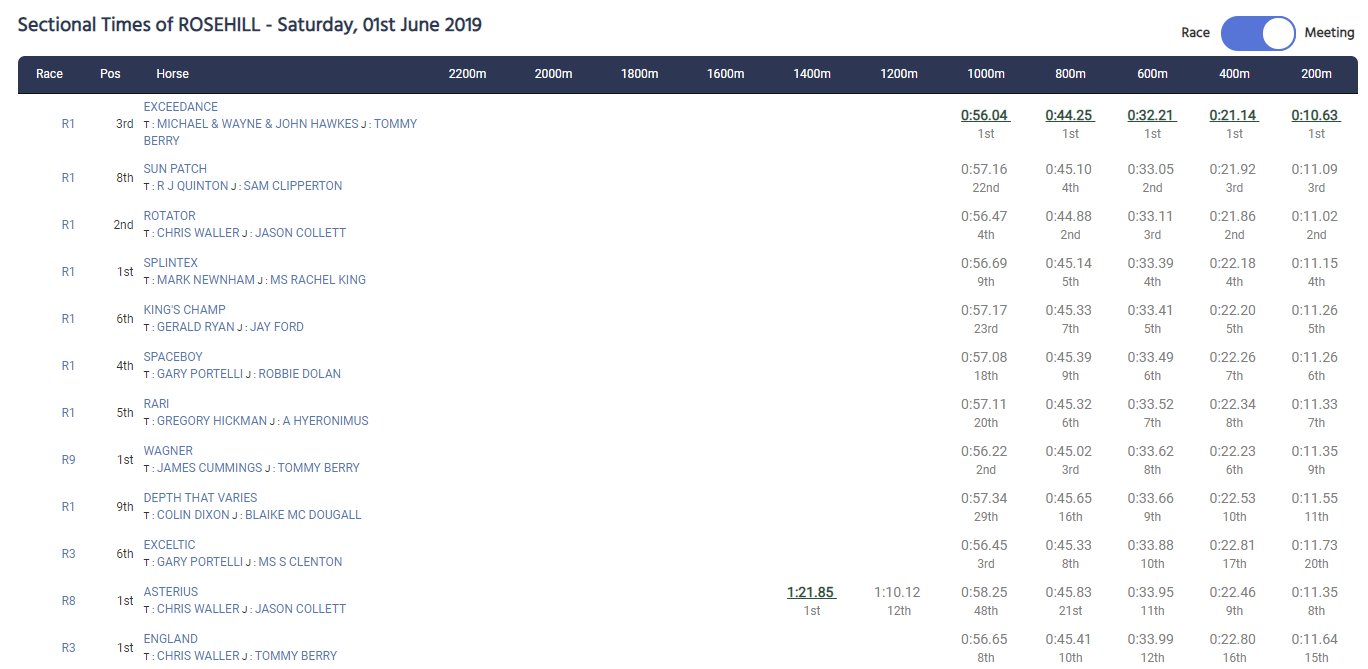 That context is a modest overall time - equating to a time rating of 94 for the winner on Racing and Sports' Scale. But overall time is at the mercy of pace and this race was run at an ordinary gallop.
If we placed a rolling line across the race (like those we see to highlight world record pace in coverage of athletics or swimming) which was keeping pace with the overall time divided evenly across the 1100m distance (allowing for a standing start) we would have seen race leader, and eventual winner, Splintex racing closest to that rolling line but still spotting it a good headstart as they came to the 400m mark. Exceedance was another full second (and change) back.
This left Exceedance with far too much to do. In fact, he was so far from our rolling pace line that Racing and Sports' maths suggests he would need to be a high-class performer to get anywhere near it by the finish. He closed it down to .01 of a second.
Exceedance's finishing speed from the 400m mark was 112% of his overall race speed while our perfectly ridden rolling line was down around 100%. It was a high-powered closing burst reserved exclusively for horses with talent well above and beyond off-season handicapping at Rosehill.
Of course anyone with a set of eyes could have seen that Exceedance was better than the bare result on Saturday and while times and splits can inform us as to what happened, and how it happened, they can't tell us what will happen (anyone that tells you otherwise is having themselves on). But there is still plenty to take from this. We can say, objectively, that Exceedance has run to a level on Saturday well above what is implied by the final result and that he has been to a level that can typically win races at a much higher level.
As said in past articles, 'A Squeeze Of Time' ain't no fence sitter. It may be a fools game making wild predictions in a caper as chaotic as horse racing but we've got a few things on our side here. Exceedance has established himself as fast. He is by a fast sire of fast horses in Exceed and Excel. His mum was fast (Timeform rating of 109). And he runs for a stable that produce more than their share of fast ones. So we're declaring him - fast. Fast enough to land one at the top level. And fast enough to join Nature Strip in the 'Squeeze Of Time' Hall Of Fame.