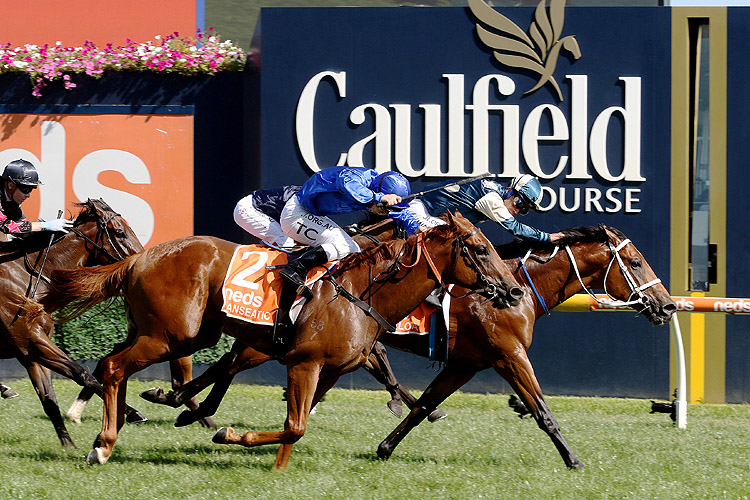 Predictably (tediously so) much of the talk coming out of Saturday's Caulfield meeting was related to the track and guessing at causes of the dreaded (and ill defined) bias. There is very little to be gained from wasting precious time worrying about causes for the apparent quirks that occasionally pop up on our largely fantastic racecourses. Zooming in with the goal of being precise raises the likelihood of us being precisely wrong. We're better served zooming out and simply approximating towards right - missing the odd tree for the sake of taking in the forest.
And so we will keep the track talk vague and to a minimum. Conditions on the card produced fast times - for whatever reason. Wind, earth, rail on fire? Geothermal causes? A butterfly thoughtlessly flapping it's wings in South America? Either way, the observed times were fast, even allowing for the fact that it was a card full of fast horses. Conditions that provide such little resistance compress the differences in talent between horses and leave results to be slightly more determined by other factors. Factors such as the geometric advantage of taking an inside line or not having to break momentum to make your way through or around traffic from back in the field. Next thing you know, you've got a bias and days of tedious media to carefully avoid...
What happened on top of the turf is of far more interest than the turf itself and what happened up top at Caulfield on Saturday shook up Timeform's Two-Year-Old Leaderboard with Tagaloa beating former table-topper Hanseatic fair and square in a fast (in raw terms the third fastest ever run) edition of the Blue Diamond.
Tagaloa defied the rails bias and/or benefitted from the on-pace bias, depending on what noise you're chasing, and in the process recorded a Timeform rating of 117 - the best by a two-year-old this season.
He took down Hanseatic despite the favourite running to the mark that his lead-ups had suggested he could, and would, under a terrific ride from standby jockey Tim Clark.
Hanseatic and Clark delivered, they just bumped into one that exploded when it mattered, and for that Tagaloa deserves plenty of credit.
A rating of 117 for a Blue Diamond isn't particularly noteworthy, well shy of the likes of Extreme Choice and Sepoy who were rated 123+ and 124+, and leaves Tagaloa looking well described as a 'normal' Blue Diamond winner.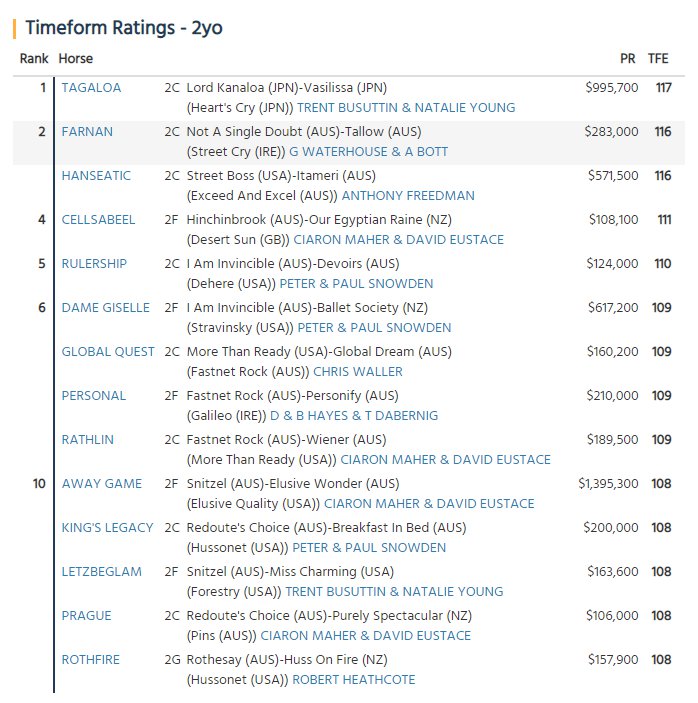 A normal Blue Diamond winner sits atop the leaderboard at this time of the season but the few that are still there come the end of the year are not what you would call normal. This century the Blue Diamond winner has stood alone as Timeform's Champion Two-Year-Old four times. They were Written By (rated 120), Extreme Choice (123+), Sepoy (124+) and Bel Esprit (121+). Earthquake and Nadeem shared the honour with others in even years.
This season's two-year-old lot aren't shaping as exceptional, however, and Tagaloa doesn't look quite so normal when it comes to matters biological. Being by a Japanese sire (who has proven capable of throwing topliners) out of an international family that has more than it's share of talent, gives Tagaloa a bit of a different look from most Blue Diamond winners. Perhaps the nature of this year's Diamond, a high-pressure race on fast conditions, threw the race into the lap of a horse for who the Blue Diamond wasn't the destination but rather the pathway. A bonus win for a horse set to evolve and develop more than a 'normal' Blue Diamond winner.
Waiting for Tagaloa up in Sydney is another former table-topper in Farnan who went very close to recapturing that billing by running to 116 in the Silver Slipper..
A fast, on-speed Silver Slipper winner running for Gai Waterhouse. That's a brilliant Golden Slipper profile - in a normal year.