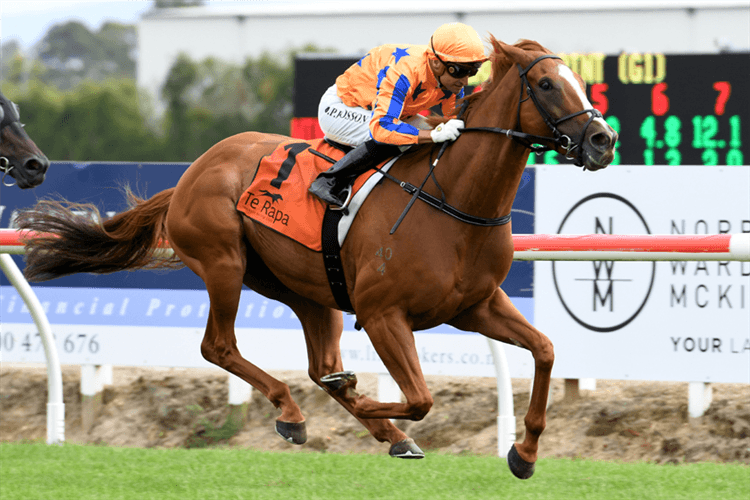 There was plenty of top-end action at Caulfield on Saturday, where Hanseatic overcame a troubled passage to confirm his place at the top of the two-year-old rankings and Alabama Express landed another blow for a three-year-old crop that continue to trend well above average - as we discussed here last week - but there were also season-shaping moves taking place across the Tasman where things are trending the right way as well.
It seems like a long time since there has been so much X-factor zipping around the land of the long white cloud. Cox Plate placegetter Te Akau Shark (who could have his picture in the dictionary alongside X-factor) was back in style at Te Rapa on Saturday, running to 121 and looking on track to return to his 126-rated best in Australia this autumn where he is a contender for anything that he is aimed towards.
Te Akau Shark is one of just four horses to break 120 on New Zealand soil in the past five seasons but he isn't without competition at the top of the Tāne Mahuta.
New Zealand's three-year-olds are on trend with Australia's and their star performer, Catalyst , has rocketed to a Timeform rating of 119p despite having limited oppurtunities to flex his muscles and show his true worth. A chance he will no doubt get as he tackles the top Australian colts in the coming weeks. A rating of 119 at this point of the Kiwi season has only been bettered by Xtravagant in recent times. Xtravagant burned bright but went supernova. Catalyst looks like he may burn longer, and he has a lot more substance in the crop below him.
Xtravagant was the lone three-year-old rated above 110 at this point of his three-year-old season. There are five three-year-olds rated 110 or higher this season. The latest to join the list is star filly Two Illicit who arrives via Te Rapa on Saturday where she hammered last-start Group One winner Travelling Light by 7.5 lengths, recording a Timeform rating of 113+ in the process.
The Waikato Guineas has a rich history of producing New Zealand Derby winners but it has also produced a string of Australian Group One winners including Mongolian Khan, Silent Achiever, Ocean Park, Jimmy Choux and Nom Du Jeu.
Judged strictly on the Waikato Guineas, Two Illicit fits right in with that group, and looks a terrific candidate to join them in plundering big races in Australia. The obvious target would be the ATC Oaks where Kiwi fillies have a strong recent record. Again, Two Illicit, and her 113+ rating, compares favourably to the list of those previously successful.
Bonneval was the most recent Kiwi winner of the Australian Oaks. She came across rated 110. Sofia Rosa was rated 108, Rising Romance 113 and Daffodil 108 before their Randwick triumphs.
Of course it hasn't been success story after success story. Savvy Coup and Danzdanzdance came across rated 110 and 107 respectively and came up short, as did the likes of Savaria (was rated 108), Habibi (113) and Dating (106).
Such is the depth in the ranks at present that, despite this lofty assessment, Two Illicit currently has to share the billing as New Zealand's top three-year-old filly. Probabeel is also rated 113 and she has run to that level right under our noses at Randwick in the Flight Stakes. No leap of faith is required for Australian punters to believe in Probabeel and she provides some valuable points of Trans-Tasman refererence having run fast time on the same Ellerslie card that Catalyst ran fast(er) time back in January.
Quick times have been setting the alarm bells off about this three-year-old group since the start of the season - the first warning shot fired in the opening month which you can read about here - and that has been another trans-Tasman theme. The Waikato Guineas isn't the first sit-up-and-take-notice performance from Two Illicit. She ran quick time beating Dragon Leap at Ellerslie with sectionals pointing to him being every bit a match for her. In Dragon Leap we find more Kiwi X-Factor.
He had been an intended runner in the Waikato Guineas but missed with a temperature. The Avondale Guineas may be his next port of call. Wherever he goes he will be of great interest having rushed to a Timeform rating of 108p in just three starts. It would be a surprise if he didn't join the group rated 110 or higher sooner rather than later.
Of course, no look at the scene in New Zealand would be complete without a mention of Melody Belle, one of the best horses to race in New Zealand in recent times and a Group One winner in Australia in the spring. Despite defeat in the Mackinnon at her most recent start she produced a piece of form with global reach, doing remarkably well to run the well-travelled (and very smart) Magic Wand to a length depsite being left far too much to do.
This autumn she may not have it all to do. With stablemate Te Akau Shark set to swim the deepest waters Melody Belle may get the chance to sit back and play the role of big fish in a little pond - she just has to hope that pond isn't swarming with the classic crop who are running deep.