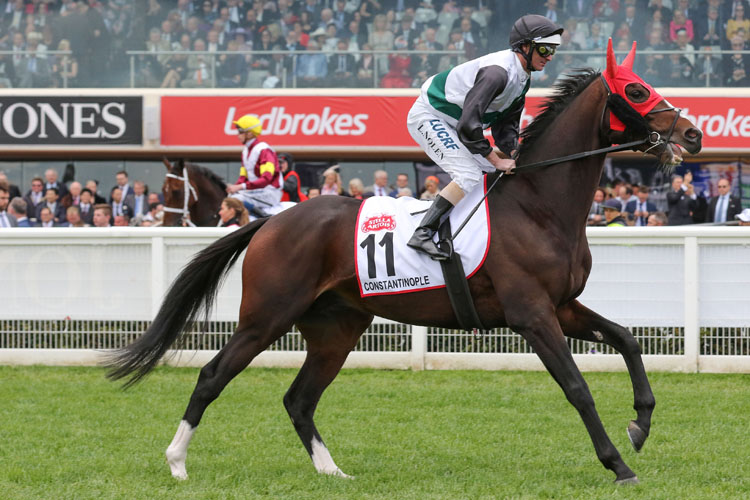 Constantinople can give Lindsay Park another win in the race. He's at $8 in the 2019 Melbourne Cup (3200m) at Flemington on Tuesday.
2019 Melbourne Cup: Final Field, Barriers and Market
2019 Melbourne Cup: Race History
2019 Melbourne Cup: Nominations
2019 MELBOURNE CUP – RACE ANALYSIS AND TIPS
Should see a true tempo early with the likes of Master Of Reality, Mirage Dancer and Finche all quickly prominent and Magic Wand could work forward from out wide with Il Paradiso.
CONSTANTINOPLE (19) got stopped in his tracks more than once in the Caulfield Cup. We have to go back to 2008 to find a Melbourne Cup winner coming through the Caulfield cousin but that trend will turn and Constantinople looks the right sort of horse to turn it. Going to relish the more open spaces of Flemington and promises to stay two miles well. York run prior to come across was terrific.
IL PARADISO (20) is another European three-year-old with a promising profile. Worked hard in the Leger at Doncaster but effort was sound and sharp connections send him here. SURPRISE BABY (18) is a natural stayer and things have gone to plan for him. He can provide a stern home defence.
DOWNDRAFT (14) stormed into the picture on Saturday and can run well again on the back of that while MAGIC WAND (15) hasn't done much winning but her Cox Plate run was very solid and it would be no shock to see her run well back to handicap conditions.
2019 MELBOURNE CUP – SELECTIONS
1st – 19 Constantinople
2nd – 20 Il Paradiso
3rd – 18 Surprise Baby
4th – 14 Downdraft
WHEN IS THE 2019 MELBOURNE CUP?
WHEN: – Race 7 @ 3:00pm
WHERE: Flemington Racecourse
Racing and Sports has all the form for Flemington
* Note that betting odds may differ from time of publication

FP
Silk
Horse, Age & Sex
Sire & Dam
Jockey
Trainer
SP
WT

1st

23. VOW AND DECLARE (AUS) 4yo G


DECLARATION OF WAR (USA) - GEBLITZT (AUS)

CRAIG WILLIAMS
DANNY O'BRIEN
$11.00
52.0kg
G & Mrs S M Corrigan, P J Lanskey, Mrs H R Hueston, T C Lanskey, J P Lanskey, K T Goodman, W R Leitch, A F Lanskey, B T Lanskey, L J Lanskey, S W R Knipe & S A Livingstone

2nd

12. PRINCE OF ARRAN (GB) 6yo G


SHIROCCO (GER) - STORMING SIOUX (GB)

MICHAEL WALKER
CHARLIE FELLOWES
$17.00
54.0kg
MR SAEED BEL OBAIDA

3rd

20. IL PARADISO (USA) 3yo C


GALILEO (IRE) - FAMOUS (IRE)

W M LORDAN
A P O'BRIEN
$15.00
52.5kg
A Kheir, P Mehrten, J A O'Neill, B F Sokolski, V Kheir, B D Nettlefold & D Edmonds,carty Racing (Mgr: B C Carty),d. Smith (Mgr: D Smith)
4th
3. MASTER OF REALITY (IRE) 4yo G


FRANKEL (GB) - L'ANCRESSE (IRE)

FRANKIE DETTORI
JOSEPH O'BRIEN
$26.00
55.5kg
5th
18. SURPRISE BABY (NZ) 5yo G


SHOCKING (AUS) - BULA BABY (NZ)

JORDAN CHILDS
PAUL PREUSKER
$12.00
53.5kg
6th
2. MER DE GLACE (JPN) 4yo H


RULERSHIP (JPN) - GLACIER BLUE (JPN)

DAMIAN LANE
H SHIMIZU
$9.00
56.0kg
7th
11. FINCHE (GB) 5yo G


FRANKEL (GB) - BINCHE (USA)

KERRIN MCEVOY
CHRIS WALLER
$8.50
54.0kg
8th
1. CROSS COUNTER (GB) 4yo G


TEOFILO (IRE) - WAITRESS (USA)

WILLIAM BUICK
C APPLEBY
$13.00
57.5kg
9th
21. STEEL PRINCE (IRE) 5yo G


NATHANIEL (IRE) - STEEL PRINCESS (IRE)

BRETT PREBBLE
ANTHONY FREEDMAN
$61.00
52.5kg
10th
15. MAGIC WAND (IRE) 4yo F


GALILEO (IRE) - PRUDENZIA (IRE)

RYAN MOORE
A P O'BRIEN
$26.00
53.5kg
11th
10. TWILIGHT PAYMENT (IRE) 6yo G


TEOFILO (IRE) - DREAM ON BUDDY (IRE)

HUGH BOWMAN
JOSEPH O'BRIEN
$41.00
55.0kg
12th
17. SOUND (GER) 6yo H


LANDO (GER) - SKY DANCING (IRE)

JAMES WINKS
MICHAEL MORONEY
$101.00
53.5kg
13th
19. CONSTANTINOPLE (IRE) 3yo C


GALILEO (IRE) - ONE MOMENT IN TIME (IRE)

JOAO MOREIRA
D & B HAYES & T DABERNIG
$9.00
52.5kg
14th
4. MIRAGE DANCER (GB) 5yo H


FRANKEL (GB) - HEAT HAZE (GB)

BEN MELHAM
TRENT BUSUTTIN & NATALIE YOUNG
$51.00
55.5kg
15th
6. HUNTING HORN (IRE) 4yo H


CAMELOT (GB) - MORA BAI (IRE)

J A HEFFERNAN
A P O'BRIEN
$51.00
55.0kg
16th
13. RAYMOND TUSK (IRE) 4yo H


HIGH CHAPARRAL (IRE) - DANCING SHOES (IRE)

J P SPENCER
RICHARD HANNON JR
$21.00
54.0kg
17th
22. THE CHOSEN ONE (NZ) 4yo H


SAVABEEL (AUS) - THE GLITZY ONE (AUS)

TIM CLARK
MURRAY BAKER & ANDREW FORSMAN
$31.00
52.0kg
18th
7. LATROBE (IRE) 4yo H


CAMELOT (GB) - QUESTION TIMES (GB)

JAMES MCDONALD
JOSEPH O'BRIEN
$21.00
55.0kg
19th
5. SOUTHERN FRANCE (IRE) 4yo H


GALILEO (IRE) - ALTA ANNA (FR)

MARK ZAHRA
CIARON MAHER & DAVID EUSTACE
$26.00
55.5kg
20th
24. YOUNGSTAR (AUS) 5yo M


HIGH CHAPARRAL (IRE) - STARSPANGLED (IRE)

TOMMY BERRY
CHRIS WALLER
$31.00
52.0kg
21st
16. NEUFBOSC (FR) 4yo G


MASTERCRAFTSMAN (IRE) - NONSUCH WAY (IRE)

LUKE NOLEN
D & B HAYES & T DABERNIG
$101.00
53.5kg
22nd
14. DOWNDRAFT (IRE) 4yo H


CAMELOT (GB) - CINNAMON ROSE (USA)

J ALLEN
JOSEPH O'BRIEN
$21.00
53.5kg
23rd
8. MUSTAJEER (GB) 6yo G


MEDICEAN (GB) - QELAAN (USA)

DAMIEN OLIVER
KRIS LEES
$21.00
55.0kg
24th
9. ROSTROPOVICH (IRE) 4yo G


FRANKEL (GB) - TYRANNY (GB)

DWAYNE DUNN
D & B HAYES & T DABERNIG
$41.00
55.0kg