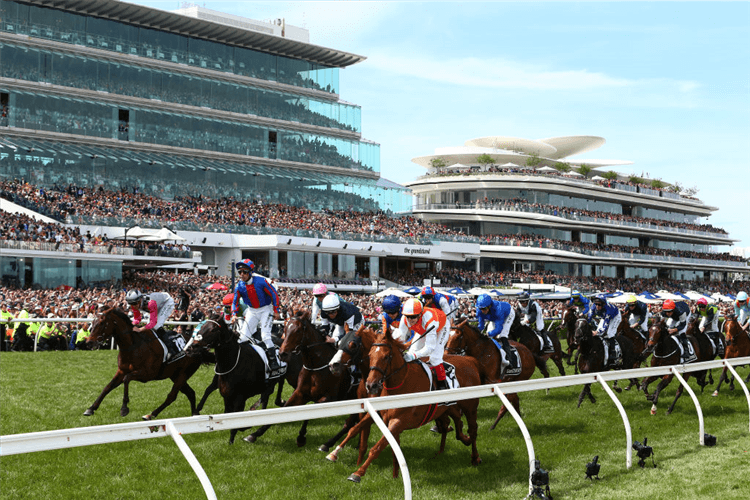 He'd won with Shamus Award (Cox Plate) and Master O'Reilly (Caulfield Cup).
It's the AUSSIE!!! Vow And Declare has won the #MelbourneCup.

What a moment, what a race… pic.twitter.com/DvAoinx0cp

— Racing.com (@Racing) November 5, 2019
"The stamina won us the race today."

Scientifically Vow And Declare is a staying machine and he proved that today for @DOBrienRacing who has achieved #MelbourneCup glory! pic.twitter.com/6Nlb9FLRqz

— Racing.com (@Racing) November 5, 2019
Winning Trainer: Danny O'Brien
On winning the race: "It's an amazing thing to happen. I really can't believe it. I feel incredibly blessed to have had a horse good enough to be in it. He was ridden so beautifully by Craig. The last 100m he wouldn't give in, wouldn't give in and put his head out on the line and now we've won the Melbourne Cup."
"It doesn't get much better than this. It was a race which wasn't going to plan. To be fair to Craig he grabbed the bull by the horns early when nothing went forward. He ended up in front by the post. With 100m to go I thought you've led early and three are on you now. I was hoping he'd hang on for a place to be honest. He's a courageous horse, he's got great stamina. I'm sure he was headed but wanted to get his head out on the line."
On the horse: "He's definitely got a great motor. His recovery is the best we've seen. To get full advantage of that you probably need to run 3200m. We got outsprinted in the Caulfield Cup but the stamina won it for us today."
On what has happened in the recent past: "Everyone in the racing game has their ups and downs. The main thing is you keep persisting, keep working. Sometimes you have a bit of luck."
On the plans to go forward: "I left it up to Craig. It's been the winning move. He rolled the dice, he's an outstanding jockey and he wasn't afraid to try something different. Ultimately it was the winning move."
His son: "Oh God I've been waiting years for this moment."

FP
Silk
Horse, Age & Sex
Sire & Dam
Jockey
Trainer
SP
WT

1st

23. VOW AND DECLARE (AUS) 4yo G


DECLARATION OF WAR (USA) - GEBLITZT (AUS)

CRAIG WILLIAMS
DANNY O'BRIEN
$11.00
52.0kg
G & Mrs S M Corrigan, P J Lanskey, Mrs H R Hueston, T C Lanskey, J P Lanskey, K T Goodman, W R Leitch, A F Lanskey, B T Lanskey, L J Lanskey, S W R Knipe & S A Livingstone

2nd

12. PRINCE OF ARRAN (GB) 6yo G


SHIROCCO (GER) - STORMING SIOUX (GB)

MICHAEL WALKER
CHARLIE FELLOWES
$17.00
54.0kg
MR SAEED BEL OBAIDA

3rd

20. IL PARADISO (USA) 3yo C


GALILEO (IRE) - FAMOUS (IRE)

W M LORDAN
A P O'BRIEN
$15.00
52.5kg
A Kheir, P Mehrten, J A O'Neill, B F Sokolski, V Kheir, B D Nettlefold & D Edmonds,carty Racing (Mgr: B C Carty),d. Smith (Mgr: D Smith)
4th
3. MASTER OF REALITY (IRE) 4yo G


FRANKEL (GB) - L'ANCRESSE (IRE)

FRANKIE DETTORI
JOSEPH O'BRIEN
$26.00
55.5kg
5th
18. SURPRISE BABY (NZ) 5yo G


SHOCKING (AUS) - BULA BABY (NZ)

JORDAN CHILDS
PAUL PREUSKER
$12.00
53.5kg
6th
2. MER DE GLACE (JPN) 4yo H


RULERSHIP (JPN) - GLACIER BLUE (JPN)

DAMIAN LANE
H SHIMIZU
$9.00
56.0kg
7th
11. FINCHE (GB) 5yo G


FRANKEL (GB) - BINCHE (USA)

KERRIN MCEVOY
CHRIS WALLER
$8.50
54.0kg
8th
1. CROSS COUNTER (GB) 4yo G


TEOFILO (IRE) - WAITRESS (USA)

WILLIAM BUICK
C APPLEBY
$13.00
57.5kg
9th
21. STEEL PRINCE (IRE) 5yo G


NATHANIEL (IRE) - STEEL PRINCESS (IRE)

BRETT PREBBLE
ANTHONY FREEDMAN
$61.00
52.5kg
10th
15. MAGIC WAND (IRE) 4yo F


GALILEO (IRE) - PRUDENZIA (IRE)

RYAN MOORE
A P O'BRIEN
$26.00
53.5kg
11th
10. TWILIGHT PAYMENT (IRE) 6yo G


TEOFILO (IRE) - DREAM ON BUDDY (IRE)

HUGH BOWMAN
JOSEPH O'BRIEN
$41.00
55.0kg
12th
17. SOUND (GER) 6yo H


LANDO (GER) - SKY DANCING (IRE)

JAMES WINKS
MICHAEL MORONEY
$101.00
53.5kg
13th
19. CONSTANTINOPLE (IRE) 3yo C


GALILEO (IRE) - ONE MOMENT IN TIME (IRE)

JOAO MOREIRA
D & B HAYES & T DABERNIG
$9.00
52.5kg
14th
4. MIRAGE DANCER (GB) 5yo H


FRANKEL (GB) - HEAT HAZE (GB)

BEN MELHAM
TRENT BUSUTTIN & NATALIE YOUNG
$51.00
55.5kg
15th
6. HUNTING HORN (IRE) 4yo H


CAMELOT (GB) - MORA BAI (IRE)

J A HEFFERNAN
A P O'BRIEN
$51.00
55.0kg
16th
13. RAYMOND TUSK (IRE) 4yo H


HIGH CHAPARRAL (IRE) - DANCING SHOES (IRE)

J P SPENCER
RICHARD HANNON JR
$21.00
54.0kg
17th
22. THE CHOSEN ONE (NZ) 4yo H


SAVABEEL (AUS) - THE GLITZY ONE (AUS)

TIM CLARK
MURRAY BAKER & ANDREW FORSMAN
$31.00
52.0kg
18th
7. LATROBE (IRE) 4yo H


CAMELOT (GB) - QUESTION TIMES (GB)

JAMES MCDONALD
JOSEPH O'BRIEN
$21.00
55.0kg
19th
5. SOUTHERN FRANCE (IRE) 4yo H


GALILEO (IRE) - ALTA ANNA (FR)

MARK ZAHRA
CIARON MAHER & DAVID EUSTACE
$26.00
55.5kg
20th
24. YOUNGSTAR (AUS) 5yo M


HIGH CHAPARRAL (IRE) - STARSPANGLED (IRE)

TOMMY BERRY
CHRIS WALLER
$31.00
52.0kg
21st
16. NEUFBOSC (FR) 4yo G


MASTERCRAFTSMAN (IRE) - NONSUCH WAY (IRE)

LUKE NOLEN
D & B HAYES & T DABERNIG
$101.00
53.5kg
22nd
14. DOWNDRAFT (IRE) 4yo H


CAMELOT (GB) - CINNAMON ROSE (USA)

J ALLEN
JOSEPH O'BRIEN
$21.00
53.5kg
23rd
8. MUSTAJEER (GB) 6yo G


MEDICEAN (GB) - QELAAN (USA)

DAMIEN OLIVER
KRIS LEES
$21.00
55.0kg
24th
9. ROSTROPOVICH (IRE) 4yo G


FRANKEL (GB) - TYRANNY (GB)

DWAYNE DUNN
D & B HAYES & T DABERNIG
$41.00
55.0kg