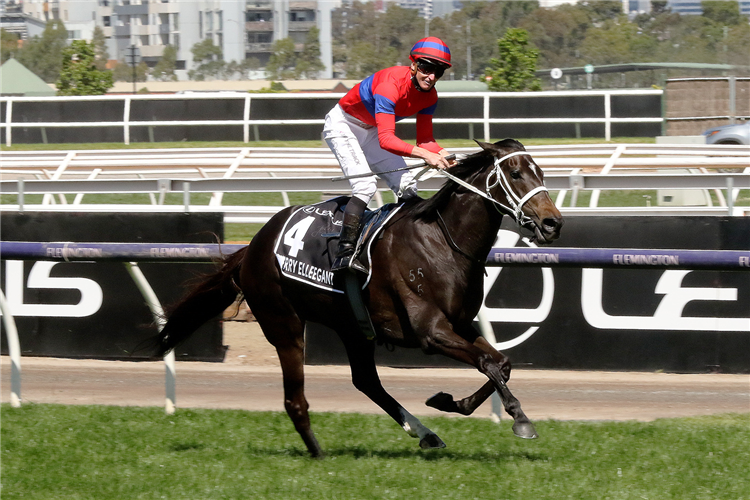 Verry Elleegant, reigning Australian Horse Of The Year and winner of now 10 G1 races, has bolted in with the 2021 Melbourne Cup.
The class told as all three placegetters carried 57kg as she beat the favourite Incentivise and Spanish Mission.
She gave Australia's leading trainer Chris Waller his first Melbourne Cup.
| | | | | | | | | |
| --- | --- | --- | --- | --- | --- | --- | --- | --- |
| Finish | No. | Horse | Trainer | Jockey | Margin | Bar. | Weight | SP |
| 1 | 4 | VERRY ELLEEGANT (NZ) | Chris Waller | James McDonald | | 18 | 57kg | $18 |
| 2 | 2 | INCENTIVISE | Peter G Moody | Brett Prebble | 4L | 15 | 57kg | $2.90F |
| 3 | 3 | SPANISH MISSION (USA) | Andrew Balding | Craig Williams | 4.4L | 14 | 57kg | $10 |
| 4 | 22 | FLOATING ARTIST (GB) | Ciaron Maher & David Eustace | Teodore Nugent (a) | 4.6L | 10 | 50kg | $11 |
| 5 | 6 | THE CHOSEN ONE (NZ) | Murray Baker & Andrew Forsman | Damian Lane | 10.6L | 5 | 54kg | $31 |
| 6 | 16 | GRAND PROMENADE (GB) | Ciaron Maher & David Eustace | Kerrin McEvoy | 12.6L | 20 | 52kg | $15 |
| 7 | 7 | DELPHI (IRE) | Anthony & Sam Freedman | Damien Oliver | 13.35L | 3 | 53.5kg | $19 |
| 8 | 9 | SELINO (GB) | Chris Waller | Ron Stewart | 13.45L | 23 | 53.5kg | $81 |
| 9 | 21 | TRALEE ROSE (NZ) | Symon Wilde | Dean Holland | 16.7L | 12 | 51kg | $21 |
| 10 | 19 | SHE'S IDEEL | Bjorn Baker | Craig Newitt | 17.2L | 19 | 52kg | $101 |
| 11 | 1 | TWILIGHT PAYMENT (IRE) | Joseph O'Brien | Jye McNeil | 19.45L | 2 | 58kg | $13 |
| 12 | 17 | MIAMI BOUND (NZ) | Danny O'Brien | Patrick Moloney | 21.45L | 16 | 52kg | $151 |
| 13 | 23 | GREAT HOUSE (IRE) | Chris Waller | Michael Dee | 21.85L | 7 | 50kg | $26 |
| 14 | 24 | SIR LUCAN (IRE) | Gai Waterhouse & Adrian Bott | Glen Boss | 21.95L | 17 | 51kg | $26 |
| 15 | 5 | EXPLOSIVE JACK (NZ) | Ciaron Maher & David Eustace | John Allen | 23.2L | 4 | 54kg | $51 |
| 16 | 14 | MASTER OF WINE (GER) | Michael, Wayne & John Hawkes | Fred Kersley | 24.2L | 6 | 52.5kg | $91 |
| 17 | 15 | PONDUS (GB) | Robert Hickmott | Ms Rachel King | 24.6L | 1 | 52.5kg | $21 |
| 18 | 13 | CARIF | Peter & Paul Snowden | Blaike McDougall | 25.35L | 8 | 52.5kg | $101 |
| 19 | 11 | KNIGHTS ORDER (IRE) | Gai Waterhouse & Adrian Bott | Daniel Stackhouse | 25.65L | 9 | 53kg | $101 |
| 20 | 12 | PERSAN | Ciaron Maher & David Eustace | Luke Currie | 28.9L | 11 | 53kg | $31 |
| 21 | 18 | PORT GUILLAUME (FR) | Ben & JD Hayes | Harry Coffey | 33.15L | 22 | 52kg | $101 |
| 22 | 10 | JOHNNY GET ANGRY (NZ) | Denis Pagan | Lachlan King (a) | 41.15L | 21 | 53kg | $91 |
| 23 | 8 | OCEAN BILLY (NZ) | Chris Waller | Damien Thornton | 53.15L | 13 | 53.5kg | $31 |

FP
Silk
Horse, Age & Sex
Sire & Dam
Jockey
Trainer
SP
WT

1st

4. VERRY ELLEEGANT (NZ) 6yo M


ZED (NZ) - OPULENCE (NZ)

JAMES MCDONALD
CHRIS WALLER
$17.00
57.0kg
Jomara Bloodstock Ltd (Mgr: M Carter), Ellee (Mgr: J Goodwin), Balmerino Racing Partnership (Mgr: J Rosham), M Wanzare, T Barry, B Sokolski, A Kheir, K Stocker, Honeycomb Stud (Mgr: A Whittingham), J O'Neill & V Kheir

2nd

2. INCENTIVISE (AUS) 5yo G


SHAMUS AWARD (AUS) - MISS ARGYLE (AUS)

BRETT PREBBLE
PETER MOODY
$2.88
57.0kg
Windemere Stud Pty Ltd (Mgr: S P Tregea), Yes Bloodstock (Mgr: B F Sokolski), A Kheir, P J Lawrence, S B McEwan, K Knight, V G Corry, J A O'Neill, V Kheir, B D Nettlefold, D Edmonds & A K Racing (Mgr: Ms K L Solomon)

3rd

3. SPANISH MISSION (USA) 5yo H


NOBLE MISSION (GB) - LIMONAR (IRE)

CRAIG WILLIAMS
ANDREW BALDING
$10.00
57.0kg
Yes Bloodstock (Mgr: B F Sokolski), A Kheir, Balmerino Racing, W Lasky, Seymour Bloodstock, D Degenhardt, J A O'Neill, Splinter Syndicate, C Mathieson, P Prendergast, J D D And C G Racing & E Litver
4th
22. FLOATING ARTIST (GB) 5yo G


NATHANIEL (IRE) - MISS KENTON (IRE)

TEODORE NUGENT
CIARON MAHER & DAVID EUSTACE
$11.00
50.0kg
5th
6. THE CHOSEN ONE (NZ) 6yo H


SAVABEEL (AUS) - THE GLITZY ONE (AUS)

DAMIAN LANE
MURRAY BAKER & ANDREW FORSMAN
$31.00
54.0kg
6th
16. GRAND PROMENADE (GB) 5yo G


CHAMPS ELYSEES (GB) - ZACCHERA (GB)

KERRIN MCEVOY
CIARON MAHER & DAVID EUSTACE
$15.00
52.0kg
7th
7. DELPHI (IRE) 4yo H


GALILEO (IRE) - BYE BYE BIRDIE (IRE)

DAMIEN OLIVER
A & S FREEDMAN
$21.00
53.5kg
8th
9. SELINO (GB) 5yo G


CHAMPS ELYSEES (GB) - AIR KISS (GB)

RON STEWART
CHRIS WALLER
$81.00
53.5kg
9th
21. TRALEE ROSE (NZ) 5yo M


TAVISTOCK (NZ) - STAR OF TRALEE (NZ)

DEAN HOLLAND
SYMON WILDE
$21.00
51.0kg
10th
19. SHE'S IDEEL (AUS) 6yo M


DUNDEEL (NZ) - ANA'S MAIL (AUS)

CRAIG NEWITT
BJORN BAKER
$101.00
52.0kg
11th
1. TWILIGHT PAYMENT (IRE) 8yo G


TEOFILO (IRE) - DREAM ON BUDDY (IRE)

JYE MCNEIL
JOSEPH O'BRIEN
$13.00
58.0kg
12th
17. MIAMI BOUND (NZ) 5yo M


RELIABLE MAN (GB) - ARAPAHO MISS (AUS)

PATRICK MOLONEY
DANNY O'BRIEN
$151.00
52.0kg
13th
23. GREAT HOUSE (IRE) 5yo G


GALILEO (IRE) - ANJA (IRE)

MICHAEL DEE
CHRIS WALLER
$26.00
50.0kg
14th
24. SIR LUCAN (IRE) 3yo C


CAMELOT (GB) - SPARROW (IRE)

GLEN BOSS
G WATERHOUSE & A BOTT
$26.00
51.0kg
15th
5. EXPLOSIVE JACK (NZ) 4yo H


JAKKALBERRY (IRE) - EXTRA EXPLOSIVE (NZ)

J ALLEN
CIARON MAHER & DAVID EUSTACE
$51.00
54.0kg
16th
14. MASTER OF WINE (GER) 6yo G


MAXIOS (GB) - MAGMA (GER)

Fred W Kersley
MICHAEL & WAYNE & JOHN HAWKES
$101.00
52.5kg
17th
15. PONDUS (GB) 5yo G


SEA THE MOON (GER) - DIABLERETTE (GB)

MS RACHEL KING
ROBERT HICKMOTT
$21.00
52.5kg
18th
13. CARIF (AUS) 6yo G


SO YOU THINK (NZ) - NORZITA (NZ)

BLAIKE MCDOUGALL
PETER & PAUL SNOWDEN
$101.00
52.5kg
19th
11. KNIGHTS ORDER (IRE) 6yo G


SO YOU THINK (NZ) - LAMANKA LASS (USA)

DANIEL STACKHOUSE
G WATERHOUSE & A BOTT
$101.00
53.0kg
20th
12. PERSAN (AUS) 5yo G


PIERRO (AUS) - OFCOURSEICAN (AUS)

LUKE CURRIE
CIARON MAHER & DAVID EUSTACE
$31.00
53.0kg
21st
18. PORT GUILLAUME (FR) 4yo G


LE HAVRE (IRE) - KEIRA (FR)

H COFFEY
BEN & JD HAYES
$101.00
52.0kg
22nd
10. JOHNNY GET ANGRY (NZ) 4yo G


TAVISTOCK (NZ) - LUMINOVA (NZ)

LACHLAN KING
DENIS PAGAN
$101.00
53.0kg
23rd
8. OCEAN BILLY (NZ) 6yo G


OCEAN PARK (NZ) - COOL STORM (NZ)

DAMIEN THORNTON
CHRIS WALLER
$31.00
53.5kg