Race Result:
1st: Chaillot (Declan Bates/Archie Alexander) - $3.40F
2nd: Begood Toya Mother (Daniel Moor/Daniel Bowman) - $21
3rd: Met Spectrum (Dea Yendall/Greg Eurell) - $21
Winning Time: 1:17.92 Last 600m: N/A
Margins: Short Head x Short Head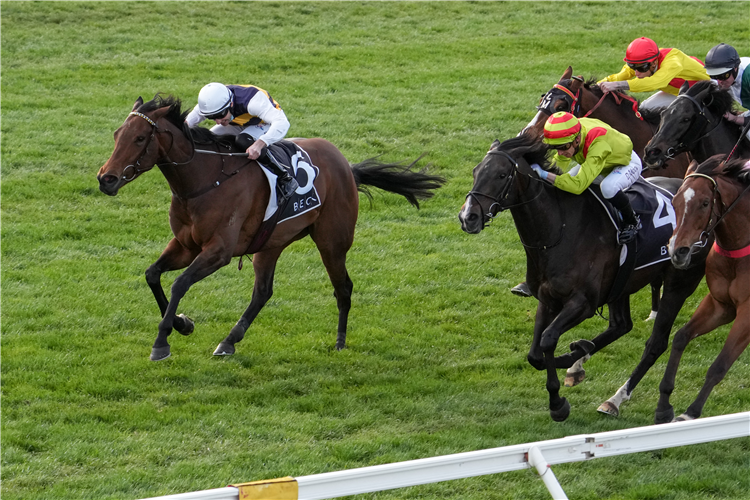 WHAT. A. WIN!

Chaillot is a very talented mare for @archi3alexander and @OTIRacing. pic.twitter.com/bVsARf5Zpj

— Racing.com (@Racing) September 25, 2021
Winning Trainer: Archie Alexander
"She does it to us every prep. I think at about the 200 (metre mark) I walked away and I thought 'not today, she's going to beat three or four home and not a bad first-up run' and then we'd move on.
"She just started to creep there and probably in the last hundred I thought she is a bit weird she might just sprout wings.
"She knows exactly where the line is so very good return and well done to Dec, he knows her very well. Well done to all the team at home. It is a big effort to get her back each time.
"We've never had a horse with a turn-of-foot like that. Just gets you out of trouble all the time. Definitely on track for another good prep and I think we'll go to the Ladies Day Vase, which is what we did last year, and then into the Empire Rose.
"But she's so good fresh that we might have to rethink it. Anyway, the job is done today."
Winning Jockey: Declan Bates
"I'd say she's a thrill to watch and she's certainly a thrill to ride. She just produces it on the day. All's well that ends well.
"She really does appreciate being out in clear air when you ask her to go. The barrier was a little bit of a concern and I had to bide my time.
"A lot of the time the way you ride her, she has to be good. All the time she is.
"She actually jumped cleanly enough and you don't want to drag them back when they do that. I just sat neutral and let her find her feet. I got shuffled back a little as it was. Following Newhart in the run I got onto the back of Ironclad and I thought he'd get me a clear run and then I could kick.
"But with Goldfields outside me, he gave a good enough kick and it just meant at the top of the straight I had to take back and come off the back of his heels which I the first few were away and gone but she has such a good turn-of-foot and she can reel them in."

FP
Silk
Horse, Age & Sex
Sire & Dam
Jockey
Trainer
SP
WT

1st

6. CHAILLOT (AUS) 5yo M


TESTA ROSSA (AUS) - MARY OF MODENA (AUS)

DECLAN BATES
ARCHIE ALEXANDER
$3.50
54.0kg
Oti Racing (Mgrs: T Henderson & S Driscoll), D McLean, Mrs S Duggan, C Durkin, Mrs K Gordon, P Rechter, I McLachlan, L Webb, Ms D McKeown, N Webb, J & Mrs J Spence, M & Mrs A Stone, Top Hat, Alpha Racing No 1, Porter Pelchen Racing, Three Hand Racing & Uthmeyer Racing

2nd

4. BEGOOD TOYA MOTHER (AUS) 7yo G


MYBOYCHARLIE (IRE) - LADY OF HELENA (NZ)

DANIEL MOOR
DANIEL BOWMAN
$21.00
56.0kg
Hello Possum Syn, M J Bracken, P Van Ginnekan, Ms E Petherick, Mrs J Farrow, Ms L K Petherick, R P Carey, W B Burgoyne, L A Reichelt, J L Serle, M A Atchison, B Deverall, M S Fleming, Youngandold Syn, Ultimate Racing, Crack Seven Racing, M B Dreams & In The Gravy Syn

3rd

12. MET SPECTRUM (GB) 6yo G


HELMET (AUS) - MARA SPECTRUM (IRE)

DEAN YENDALL
GREG EURELL
$21.00
54.0kg
Mrs A Lau Yap
4th
1. SO SI BON (AUS) 8yo G


SO YOU THINK (NZ) - BLACK MINX (NZ)

LUKE NOLEN
BEN & JD HAYES
$8.00
60.0kg
5th
11. GOLD FIELDS (AUS) 9yo G


CHURCHILL DOWNS (AUS) - GOLD DELTA (AUS)

ZAC B SPAIN
LOGAN MCGILL
$67.00
54.0kg
6th
10. JUSTACANTA (NZ) 8yo G


PER INCANTO (USA) - JUST CASUAL (NZ)

TAHLIA HOPE
PATRICK PAYNE
$41.00
54.0kg
7th
2. NEWHART (AUS) 6yo G


FIGHTING SUN (AUS) - JESTING (AUS)

CRAIG NEWITT
BARRY CAMPBELL
$7.50
58.0kg
8th
9. GALAXY RAIDER (AUS) 9yo G


HARD SPUN (USA) - GALAXY LIGHT (AUS)

MICHAEL DEE
GRAHAME BEGG
$21.00
54.0kg
9th
5. KING OF HASTINGS (AUS) 5yo G


ILOVETHISCITY (AUS) - HANDCUT (AUS)

JYE MCNEIL
A & S FREEDMAN
$5.50
55.0kg
10th
3. IRONCLAD (GB) 5yo G


DUBAWI (IRE) - HEAT HAZE (GB)

DAMIAN LANE
WILL CLARKEN
$6.50
56.5kg
11th
8. HIGHTAIL (AUS) 5yo G


WRITTEN TYCOON (AUS) - LA PARIS (AUS)

BRETT PREBBLE
PETER & PAUL SNOWDEN
$9.00
54.0kg