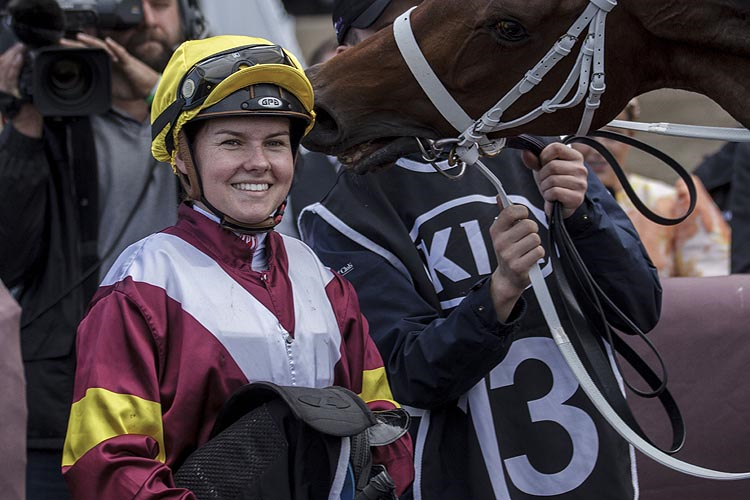 Peter is a trainer these days, a fill-in position he took after a shoulder injury just over two years ago took him out of the saddle as jockey, whereas his daughter has only in the last month resumed race riding after a track fall just over 12 months ago.
They had combined for a few placings but three-year-old gelding Gold Card had a just under a half-length win at its third start at Port Macquarie's Queen Of The North meeting.
"It was a huge thrill for both of us," Peter said. The gelding, owned by Ron Kirwan and his wife, had run second at Port on January 1 and the win took its earnings to $18,250 with the promise of more.
Peter, 53, is now thinking his gelding could have a chance of making it to the $500,000 Newhaven Park Country Championships Final in Sydney in April.
"I will see how he progresses after the win in the heavy at Port as I have no doubt he will run 1400m (heat and final distances). I will definitely consider it if he tells me he is okay. He was well-educated before I got him, he is tractable and has a good turn of foot."
He was still going strong at the finish to give father and daughter their first win together. "Gold Card is great to ride and I can do what I want with him," Peter said.
The good news is that Peter's wrenched shoulder is feeling nearly right and even though it has been just over two years since he injured the shoulder, he said: "I haven't hung up the boots yet.
"I enjoy training, even though it is hard work and less money than being a jockey. If I returned to the saddle I wouldn't travel the distances for rides as I have done in the past."
Peter and Cejay celebrated the win on Saturday with both working on a property for the daughter just out of Port.
Meanwhile, Tuncurry trainer Terry Evans could have two gallopers ready for the Newhaven Park Mid North Coast Country Championships (first and second go to the Final) at Manning Valley Race Club's Showcase TAB meeting on Sunday 20 February.
His four-year-old mare Par Avion has won four of its 10 starts and recently won a barrier trial as it resumes racing, probably at Newcastle next week.
The horse is bound to get a start in the heat and could be joined by four-year-old mare Robarge (NZ) which won by two lengths when ridden by Jeff Kehoe over 1000m at Tuncurry on January 15.
The mare has also had four placings in only five starts and has prizemoney of $20,395. The mare was imported from New Zealand has about 20 owners and all up cost about $80,000.
"She will get 1400m easily as she is a strong mare. In all five starts she has had to contend with outside barriers and has had to go forward in her races.
"I would love to see her get a decent barrier so that she can take a sit and then show how good she is," Terry said.
Racing returns to Taree on Friday 28 January where no doubt other gallopers on the Newhaven Park Country Championships path will be showcased.