Race Result:
1st: Head Of State (James McDonald/Chris Waller) - $5.50
2nd: Profondo (Robbie Dolan/Richard Litt) - $4.60
3rd: Benaud (Hugh Bowman/John O'Shea) - $21
Winning Time: 1:50.04 Last 600m: 34.43
Margins: Neck x 3¾L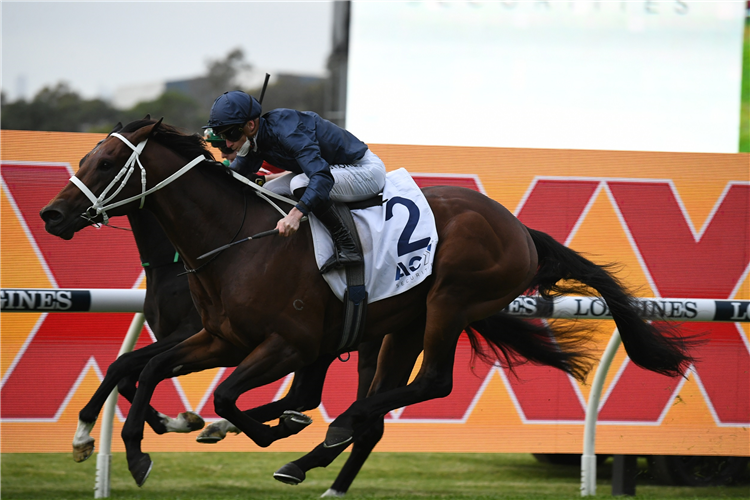 Head Of State goes on to win the Group 3 Gloaming Stakes from Profondo!@cwallerracing @mcacajamez @aus_turf_club pic.twitter.com/Qg4lywnY79

— SKY Racing (@SkyRacingAU) September 25, 2021

Winning Trainer: Chris Waller
On the win: "It's been a work in progress. It's coming together but it's a pleasure to work with these types of horses as I said earlier in the day."
On the sire: "I was fortunate enough to meet American Pharoah myself and what an amazing horse it was to look at. I got the chance to meet Bob Baffert at the same time, the three of us. It was something that I will always remember for the rest of my life."
Regarding the meeting: "He [Baffert] was in awe of Winx and I was in awe of American Pharaoh as was the rest of the world."
On American Pharoah: "I said to a few owners just stick with American Pharoah. He's the real deal in terms of they just need a little time. They are 3yos and he can really step up to that good mile, middle distance types and this horse can as well."
You are seeing with our 3yos now that things change a lot from the 2yo year to the 3yo year. There is so much money in that category and breeders want value for money so there are lots of chances. 52 weeks a year in Australian racing, arguably THE best in the world and we cater for all horses. Just proud to have a few of these middle distance types coming through."
On the next run (Spring Champion): "That's the plan. We thought he would take good progress from today's run in two weeks' time. Obviously the second horse was very good and he'll have a bit of improvement to come. I love the way they gapped the rest."
Winning Jockey: James McDonald
On the training: "He's a remarkable trainer. Just gets them, horses that you think are just going through the motions will jump out of the ground. I thought last start if I went forward I reckon he would have run really well or won. He's all about learning and getting them through their grades with the ultimate goal in two weeks so for him to perform like that here today was a really good effort, especially the way the track has been playing."
On the horse: "He was very up and about before the start. Still more to come. He loved that fast ground. A huge effort against the bias."
On Anamoe's placing: "He was super. Deflating at the same time but very proud of the horse. He was primed for the race, he looked fantastic, he went great. Disappointing we went down but he will live to fight another day."
Beaten Jockeys:
Nash Rawiller (Subterranean): "Horse has got ability but he needs to be gelded. He's not going in the right direction."
Jean Van Overmeire (Arnaqueur): "Good run. Obviously never easy being stuck wide."
Kerrin McEvoy (Alegron): "A good run. I ended up riding him a little quieter from that draw. Everything says 2000m at Randwick is going to suit."
Brock Ryan (Dark Rebel): "He ran OK. Just wouldn't change legs down the straight and fully let down."
Robbie Dolan (Profondo): "He's still not the finished product yet. He wanted to start running away from the stick a little bit up the running but he's gone good."
Jason Collett (All Machiavellian): "Every chance."
Glen Boss (Akahata): "He's more of an Autumn type."
Tim Clark (French Emperor): "He's quite a nice horse. He does a bit wrong still. Still a bit immature."
Andrew Adkins (Patton): "Good run. First attempt at the trip. He handled himself well."
Sam Clipperton (Satirical Glory): "He went terrific. He past tired horses and didn't have a lot of room to move with up the straight but he hit the line strong."
Rachel King (Notions): "Tried really hard but just got a bit tired late."
Glyn Schofield (Stray): "She ran a really good race. Widest barrier, went back and followed the winner. Just didn't quite have that finishing speed from the 600 but she's certainly finished off very well."
Hugh Bowman (Benaud): "Really proud of him. Great run."

FP
Silk
Horse, Age & Sex
Sire & Dam
Jockey
Trainer
SP
WT

1st

2. HEAD OF STATE (AUS) 3yo C


AMERICAN PHAROAH (USA) - DERELIQUE (AUS)

JAMES MCDONALD
CHRIS WALLER
$5.50
56.5kg
Coolmore, Wynaus, Westerberg, J Poulin, Sir P J Vela, Chris Waller Racing, Lynque, Woppitt Bloodstock, Peachester Lodge Pty Ltd, K J Pooley, Mrs J L Pooley, Rockingham Thoroughbreds & R McClure

2nd

6. PROFONDO (AUS) 3yo C


DEEP IMPACT (JPN) - HONESTY PREVAILS (AUS)

ROBBIE DOLAN
RICHARD LITT
$4.50
56.5kg
Galletta Construction Co Pty Ltd (Mgr: O Galletta)

3rd

15. BENAUD (AUS) 3yo C


RELIABLE MAN (GB) - BAGGY GREEN (AUS)

HUGH BOWMAN
JOHN O'SHEA
$21.00
56.5kg
C E Holt, Mystery Downs, Mrs C M Cook, Laurel Oak Bloodstock Pty Ltd, M Fitzgibbon, J D Horrigan, G J Burton, D A Jeffery, P T Blair, G W Aldridge, Rhiannon Bloodstock, M J Clift, M S Riley, Tiani Vlei, Mrs C A Cushnahan & Finemore Thoroughbreds (Mgr: R S Finemore)
4th
4. ALEGRON (AUS) 3yo G


TEOFILO (IRE) - ALEGRIA (AUS)

KERRIN MCEVOY
JAMES CUMMINGS
$9.00
56.5kg
5th
10. PATTON (AUS) 3yo C


AMERICAN PHAROAH (USA) - TSARITSA (AUS)

ANDREW ADKINS
MICHAEL & WAYNE & JOHN HAWKES
$61.00
56.5kg
6th
14. STRAY (AUS) 3yo F


THUNDER FANTASY (AUS) - PLAYA DEL CARMEN (AUS)

GLYN SCHOFIELD
ANTHONY CUMMINGS
$31.00
55.0kg
7th
12. NOTIONS (AUS) 3yo F


PRESS STATEMENT (AUS) - SHE'S SIRIUS (AUS)

MS RACHEL KING
R & M FREEDMAN
$11.00
54.5kg
8th
3. ARNAQUEUR (AUS) 3yo C


ASTERN (AUS) - ALOONA (USA)

JEAN VAN OVERMEIRE
JEAN DUBOIS
$11.00
56.5kg
9th
11. SATIRICAL GLORY (AUS) 3yo G


SO YOU THINK (NZ) - SATIRICAL LADY (AUS)

SAM CLIPPERTON
J G SARGENT
$101.00
56.5kg
10th
1. SUBTERRANEAN (AUS) 3yo C


REBEL DANE (AUS) - CAVES (AUS)

NASH RAWILLER
MATTHEW DUNN
$8.50
56.5kg
11th
7. ALL MACHIAVELLIAN (AUS) 3yo G


ALL TOO HARD (AUS) - MISS CANNY (AUS)

JASON COLLETT
GREGORY HICKMAN
$26.00
56.5kg
12th
8. AKAHATA (NZ) 3yo C


PINS (AUS) - HOLINESS (NZ)

GLEN BOSS
BJORN BAKER
$31.00
56.5kg
13th
9. FRENCH EMPEROR (AUS) 3yo G


TAVISTOCK (NZ) - SPECIAL MEMORIES (AUS)

TIM CLARK
DAVID PAYNE
$6.00
56.5kg
14th
5. DARK REBEL (AUS) 3yo C


ASTERN (AUS) - SHE MUST BE OBEYED (AUS)

BROCK RYAN
EDWARD CUMMINGS
$31.00
56.5kg