Race Result:
1st: In The Congo (Tim Clark/Gai Waterhouse & Adrian Bott) - $7.50
2nd: Anamoe (James McDonald/James Cummings) - $1.90F
3rd: Coastwatch (Nash Rawiller/Chris Waller) - $26
Winning Time: 1:21.46 Last 600m: 34.33
Margins: Long Head x 1½ L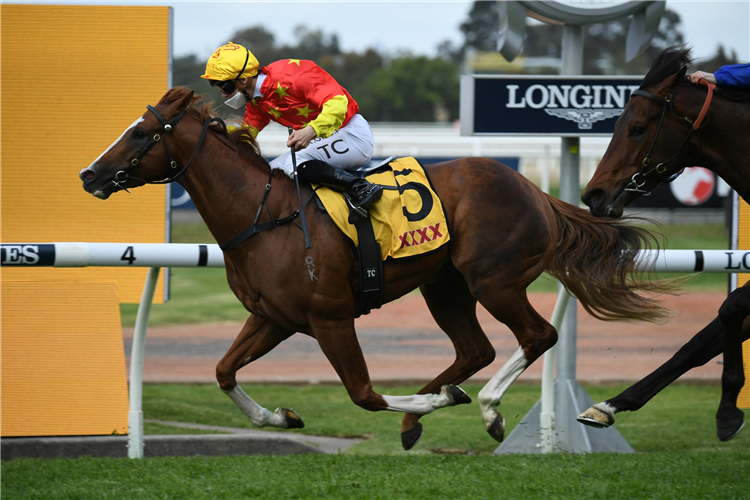 A golden moment for IN THE CONGO in the Golden Rose! @GaiWaterhouse1 @clarkyhk @aus_turf_club pic.twitter.com/0eB7mZhqEI

— SKY Racing (@SkyRacingAU) September 25, 2021

Winning Trainer: Gai Waterhouse & Adrian Bott (Adrian comments)
On his racing style: "I certainly took a lot of confidence from that coming here today. We weren't concerned about the 1400m, we knew he had that high cruising speed. He has the ability to sustain that and that was what we wanted to do today. Make it a real test for a few of those. Take away some of their brilliance and bring in his assets like his high cruising speed and that toughness that he's got so it was well deserving. He wears his heart on his sleeve every time he steps out. He was deserving a tough victory like this."
Any surprise at getting to this level: "Every start he has stepped out he has surprised me and continued to impress me and improve. We have kept raising the bar from when he stepped out in the off season in the Winter and through the early stages of the Spring. We set him goals and he kept delivering. He's still been putting it all together but he has put it all together in a big way now."
A G1 Snitzel winner: "Fantastic pedigree behind him. He's a fantastic type himself and has always had that raw natural speed and we've been in a fortunate position to get the opportunity from Newgate Farm, Henry Field and the connections to try and make these stallion prospects and he has well and truly stamped that today."
On the next run: "The back of our mind was always to keep the Coolmore open as an option. We thought this was always a good form race going down to the Coolmore and it would be a good lead up for that. Mindful he has been up for a while and he's kicked a big goal now. We'll see how he comes through that now. It's a tough race today and expect him to bounce out well as he's that type of horse. We want to do the right thing by him."
Winning Jockey: Tim Clark
On the speed in the race: "I had a conversation with Gai on the way here and I said to her I'll roll to the first turn and might just try and get a breather. She said don't you dare. She said you keep him running and use his speed because it can win you the race. So I did that and we pulled it off."
On being under-rated: "He has probably looked as good today as he has looked all prep. He is obviously thriving and all the team who look after him at Tulloch Lodge have done a wonderful job. They've presented all their horses well today. It's a big thrill. We've always thought he had that sort of ability. He probably didn't execute early on in his career. He had that little short let up and he's come back and got it right every time although he hasn't won every time. I thought he went even better again today."
On winning with Gai & Adrian: "There is definitely a big smile under this mask. I really enjoy working with both of them. We've built up a really strong partnership. It's a real honour to be riding for the stable and days like today are very special."
On the rest of the prep: "He's been up a long time. I guess there is no reason if he continues to hold that form that he can race on whether it is up here or down in Melbourne for a Coolmore I guess. They have some time to decide."
Beaten Jockeys:
James McDonald (Anamoe): "Super. Deflating at the same time but very proud of the horse. He was primed for the race, he looked fantastic, he went great. Disappointing we went down but he will live to fight another day."
Jason Collett (Artorius): "Great run. His racing pattern made it difficult today but the run was fantastic considering."
Sam Clipperton (Captivant): "I thought he ran well enough. It was a brutal run race. Quickened nice from the 4 to the 2 but just sustained a gallop from there on. A good run particularly if he is heading toward the mile."
Josh Parr (Hilal): "Awful."
Glen Boss (Tiger Of Malay): "Every possible chance. He ran well."
Hugh Bowman (Remarque): "He's a beautiful athlete but he just can't breathe."
Kerrin McEvoy (Giannis): "Just found them a bit quick on that ground over that trip."
Rachel King (Royalzel): "OK effort in very good company but he just wants further."
Nash Rawiller (Coastwatch): "Super. Gee he ran well. Just sat off that speed and he has a great future."
Jean Van Overmeire (Moridan): "He just completely hung off the track and there was no stopping him."
Brock Ryan (Jamaea): "She ran really well. Just was a really tough run 14 and it didn't suit her but she's gone well."
Regan Bayliss (Startantes): "Ran out of her skin. They really ran along at a good tempo. She was back along the rail and once she got balanced she really stormed through the line. Hopefully she pulls up well and she might be a Flight Stakes contender."

FP
Silk
Horse, Age & Sex
Sire & Dam
Jockey
Trainer
SP
WT

1st

5. IN THE CONGO (AUS) 3yo C


SNITZEL (AUS) - VIA AFRICA (SAF)

TIM CLARK
G WATERHOUSE & A BOTT
$7.50
56.5kg
Newgate Bloodstock, China Horse Club Racing Pty Ltd, Horse Ventures, Newgate S F, Go Bloodstock Australia, Starlight Racing, Glenlogan Park, Highgrove Stud, Nick Vass Bloodstock, Aston Bloodstock, Grant Bloodstock Pty Ltd, Carpe Diem, G1g Racing & Breeding, M J Wallace & D W Wallace

2nd

1. ANAMOE (AUS) 3yo C


STREET BOSS (USA) - ANAMATO (AUS)

JAMES MCDONALD
JAMES CUMMINGS
$1.90
56.5kg
Godolphin

3rd

10. COASTWATCH (AUS) 3yo G


FASTNET ROCK (AUS) - BULLION MANSION (AUS)

NASH RAWILLER
CHRIS WALLER
$26.00
56.5kg
Coolmore, Wynaus, Westerberg, J Poulin, Sir P J Vela, Chris Waller Racing, Lynque, Woppitt Bloodstock, Peachester Lodge Pty Ltd, K J Pooley, Mrs J L Pooley, Rockingham Thoroughbreds & R McClure
4th
2. ARTORIUS (AUS) 3yo C


FLYING ARTIE (AUS) - GRACIE'S LASS (AUS)

JASON COLLETT
A & S FREEDMAN
$10.00
56.5kg
5th
6. TIGER OF MALAY (AUS) 3yo C


EXTREME CHOICE (AUS) - SAMBAR (AUS)

GLEN BOSS
R & M FREEDMAN
$17.00
56.5kg
6th
13. STARTANTES (AUS) 3yo F


STAR TURN (AUS) - FUNTANTES (AUS)

REGAN BAYLISS
ROBERT HEATHCOTE
$21.00
54.5kg
7th
3. CAPTIVANT (AUS) 3yo C


CAPITALIST (AUS) - SPEEDBOAT (AUS)

SAM CLIPPERTON
PETER & PAUL SNOWDEN
$26.00
56.5kg
8th
12. JAMAEA (AUS) 3yo F


HEADWATER (AUS) - ISIBAEVA (AUS)

BROCK RYAN
R & L PRICE
$21.00
54.5kg
9th
8. GIANNIS (AUS) 3yo C


FLYING ARTIE (AUS) - PALACE ROCK (NZ)

KERRIN MCEVOY
CHRIS WALLER
$31.00
56.5kg
10th
9. ROYALZEL (AUS) 3yo C


SNITZEL (AUS) - ROYAL TITHE (AUS)

MS RACHEL KING
GARY PORTELLI
$67.00
56.5kg
11th
4. HILAL (AUS) 3yo C


FASTNET ROCK (AUS) - SALMA (AUS)

JOSH PARR
MICHAEL & WAYNE & JOHN HAWKES
$51.00
56.5kg
12th
7. REMARQUE (AUS) 3yo C


SNITZEL (AUS) - RESPONSE (AUS)

HUGH BOWMAN
MICHAEL & WAYNE & JOHN HAWKES
$9.00
56.5kg
13th
11. MORIDAN (AUS) 3yo C


MAURICE (JPN) - VADAIYMA (FR)

JEAN VAN OVERMEIRE
ANTHONY CUMMINGS
$101.00
56.5kg