Race Result:
1st: Nature Strip (J McDonald/C Waller) - $3.70
2nd: Masked Crusader (T Berry/M, W & J Hawkes) - $12
3rd: Eduardo (N Rawiller/J Pride) - $4.20
Winning Time: 1:09.11 Last 600m: 34.76
Margins: Long Head x ½ Neck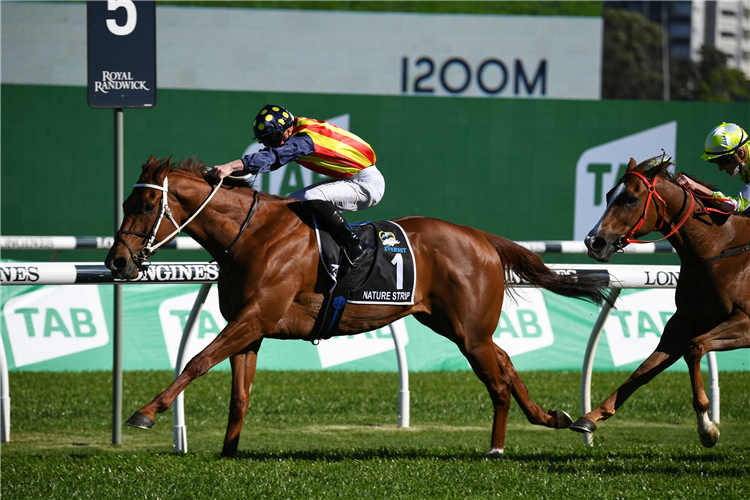 "He's king of the mountain this time!"

Nature Strip takes out the 2021 #TABEverest.@cwallerracing @mcacajamez @aus_turf_club pic.twitter.com/Li9IFImawF

— SKY Racing (@SkyRacingAU) October 16, 2021
Winning Trainer: Chris Waller
On the win: "I'm getting a bit emotional for a change. It's just a great race. It's captured the imagination of so many people, inside racing and out and what better way to get out of COVID."
Feel the crowd mood?: "Not until now. I could feel it was a little bit different but when he crossed the line it certainly hit home that it's a big race that's taking over Australia."
On the lead up: "I just didn't panic really. We kept it pretty simple. We obviously started later with him and he did the rest."
On the horse: "We all are close. My team at home, not just with Nature Strip but with the whole team. Stewart, who rides him work and Gary who's strapping him today because Stewart can't be here. It's a great story and that's what our team's about, work away and win some big races."
Unfinished business in Everest: "He got the highest rating sprinter in the world for a reason and that gave me some confidence. He's probably justified it today."
Your fav?: "He's right up there, that's for sure."
Earn a break?: "A break for three weeks and then he goes to Melbourne for the Darley Sprint. That was always the plan. The owners in Melbourne haven't had a chance to see him, no-one's had a chance to see him. (One of the owners) is here today but the rest haven't been over here. We'll take him down to Melbourne and hopefully the situation improves in Melbourne."
Winning Jockey: James McDonald
On the race: "I've never woken up in the morning and been so confident. Even though he's just got there. The man who trains it is just an absolute master. I don't know what he does, he's just a freak of a trainer. The horse is a star. I knew we'd see something really good today. The build up has been so good. Everyone one has wiped him off having run in it three times and hasn't done any good. It's been different this time around. The horse gives his all.
On the win: "It is the only one that has been alluding him. He's been a consistent performer all the way through. I think they hit the nail on the head earlier in the week as his last six runs he's been thereabouts. He's a Grand Final performer. That is what the trainer is, that is what the horse is and he's done it today."
On winning this race: "Ever since I've been thinking about it. I had goosebumps thinking about it last night. I truly believe this was my time to shine and the horse's time to shine. Everything is too good to be true at the moment. The rain was dropping from the sky. When the track came up a Soft 5 I thought OK. But he's so adaptable. The best sprinter in the world."
On the lead up: "I've been nervous on him before but not today. I wasn't when he won the Moir one year. I think I would have been more nervous if he drew in. I would have had things to sort out. When they challenged I was sick. Physically ill cantering past the post. Just prayed and hoped that they got there."
Beaten Jockeys:
Kerrin McEvoy (Classique Legend): "He's run well. Got back further than what I thought he would. The pace was strong. Got into the three wide line to move into it. He gave his best effort. We just came up a little bit short this year. Les has done a great job with him."
Nash Rawiller (Eduardo): "He went outstanding. Ran his heart out. Couldn't ask for any more."
Jason Collett (Gytrash): "I was disappointed with the performance. He had the right run to be in the finish. Didn't find when asked."
Josh Parr (Trekking): "Terrific effort. They went fast and kept running. That levelled him out the last but it was a terrific effort."
Tommy Berry (Masked Crusader): "Just cost himself at the start."
Tim Clark (Wild Ruler): "He had to do a bit of work early. Was found wanting late."
Regan Bayliss (The Inferno): "We followed Classique Legend. We travelled really nice, got into a nice rhythm. When the pressure came on he just dropped the bridle for me. They aren't making a huge lot of ground today. I thought he was honest."
Jean Van Overmeire (Embracer): "I thought he tried really hard. He's slightly below that level."
Hugh Bowman (Lost And Running): "Just delighted with him. Presented to perform at his best on the day and he's delivered."
Sam Clipperton (Libertini): "I thought her effort was sound."
Glen Boss (Home Affairs): "Unfortunately he came off the bridle very quickly as we straightened. He didn't have a lot to offer which really surprised me. He is a far better colt than that."