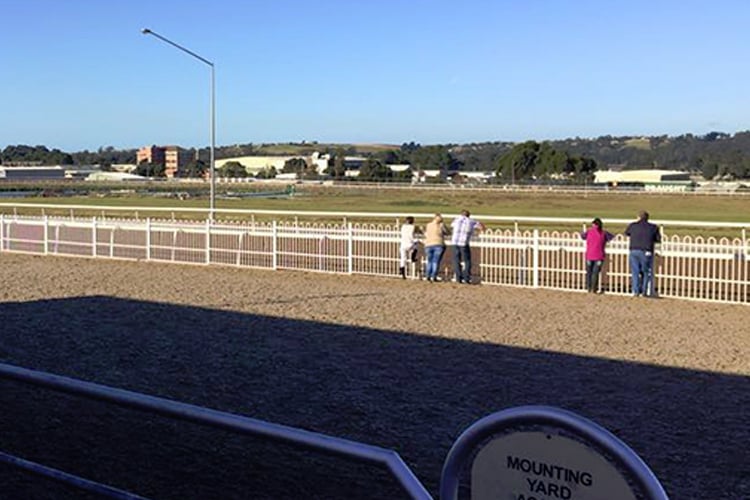 Punters will be hoping for smoother sailing this week after a host of jockey changes following the finalisation of fields for last Sunday's program saw several races turned upside down.
It's an interesting program with a capacity field in the opening race mostly followed by smaller ones thereafter. The exciting Gee Gee Plane looks to extend his win streak to four in the final race.
R1 Ladbrokes Easy Form Maiden, 1150m
NEED TO BE UNIQUE (3) snatched defeat from the jaws of victory first-up, grabbed in the last stride after leading. He'll strip fitter but needs to overcome a wide draw. SOULITA (9) was well backed last Sunday but ran into a first starter that was too good. She'll be around the mark again. BELMISTA (2) has raced wide at his last couple but hasn't shirked the task. He will appreciate a lower draw. LABBY ROCK (7) had excuses for both runs last campaign and looked to have a bit left in the tank in her recent trial. POP A HONDA (11) was in the market last Sunday when scratched due to the jockey shortage but has drawn wide this week. EIGHT MARGARITAS (5) is another debutante, and the stable scratched MEIGETSU (8) to ensure she would get a start this week. The emergencies getting a start have to be considered. OUR SONNY BOY (15) showed a bit at the trials, MISS RED (16) was awful last time but has blinkers back on and MAYWYN IS THE WORD (17) was solid at his first run for Rowan Hamer and may improve from that.
Staking Strategy: I feel for punters who were on Need to be Unqiue last time, stiff not to win at double figures and then you're getting $2.20 the next time out. I have him favourite but nowhere near that short from a poor draw. Belmista should position much closer from a good gate and if the intent is there with Labby Rock I'm expecting a forward showing. 1 unit to win on both Belmista (2) and Labby Rock (7)
R2 Tasmanian Equine Dentistry Benchmark 74 Hcp, 1880m
RED FIORE (5) has led the field a merry dance at his past two starts, getting nailed on the post in one and easily winning last start. He should find the front and take catching again. BANCA NIP (3) settled back in a slowly run race last Sunday won by the leader. He was backed there and on the quick back-up, he'll likely have supporters again. UP WIND (2) has jumped less than $3.50 at his last three starts but come up short each time. This isn't any harder but his racing pattern of settling back requires things to fall into place. DIXIE'S BOY (4) tracked Red Fiore throughout last time and maps for similar. He has a 1kg swing in his favour for a 3.5-length margin. MI KERI PI (1) is an ex-Mitch Freedman horse that goes straight to 1880m for the new stable. She should have residual fitness with only 29 days between runs.
Staking Strategy: I found Red Fiore at double figures last time and while he is nowhere near that today, he looks a good chance to repeat the dose. Banca Nip is another horse I was with last start and I'm looking to keep him on side as one that will be running on late. 3 units to win on Red Fiore (5) and 1 unit to win on Banca Nip (3)
R3 Goodstone Group Mdn/cl1, 1880m
TASSIE MISS (5) had things fall into place last Sunday for an overdue victory. That race was almost four seconds quicker than when she was beaten by TOUGH COOKIE (7) at the start prior who led and dictated. SOUTHERN WIND (4) and WHO'S THE RIDER (10) rounded out the trifecta behind Tough Cookie, all three having the race made to order. TINY TIMMY (6) caught the eye rattling home last Sunday and meets the winner 2kg better at the weights. From gate 10 there's every chance he will be giving a big start again. CAPTAIN MORGAN (1) was squeezed in the straight in the same race and should've finished closer. PORT BERRY (2) is another on the quick back-up and has found a bit of form as he has stepped up in distance. LUCE DELLA LUNA (8) was narrowly beaten last week but that form is a query with less than half a length covering the first four in the race.
Staking Strategy: This race is the perfect example of the challenges punters have faced with Devonport racing in the last two months. Will it be the crawl that saw Tough Cookie upset the favourite Tassie Miss? or will the leaders go nuts and give one from behind the perfect trail like Tassie Miss breaking her maiden last week? With enough speed in the race to expect a genuine gallop, Captain Morgan doesn't often put in bad ones around here and he is an each-way price. 2 units each-way on Captain Morgan (1)
R4 Tasmanian Horse Transport Benchmark 60 Hcp, 1650m
TURK DELIGHT (1) had all the favours last time and took advantage for a narrow win. He maps for a similar run but rises 2kg. SUBMIT ANOTHER (3) has Pires on after using apprentices for all three runs this campaign. He's ready to win but is approaching two years since his last one. ZEGREY (6) has been good at his last three starts, he cleared out with two horses last week that would be very short in this field. NORTHERN SPIRIT (4) ran like she was looking for this trip first-up. She may be the progressive horse in an exposed field. Few in the state are more exposed than SPIHRO (5) who lines up for start 102 as a 12YO. His last three starts at the T&D have been second, first, second. DUNMINING (7) has been settling a bit far back in her races but is perhaps going a little better than the form reads.
Staking Strategy: Spihro has been specked at a price and I can see why, he's a Devonport miler at this late stage of his career. In an open race I thought he was worth a play. 1 unit to win on Spihro (5)
R5 Dean Rawlings Senior Memorial Benchmark 66 Hcp, 1009m
LUCKY BUCKY (4) returned with an impressive first-up win, carrying 61kg over the 1150m. Back to 1009m looks no negative and he gets a bit of weight relief for the rise in grade. TROJAN STORM (5) franked the form when he won last week at Tayah Stalker's first career ride. Her 4kg claim gives the 8YO a nice swing at the weights. GEE GEE QUEEN BEE (2) is a notoriously good trialer, and she did just that on Tuesday with the fastest time of the day. Barrier 7/7 makes things tricky. LE CADEAU (3) has his first run of the campaign, trialing up stylishly twice in readiness. Suspect he is wound up but may find this a bit sharp. ARTUSO (1) is deep into a campaign that's seen him routinely around the mark in races like this. SCHAZEM (7) is out of her grade, but no doubt connections are looking for races at the T&D.
Staking Strategy: I was very impressed with the win of Lucky Bucky here last time and I like the setup for him here. I'm expecting the price to hold up given how easy he was in the market but he is my best of the day. 5 units to win on Lucky Bucky (4)
R6 Kevin Sharkie Class 1 Hcp, 1350m
FREELANCER (1) has jumped favourite at both starts this campaign, running more to market expectation last time out. He drew ideally there and enjoyed a good run, but this time Daniel Ganderton draws the other side of the track. MADETOBEBROKEN (2) was perhaps a touch plain last Sunday but may have already been looking for this trip. He was an impressive first-up winner in the state beating a field that included THE BEEKEEPER (5) who finally won the next start. It would be rare to see a horse take 17 starts to win a race and then go back-to-back, but he was dominant last time. WELDBOROUGH (3) was doing his best work late first-up, this distance likely to suit more and Brendon McCoull has the steer from an ideal draw. BOSS CHEYENNE (8) beat The Beekeeper two starts ago and didn't have the clearest passage last time.
Staking Strategy: Weldborough is another horse I found at a price last time where he was working home over 1009m which was a bit short. He should enjoy a good run here and I'm happy to follow-up. 2 units to win on Weldborough (3)
R7 Thai Imperial Benchmark 66 Hcp, 1350m
Open race to finish. GEE GEE PLANE (3) has been one of the finds of this run of Devonport racing, winning three in a row after a debut third. He's waited a month between runs to get to 1350m for the first time but he's taken all before him so far. BARJEEL (2) was an impressive winner at the T&D last start in this grade. He warrants plenty of thought off that performance. DIVISOR (5) had everything her own way when winning last start but that form can be franked in the previous race. ASSARANCA (6) hit the line like a mare looking for further first-up and that was a race of some depth despite a small field. MISS EXCESS (7) was very good at her first run for Tanya Hanson. The two horses she finished behind there have since won. DOROZA (1) gets in well as a 77 rater despite carrying 60.5kg after the claim. He was scratched on the way to the barriers last week. RAGHU (4) will find this easier than what he has been contesting so far this campaign.
Staking Strategy: She's never an easy watch with her racing pattern but Miss Excess looks well over the odds at close to double figures off an excellent first run for the new camp. That form can only receive a bigger push if Lucky Bucky/Trojan Storm run well in the fifth race. 2 units to win on Miss Excess (7)