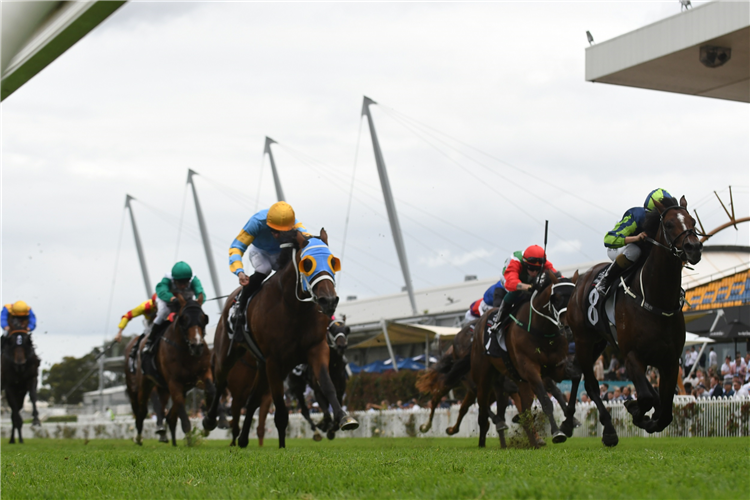 R1 Tasmanian Bloodstock Benchmark 76 Hcp, 1430m
FIRST ACCUSED (1) was heavily backed in the Winzenburg but copped a bit of interference on the home turn before finishing a narrow third. He jumps in weight but his last run at the T&D was a dominant win back in May. CORONATION KEITH (3) was disappointing first-up over 1100m but that was a strange race where the on-pace runners declared it on a long way out. 1400m will be more to his liking as long as he handles the Hobart track. HELLOVA NIGHT (4) has been backed a few times this campaign and finally landed the prize last start. He drops in weight and will get a good run from a low draw. MYWORDIS (2) returns from a Devonport Cup campaign, perhaps being reset for the WFA races. IVORYMAN (5) was well-ridden last start for a narrow, but strong victory. He's up in class but down in weight and racing as well as ever.
R2 Hygain Maiden, 1430m
WARICA (4) continues to find that elusive win hard to come by without being far away. Deep into the campaign 1400m should be fine and he gets some weight relief with EBB taking the ride. FOUR LETTER WORD (7) has started triple figures at both career starts but won't be anywhere near that here after a closing second behind Krupt Candy. There was a good margin to third and it looks a great opportunity for Tom Doyle to notch his second win for the season. NUFEN SPECIAL (6) has only missed a place once from six runs on his home track. He maps for a good run at just his second attempt over the distance. LABBY ROCK (5) may lead in race lacking obvious pace. MISS NIC NAT (8) closed well from an impossible position last time and is another entitled to start much shorter. REAL BRAZEN (9) jumps sharply from 1100m to 1400m, having all four of her career starts over shorter distances.
R3 Little Bee Family Day Feb 11 Maiden, 1200m
Seven of the 14 guaranteed starters come from the stables of Scott Brunton. NICCO THE GREEK (6) has been heavily supported at both career starts and has now been gelded since his most recent failure. Stablemates SHAMMGOD (9) and BROADWAY BABE (7) are well exposed now as off pace runners who need luck from back in the field. SIGNTHECHEQUE (10) was ridden with a sit last time which tactically didn't work out in a slowly run affair. She draws low again and claims down with EBB riding. GOOGA THE GOAT (4) set a solid clip at his first grass run but only just missed the placings. He should take some benefit from that run. GEE GEE RAINDROPS (13) was inconvenienced by SELKIE (14) who lost the rider and arguably should've finished a bit closer. FRYER HILL (12), GEE GEES JOE BLOW (17), HEATHER'S MEMORY (8) and HELLOT (2) come in fresh and have shown enough at the trials to suggest they at least have minor claims in a maiden lacking a heap of exposed form despite a capacity field.
R4 Ladbrokes Switch Mdn/cl1, 2100m
HAS THE LOOK (6) made the jump from 1430m to 1880m last start in Devonport and may have felt the pinch late after she loomed to win halfway down the straight. Expect her to come on from that run and she was good in Hobart at the start prior. NORTHERN SPIRIT (9) was just held-up at a key stage in that race but worked home only fairly, while INDIGO GIRLS (7) was also up sharply in trip there but ran on well from near the rear. THE EXECUTIVE (2) picked up a Longford maiden last start and has always looked to be a horse that will appreciate getting over ground. STARION (3) hasn't lived up to the market support in his short Tassie career and it must be nearly d-day for him as a Derby hopeful. He finished just behind MCDOWALL (8) last time who may lead in a race lacking an obvious pilot. AMERICAL JEWEL (4) has been awful at his previous two Hobart starts but is a leading player if he brings the Launceston form he showed last start.
R5 The Mills New Norfolk Elwick Stakes, 1100m
BELLO BEAU (2) stamped himself as a leading contender for this race with an impressive debut win. He absorbed some pressure but still had a good kick when challenged by GEEGEE JET BY (1) who had the cushy run in behind. Given the respective stages of the campaign, it's hard to see the tables being turned and third in that race was REMUDA (3) who has a poor draw to overcome. ELLA EXCEEDS (6) started favourite in the first 2YO race of the season but was beaten by GeeGee Jet By. She atoned next time out defeating ELMAJAY (9) who clearly headed her in the home straight. Elmajay was disappointing last start, while one assumes it was a plan for Ella Exceeds to come to this race fresh. PIINK BEAUTY (8) started a short price at her first look at the Hobart track but was unsuited in what became a sit/sprint affair. 1100m will still be as short as she wants it, but a stronger run race could see her a player at the business end and blinkers go on. $25k purchase ESPUR (10) ran reasonable time for the day when winning a Longford trial that included HAPPY CLAN (5).
R6 Unique Doors & Windows Lady Lynette, 1100m
DEROCHE (1) has a significant class edge on her rivals, a 100 rater giving only 2kg to a field where the next highest rated horse is BOOM DOT COM (5) at 76. The leaders clearly overdid things in front last time which enabled GEEGEE TRENDSETTER (4) to run into second in a rough quinella. Deroche has started odds on in three of her five Hobart runs for only one victory which is the cautionary tale against taking a short price. THUNBERG (3) was scratched from the last Hobart program and comes in fresh along with stablemate KUROSET (10) after they trialed alongside each other last week. REITE DEN BLITZ (8) is another from the Seven Mile Beach stables. She's drawn poorly and was a shade disappointing when having every opportunity in Devonport. MISS TUPPENCE (14) closed hard to beat a subsequent winner in Devonport. She's a 3YO filly taking on the older horses but has a touch of class. JAJA CHABOOGIE (7) didn't have a lot of luck on the Winzenburg and that race represents a class drop given the depth of field here. SIDOROVA (9) is capable of producing a strong finish, unsuited with the way the race was run last time.
R7 Kevin Sharkie Thousand Guineas, 1600m
VERBANO (3) has started the well-supported favourite at both starts this campaign and she would've lost few admirers despite finishing second last start. She was 1100m up to 1400m there and that winner was unlucky not to repeat the dose last Wednesday night. MISS CHARLIE BROWN (1) was a drifter in the same race and worked home fairly after settling near the rear. LADY MONACO (6) halved in price in Devonport and produced a performance that almost needs to be seen to be believed. Clearly she has a powerful finish but has yet to show any tactical speed. GEE GEE ENUF SPEED (5) had a gun run and was being hailed the winner in that race, while GEE GEE MISS QUITA (9) also finished hard after covering ground in the run. KRUPT CANDY (4) is a winner in Hobart and caught the eye flashing home from an impossible position last start. NEED A FLUTTER (7) didn't have a lot of luck getting clear in the same race, while not a lot of form of substance has come from the maiden win of UNCLOUDED (8), though she did race three-wide when victorious that day.
R8 Tasmanian Bloodstock Summer Cup, 2200m
This will be the final lead-up for most of the field heading towards the Ladbrokes Hobart Cup on 13 February. Devonport Cup winner WHITE HAWK (4) heads a host of runners coming via that race and he won this race last year at a triple figure price. It would at least be a minor upset if he wins again but he's impossible to dismiss. SWOOP DOG (10) was backed into favourite in Devonport and had zero excuses after a 10/10 ride from Daniel Ganderton. His staying credentials are put to the test again here. SIR SIMON (7) made the running and boxed on tenaciously. GLASS WARRIOR (11) was easily the best of the closers in that race. Both her and EASTENDER (1) get a significant weight swing off those that finished ahead under the WFA conditions of this race. Interestingly Jason Maskiell has jumped off Eastender and is with SH'BOURNE RENEGADE (6) who had a minor setback and missed the Devonport Cup. He may need this one as a result despite the trial earlier in the week. FULL KNOTS AHEAD (13) and ENCOSTA FIORENTE (14) fought out a photo in the Brighton Cup. Both rise 3kg and give a 2.5kg swing to CREATIVE HERO (5) who did a mountain of work in that race. Siggy Carr stays with the Brighton Cup winner while her partner Troy Baker takes the ride on stablemate TAVIRUN (2) who was specked in Devonport but only ground away. Back to the grass and up in distance are likely positives for him.
R9 Winning Edge Presentations Class 1 Hcp, 1430m
LAYLOW PLUCK (2) had good market support from the same draw in Launceston but after absorbing a bit of pressure in the lead he was grabbed by one who had a soft run behind. He's unlikely to be far away again. Stablemate FAYERRA (1) finished just behind him when they last met in Hobart but gets some weight relief with an apprentice booked. TWEE (4) was scratched from a poor draw in Launceston but hasn't had a lot of luck again. If she can slot in, she'll take holding out. AMANCAYA (5) will look to come across early and should be in the market again off her recent SP's. The rider almost came off GEE GEE CAN WIN (3) last start, much to the disgust of those that backed him from $15 into $7.50. Visors replace winkers second-up. This is a class drop for FIGHTING FAITH (10) but she's won one from 27 so has had many chances and the same can be said for PUNK PRINCESS (9) and HERMAN'S BELLS (6).