Race Result:
1st: Regalo Di Gaetano (Zac Spain/Richard & Chantell Jolly) - $
2nd: Bonvicini (Jye McNeil/Ciaron Maher & Dave Eustace) - $
3rd: Starelle (Craig Williams/Danny O'Brien) - $
Winning Time: 1:49.66 Last 600m: N/A
Margins: Long Neck x ½ Neck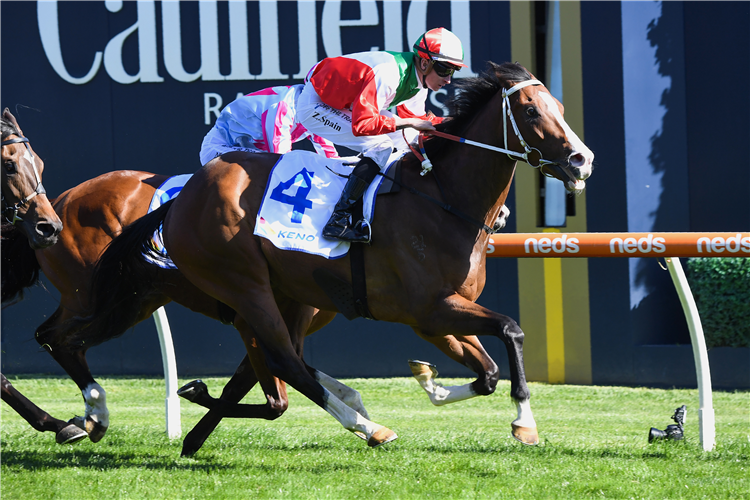 Regalo Di Gaetano charges away with the Eclipse Stakes.

He is flying this prep. @MelbRacingClub @RacingSA @lil_spaino96 @RJollyRacing pic.twitter.com/YqjsWLRKff

— Racing.com (@Racing) November 27, 2021
Winning Trainer: Richard & Chantelle Jolly
<NO STABLE REPRESENTATIVE AVAILABLE FOR INTERVIEW>
Winning Jockey: Zac Spain
"He was going to run in the Ballarat Cup but it was going to be too wet for him and they decided to hold off. They found the right race today.
"He's just a winner. He knows where that winning post is even though he had a shy at it. He's a lovely big strong horse and put himself in a lovely spot. Relaxed nice underneath me and he was never going to get beaten today.

"I knew that there was one horse (Bonvicini) coming and to his credit he dug deep. He's a winner. You look at his form and it is three-in-a-row now.
"Credit to Richard and Chantelle, they do a great job in Adelaide and whenever they bring their horses to Melbourne they're competitive. I'm glad I could be on his back today."

FP
Silk
Horse, Age & Sex
Sire & Dam
Jockey
Trainer
SP
WT

1st

4. REGALO DI GAETANO (AUS) 6yo G


SUPREME CLASS (AUS) - REGALINA (AUS)

ZAC SPAIN
R & C JOLLY
$10.00
55.5kg
B Disotto, R Disotto, Mrs M J Disotto, Miss B Disotto, A Spagnuolo, Mrs L Spagnuolo, S B Charlton, Mrs A J Charlton, Miss M J Charlton, P Caruso, Mrs T Caruso, Miss V Caruso, N Pugliese, Mrs S M Pugliese, R Barbaro, Mrs A Barbaro & J Barbaro

2nd

9. BONVICINI (AUS) 5yo M


MYBOYCHARLIE (IRE) - ORVIETO (AUS)

JYE MCNEIL
CIARON MAHER & DAVID EUSTACE
$12.00
54.0kg
Greenwich Stud Pty Ltd (Mgr: G Perry)

3rd

7. STARELLE (AUS) 4yo M


MORE THAN READY (USA) - STAR OF GISELLE (AUS)

CRAIG WILLIAMS
DANNY O'BRIEN
$7.00
54.0kg
R M Anderson
4th
10. ROYAL MILE (AUS) 4yo G


DANERICH (AUS) - STREET BLAZE (AUS)

JACOB OPPERMAN
LEE CREEK
$5.50
54.0kg
5th
6. OUR PLAYBOY (AUS) 4yo G


SEBRING (AUS) - MISCHIEF NIGHT (AUS)

DAMIAN LANE
MICK PRICE & MICHAEL KENT JNR
$2.75
54.5kg
6th
1. SO SI BON (AUS) 8yo G


SO YOU THINK (NZ) - BLACK MINX (NZ)

LUKE NOLEN
BEN & JD HAYES
$10.00
59.0kg
7th
2. DEFIBRILLATE (NZ) 7yo G


SHOCKING (AUS) - OUR CHICKAROONIE (NZ)

MICHAEL DEE
PATRICK PAYNE
$13.00
57.5kg
8th
8. DJUKON (GB) 5yo G


JUKEBOX JURY (IRE) - DJUMAMA (IRE)

BRETT PREBBLE
CHRIS WALLER
$26.00
54.5kg
9th
11. EXCELMAN (NZ) 5yo G


RELIABLE MAN (GB) - GLORY RUN (AUS)

BLAIKE MCDOUGALL
RICHARD LAMING
$26.00
54.0kg
10th
3. HANG MAN (IRE) 7yo G


WINDSOR KNOT (IRE) - HALLIARD (GB)

DANIEL STACKHOUSE
MICHAEL MORONEY
$21.00
57.5kg