Race Result:
1st: Sierra Sue (D Moor/T Busuttin & N Young) - $11
2nd: Dice Roll (F Kersley/N Ryan) - $21
3rd: I'm Thunderstruck (J McNeil/M Price & M Kent Jr) - $4.20F
Winning Time: 1:23.07 Last 600m: N/A
Margins: Short Head x ½L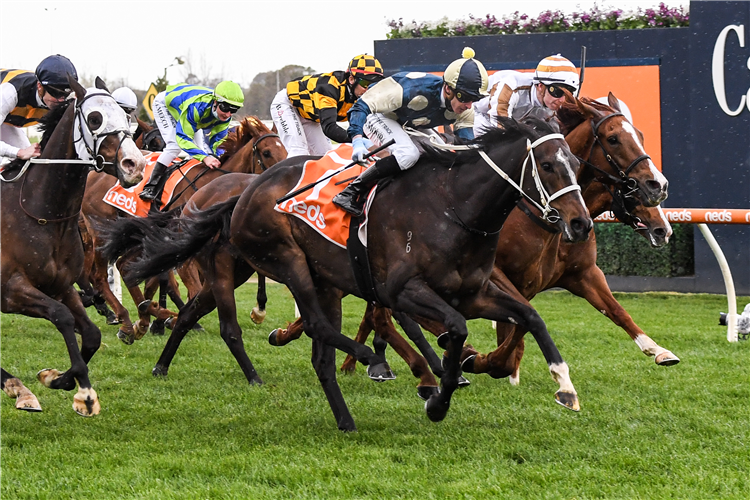 HAPPY BIRTHDAY, DANIEL MOOR!

SIERRA SUE wins the Group 1 Sir Rupert Clarke Stakes. @daniel_moor @busuttin pic.twitter.com/dUeOArBW3N

— Racing.com (@Racing) September 18, 2021
Winning Trainer: Trent Busuttin & Natalie Young (Trent speaking)
On Daniel Moor: "Fantastic. First Group 1, his birthday. He doesn't say much, he's a pretty quiet guy but that says it all. A good birthday present and I'm sure his family are rapt at home.
Mildura to G1: "It shows 'any road travelled'. They find a length or two in those colours. The team behind them are massive behind our stables. It shows last week that we were unlucky. If she gets a break then she wins the Feehan. She carries a couple more kilos and probably doesn't win the race.
"Group 1, beautiful."
Choosing which race: "We had a look again. Good luck, or bad luck I suppose, at the time. If she won the Feehan she would have won the Underwood and I think she would have run against Zaaki.
"The team, Trent Murphy, and everyone who rides the horse. The team at home have done a fantastic job and it's good to win another big Group 1 like this."
What's next: "I suppose the Empire Rose. She's going plenty of racing but she's copping it. That $2 million race in Sydney isn't bad but I can't get up there myself so we might stay down here."
Winning Jockey: Daniel Moor
On his first Group 1 win: "It's just a life's work, you know? I rode a Group 1 in Mauritius and it's pretty easy to forget about those ones. It's been a life's work here.
"You watch people win good races and they get emotional you think 'bloody hell they're softies' but it hit me a bit there.
"She dug in deep for me, I'm just so proud of the mare."
On the win: "We weren't going to be held up from that gate. It was a pretty good edition of the Rupert Clarke, they can be only just editions but this year was strong.
"When the draw came out I was happy. I saw Probabeel and Behemoth drew in and I knew they would need luck. With 52.5kg on our back we could make our own and it panned out that way."
"I better thank my manager, Dave Barry. I give it to him every day. I'm a hard taskmaster myself. My wife Lauren, and my kids. I do it all for them and we've been around the world and ridden here, there and everywhere. I've dragged them everywhere and they've supported me.
"They're the reason I get up in the morning.
"The stable have put that faith in me and stuck by me. A lot of the time, the Freedmans put me on the map, but I was playing second and third fiddle to jockeys all the time. This ownership, I've ridden winners for them but never been able to deliver a big one for them."
Asked if this is his best birthday yet: "So far, yes."
Beaten jockeys:
Craig Williams - Behemoth: "Didn't get the smoothest run with a big weight and he's run really well. They just out-sprinted him with their lighter weights."
Brett Prebble - Probabeel: "She was a fraction disappointing. Didn't jump as fast as I would have liked. Didn't muster the speed I wanted and Didn't give me a kick in the straight when we got the hole. She's run well, probably beaten three-quarters-of-a-length. Just not what I was hoping for."
Ben Allen - Dalasan: "Big run. Ready for a mile."
Linda Meech - Beau Rossa: "I thought we were a bit close on that speed. It didn't work out for us today. The race wasn't run to suit."
Patrick Moloney - Buffalo River: "I thought his run was honest. Just got attacked a bit sooner than what I would have liked. He probably needed it as well."
Damien Thornton - Groundswell: "Not up to it."
Harry Coffey - Aysar: "Ran out of his skin. Had a real crack, too. Did a good job and he's knocking on the door for one of these races when run to suit him."
Matt Cartwright - Irish Flame: "Honest run. Looking for further."
Michael Dee - Romancer: "I wanted to be closer in the run but I just had to niggle at him most of the way. We didn't have the clearest of passages in the straight. He might have finished a length or so closer."
Craig Newitt - Samizdat: "He went ok. He stepped a bit slow and was a fair way back. He'll be much better suited when he gets to Flemington on the big open spaces."
Dean Yendall - Amish Boy: "All dressed up and nowhere to go."
Fred Kersley - Dice Roll: <Chose not to comment. Just a short shake of the head>
Dean Holland - Regardsmaree: "Had a good run but didn't have much luck when we needed it."
Teo Nugent - Poland: "Had a beautiful run following Sierra Sue, the eventual winner of the race. Just failed to let down in the straight. Probably not a bad run when looking at it."
Jye McNeil - I'm Thunderstruck: "He performed really well. Just copped a bit of interference in the straight which probably cost him the race but he ran fantastic."

FP
Silk
Horse, Age & Sex
Sire & Dam
Jockey
Trainer
SP
WT

1st

7. SIERRA SUE (NZ) 5yo M


DARCI BRAHMA (NZ) - CENTREE (NZ)

DANIEL MOOR
TRENT BUSUTTIN & NATALIE YOUNG
$11.00
52.5kg
A Kheir, J A O'Neill, V Kheir, Carty Racing (Mgr: B C Carty), S A Lewin, B D Nettlefold, B F Sokolski, J Lock & Miss C A R Lock

2nd

14. DICE ROLL (FR) 6yo G


SHOWCASING (GB) - SCHLAGUE (FR)

Fred W Kersley
NICK RYAN
$21.00
52.0kg
S Pan

3rd

17. I'M THUNDERSTRUCK (NZ) 4yo G


SHOCKING (AUS) - PRIMADONNA GIRL (NZ)

JYE MCNEIL
MICK PRICE & MICHAEL KENT JNR.
$4.25
52.0kg
Oti Racing (Mgrs: T Henderson & S Driscoll), S Bira'm, M Neale, B & Mrs J Hill, C Fraraccio, R Menchise, A & Mrs P Goodfellow, J & Mrs J Spence, L Webb, Ms D McKeown, T & Mrs B Porter, J Gurrieri, Mangan Racing & 2w Syndications
4th
9. AYSAR (AUS) 4yo H


DEEP FIELD (AUS) - MISS INTERIORS (AUS)

H COFFEY
BEN & JD HAYES
$61.00
52.0kg
5th
2. PROBABEEL (NZ) 5yo M


SAVABEEL (AUS) - FAR FETCHED (NZ)

BRETT PREBBLE
JAMIE RICHARDS
$5.00
57.0kg
6th
1. BEHEMOTH (AUS) 6yo G


ALL TOO HARD (AUS) - PENNY BANGER (AUS)

CRAIG WILLIAMS
DAVID JOLLY
$7.50
59.0kg
7th
5. BEAU ROSSA (AUS) 4yo G


UNENCUMBERED (AUS) - MY CHOISIR (AUS)

LINDA MEECH
WILL CLARKEN
$7.50
55.0kg
8th
4. DALASAN (AUS) 5yo H


DALAKHANI (IRE) - KHANDALLAH (AUS)

BEN ALLEN
LEON MACDONALD & ANDREW GLUYAS
$61.00
55.5kg
9th
13. AMISH BOY (AUS) 4yo H


STAR WITNESS (AUS) - SHEEZNODOUBT (AUS)

DEAN YENDALL
CIARON MAHER & DAVID EUSTACE
$13.00
52.0kg
10th
6. BUFFALO RIVER (USA) 5yo G


NOBLE MISSION (GB) - FASHION INSIDER (USA)

PATRICK MOLONEY
MICHAEL MORONEY
$21.00
52.5kg
11th
8. GROUNDSWELL (AUS) 5yo G


FASTNET ROCK (AUS) - THE BROKEN SHORE (AUS)

DAMIEN THORNTON
A & S FREEDMAN
$26.00
52.0kg
12th
10. IRISH FLAME (NZ) 7yo G


ZED (NZ) - FLEUR DE L'ORIENT (NZ)

MATTHEW CARTWRIGHT
BRETT SCOTT
$101.00
52.0kg
13th
11. ROMANCER (NZ) 8yo G


REDWOOD (GB) - ROMANTICALLY (AUS)

MICHAEL DEE
GRAHAME BEGG
$101.00
52.0kg
14th
12. SAMIZDAT (AUS) 6yo G


NOT A SINGLE DOUBT (AUS) - SAMBAR (AUS)

CRAIG NEWITT
C & M GANGEMI
$51.00
52.0kg
15th
15. REGARDSMAREE (AUS) 5yo G


SO YOU THINK (NZ) - ROSSA MIA (AUS)

DEAN HOLLAND
NICK RYAN
$21.00
52.0kg
16th
16. POLAND (AUS) 4yo G


SO YOU THINK (NZ) - SUN SONG (AUS)

TEODORE NUGENT
MICHAEL MORONEY
$26.00
52.0kg