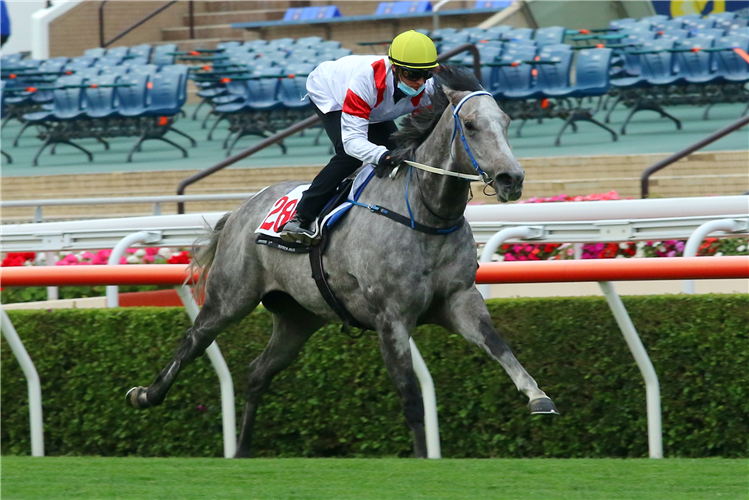 That's champion jockey Kerrin Mcevoy's take on the $15 million sprint pinnacle, born in 2017, that quickly attracted international attention and became the most talked about horse race across the year.
McEvoy, of course, won the first two editions on Redzel and made it three out of four on superstar grey Classique Legend in 2020 and as he reflects on the growth of the Everest, and its impact, he said it's an exhilarating feeling to have been written into its story.
"Sports lovers anywhere want to watch elite level sport and that's exactly what you get with the Everest,'' McEvoy said.
"You're getting topline equine athletes competing at a high level and for big rewards. You just know everything is going to be put on the table, no stone unturned.
"You're watching sporting history unfold in front of your eyes and it's an exciting race to be part of."
The TAB Everest changed the spring racing game.
It's a race that Gai Waterhouse would describe as 'sexy', it appeals to the younger generation and they voted with their feet by pushing Royal Randwick's capacity in the first two years. The Covid-19 pandemic kept numbers lower in 2020 but still at the safe limit.
"I liked it from the get-go,'' McEvoy said.
"It's been a great initiative from the Racing NSW board and I think Australian racing has really grasped it and helped it go from strength to strength.
"It's a development Australian racing needed and I think we're still enjoying that aspect of it."
All that is easy for McEvoy to say, you could argue, given he's already won the race three times but he's also won most of Australia's major races, and plenty of international features, so his view carries some weight.
When the Everest debuted in 2017 it carried a $10 million purse, easily the richest race in Australia then and that prize quickly increased, due to its own success, to the current level of $15 million.
The trophy itself is something special, individually crafted by Nick Cerrone, and highly sought after.
"It's something I'm quite proud of, it's been a real dream to be able to win three of them,'' McEvoy said.
"Firstly to team up with Redzel, the Triple Crown team and the Snowdens and to go back-to-back was an unbelievable feeling.
"Then Classique Legend came along. It was a great buzz to be able to salute on him and grab another Everest trophy."
McEvoy's record in the race will take several years to match as Glen Boss, who won the 2019 edition on Yes Yes Yes, became the only other jockey to feature in the top three twice when he finished second on Bivouac last year.
The electric atmosphere around a packed Royal Randwick leading up to the inaugural running told McEvoy that the TAB Everest was going to be no ordinary horse race.
"The first win was a bit of a whirlwind of a day, with the lead up and people on course,'' he said.
"It was a mindblowing day. We'd never raced for that much money here in Australia so it was quite a pressure cooker type event.
"I genuinely believed we had a good chance in the race and you definitely feel a bit of pressure going into an Everest that's for sure.
"It really did help settle the nerves for the years after that. I was much better equipped for the second and third win than the first win.
"It'd be disappointing if we can't have a crowd there this year because the race warrants it."
McEvoy's comments about the pressure of the occasion are interesting because Redzel wasn't one of the favourites for either Everest victory, he started $8.50 in both wins.
Two and a half years before the gelding etched his name into history, McEvoy rode Redzel in his first barrier trial and let's just say the first impressions weren't noteworthy. They certainly didn't suggest he'd retire as a racing legend.
But that was Redzel, he was unassuming and tough and had the experience of Peter and Paul Snowden behind him.
"That's a testament to the Snowden camp and the way they let their horses evolve under their care,'' McEvoy said.
"He kept maturing and strengthening and getting better and better. He stayed sound but at the same time he needed some TLC.
"I trialled him at his first ever trial and I didn't bounce off thinking he'd be a multiple Group 1 winning sprinter. But he turned into a pretty reliable thoroughbred towards the end of his career."
Redzel retired in the autumn of 2020, with $16.4 million in the bank, after running third in the Group 1 TJ Smith Stakes behind Nature Strip and is now an ambassador for Team Thoroughbred NSW which is Racing NSW's equine welfare and rehoming division.
"Nature Strip was the new kid on the block and wrestled the mantle off him in the last season but he was still running great races and earning cheques so it was pleasing to see him retire still racing at the top level,'' he said.
Just ahead of Redzel in the 2020 TAB Everest was a grey called Classique Legend who, under McEvoy, emerged earlier that year as a potential star when he won the Group 2 Arrowfield Sprint over the Everest course at The Star Championships.
Loyalty kept McEvoy on Redzel for that third attempt but he had no doubt Classique Legend was Everest material.
"As a three-year-old he showed great potential, went to the top level as a spring four-year-old but he just needed that prep to battle harden him up,'' he said.
"He came back the next season wiser and stronger and was able to put it all on show last year."
Les Bridge, Classique Legend's trainer, told anyone who would listen that his star would win the TAB Everest last year – even after a surprise defeat in the Premiere Stakes just two weeks out from the grand final.
That gave McEvoy the confidence to ride the grey in a somewhat arrogant manner, sitting well off the hot tempo and unleashing him in the straight where he made up six lengths in fast time to win in elite style.
"It was a dynamic win, that explosive turn of foot was there to see and it was exciting to be a part of a win like that when you're giving them such a big start,'' he said.
"It's different to winning on Redzel when you're up the front controlling things.
"He has a devastating turn of foot, the grey horse, and hopefully we can see him back at his best."