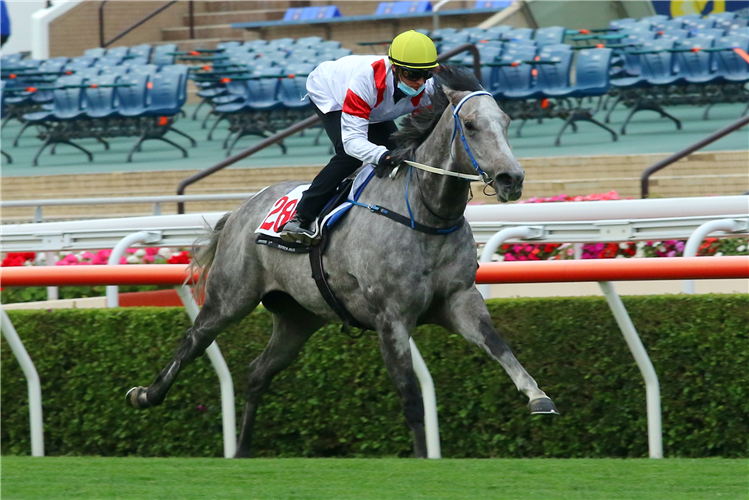 RANDWICK September 24
A Grass; Good 4
14 Heats – 2 x 1200m ( 2 Open); 7 x 1050m (1 Group/Listed; 1 Open; 5 Maiden); 5 x 740m (1 2YO; 2 Open; 2 Maiden)
Last year's winner CLASSIQUE LEGEND reaffirmed that he is ready to defend his crown in The Everest with another classy trial performance.
A big field contested the Group trial over 1050m but he was a class above them surging to a dominant 2.6 lengths win in fast time (62.21; 33.42) to back up his earlier trial win at Randwick on September 10.
Les Bridge may be gambling on a first-up win The Everest on October 16 but he couldn't have asked for more from the big grey in this trial. CLASSIQUE LEGEND won the start from the inside gate but Kerrin McEvoy let a couple of rivals take up the running, content to sit behind the lead on the rail.
That's what we wanted to see from #TABEverest champ Classique Legend! When @KPMcEvoy asked the grey flash to move he exploded away to win his @royalrandwick trial over Signore Fox and Minhaaj. @tabcomau @7horseracing pic.twitter.com/Z8QANgKtHo

— Racing NSW (@racing_nsw) September 23, 2021
When the leader VANNA GIRL gave him a clear run turning for home CLASSIQUE LEGEND railed through quickly and easily put three lengths on the pack between the 200m and 100m before coasting to the line.
There were some excellent trials behind him with SIGNORE FOX steaming home from last to fill second and MINHAAJ again showing she is in good form for her new trainer John O'Shea with a solid third. Her stablemate ROCHA CLOCK also trialled well doing her best work late under a quiet ride.
The quality sprinter SPLINTEX was the other star of the morning, showing he has trained on strongly from his G2 win at Flemington by dominating his fast 740m heat win (43.23; 32.68) under no pressure from Josh Parr. Could he get a late call up for The Everest as he is certainly in the right form?
Splintex runs along in front and easily wins a 740m trial at @royalrandwick on Friday over Flash Point and Born A Warrior running into third. @tabcomau @mark_mnracing pic.twitter.com/0HRxlOhkQv

— Racing NSW (@racing_nsw) September 24, 2021
The results were dominated by the Waterhouse/Bott and Snowden stables. Gai and Adrian won five heats with EMBRACER doing enough to win a slow 1200m heat (74.75; 34.63) and BOJACK running strongly for a sharp win in his 1050m heat (63.07; 34.19).
Snowden's trio of wins featured another impressive performance by the maiden mare POIGNANT, posting the second best time of the 1050m heats (62.87; 34.19) in her easy 2.6 lengths win. She was placed in her only two starts last season and is a special to progress further than maiden class.
Snowden's fast filly SATIN RIBBONS set the standard in the 740m heats (43.06; 32.51) to add her big record in short course trials. She won her second start over 900m at Newcastle last season and appears to have come back stronger.
SAHRA gave the Snowdens their other heat win in her 740m trial (44.62; 33.31) and while she worked nicely there was plenty of merit in the closing efforts of CAESAR'S PALACE, SWEET DEAL and SOUTHERN LAD in what should be a good form reference.
Sahra tracks the speed and after hitting the front the @SnowdenRacing1 mare holds off Caesars Palace and Sweet Deal in a 740m trial at @royalrandwick on Friday. @tabcomau pic.twitter.com/24H4K9Gc7N

— Racing NSW (@racing_nsw) September 24, 2021
The only 2YO trial over 740m saw the racy Snitzel colt NIPOTINO show good speed and fight on gamely for a narrow win in slow time (45.60; (34.48) over KOBENHAVN, a nice I Am Invincible filly from the Snowden team.
NOTED TRIALS
XXX Classique Legend
XX Poignant; Splintex
X Armour Force; Bojack; Born A Warrior; Caesar's Palace; Diamond Blush; Embracer; Excelladus; Field Wiri; Gormley; Harlem Luya; Kobenhavn; Kokoro; Minhaaj; Rocha Clock; Sahra; Satin Ribbons; Southern Lad; Sweet Deal; Signore Fox; Wenet.
WARWICK FARM September 21
Course Proper (Good 4)/A Grass (Good 4)/Polytrack (Synthetic)
20 Heats – Course Proper 1 x 1200m (Open); 4 x 800m (4 Open)
A Grass – 1 x 1200m (Open); 3 x 805m (2 2YO; 1 Maiden); 3 x 802m (1 3YO; 2 Maiden)
Polytrack – 2 x 1175m (2 Maiden); 6 x 740m (6 Maiden)
Another big set of trials restricted to licensed track riders. Without name jockeys and their known riding weights there is an obvious disparity in the catch weights many horses are carrying in these trials.
There was a pair of 2YO trials following on from the nine heats held at Randwick the previous day. Godolphin's Exosphere colt SPACEWALK worked well within himself to beat two rivals in his 805m heat (47.76; 33.95) while Pride of Dubai filly PROUD IMAGE sat outside the lead and did enough to dispose of her opposition under a soft ride (47.59; 34.00).
Exosphere colt Spacewalk (James Ravenall) stretches out late to win a 2yo trial at Warwick Farm on Tuesday over Tarcwell (Justin Andrews) and The Lion's Gate (Steffan Lockie). @tabcomau @godolphin pic.twitter.com/azVuBu8GXX

— Racing NSW (@racing_nsw) September 21, 2021
Pride Of Dubai filly Proud Image (Zac Wadick) wins a 2yo trial at Warwick Farm on Tuesday from One Destiny (Wayne Wheatley) and Street Smarts (Keira Dunn) in third. @tabcomau @jcoyleracing pic.twitter.com/Vuwex53otP

— Racing NSW (@racing_nsw) September 21, 2021
The heats on the course proper featured a brilliant display by noted speedster MALKOVICH. He cleared out to win his 800m heat by more than eight lengths, breaking 46 seconds in the process (45.73; 32.70). Obviously he will be hard to beat to anything up to 1100m.
The speedy @BBakerRacing trained Malkovich (Paul Whitmore) easily wins a trial at Warwick Farm on Tuesday over Rocketing By (Keira Dunn) and Shadow Chaser (George Roberts) in third. @tabcomau pic.twitter.com/IHXv2sIEx1

— Racing NSW (@racing_nsw) September 20, 2021
The good mare LASHES won another 800m heat in good style (47.01; 33.50) to back up a similar result in a Wyong trial earlier in the month. The form in her heat should stand up as ATTRIBUTION, BLAZING MISS and HARLEQUIN FIELD all worked strongly to the line with plenty to offer.
The @mcsmithracing trained Lashes (James Ravenall) gets the better of Attribution (Nacim Dilmi) to win a trial at Warwick Farm on Tuesday, with Blazing Miss (Zac Wadick) in third. @tabcomau pic.twitter.com/v6yPiUpuYe

— Racing NSW (@racing_nsw) September 21, 2021
The other 800m heats on the course proper saw known big finisher YAMAZAKI work to the line from last for a soft win in her heat (47.35; 34.10) and SHADOW BRIDGE dominate his heat with an easy six lengths win (47.36; 33.91).
There were 11 maiden heats on the A grass and Polytrack. I prefer the form in the turf heats although there were some big margin wins in the Polytrack trials where six of the eight heats were won by the leaders.
There was also one 3YO heat on the A Grass where COLOUR DE ROY recorded a sharp win (47.34; 33.60) over 802m, a good guide to the prospects of the fastest maiden heat winner SACHELLO who went quicker (46.98; 33.60). This Headwater filly shared the lead on the outside and looks to have come on well from her only start last season as she was never under full pressure to get the upper hand.
TEMPESTAS, a racy Choisir filly having her first trial, showed good speed to win her maiden heat (47.11; 33.90) with runner up PRIVATISATION taking the eye with her strong close over the last 200m. Previously noted DEHORNED UNICORN put in another solid trial to win his 805m heat but running much slower time (48.53; 34.40) than the 2YO winners over the distance
RICK'S MANIA (6 lengths; 44.59/34.15) and CUSHY (12 lengths; 44.45/33.80) turned their Polytrack heats over 740m into processions but their heat times and sectionals were average. There was just as much merit in the winning efforts of the come from behind winner SHAZA (44.17; 34.20) and LILY ELSIE (44.27; 33.89).
NOTED TRIALS
XX Malkovich
X Attribution; Blazing Miss; Colour De Roy; Cushy; Deep Romance; Lashes; Lily Elsie; Privatisation; Proud Image; Rick's Mania; Sachello; Shadow Bridge; Shaza; Smirk; Spacewalk; Tempestas; Vanburg; Yamazaki