Race Result:
1st: Warning (N Rawiller/A & S Freedman) - $6
2nd: Luncies (H Bowman/K Lees) - $6
3rd: Entente (T Clark/G Waterhouse & A Bott) - $4
Winning Time: 2:43.35 Last 600m: 35.86
Margins: Short Neck x 2½L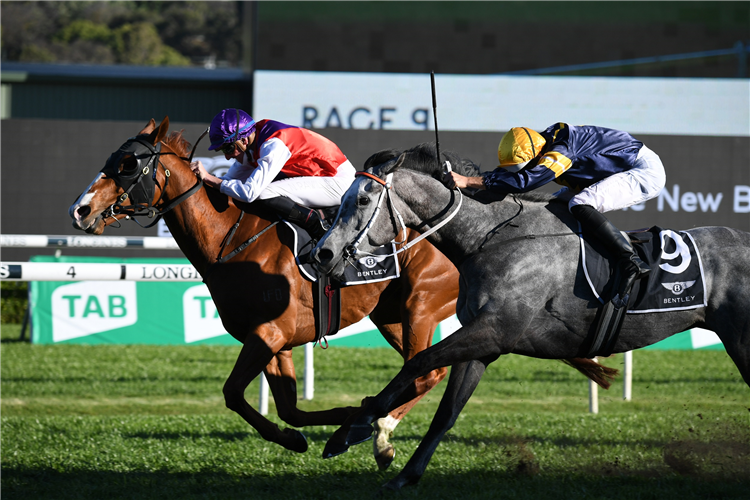 Warning comes out on top in the St Leger Stakes.@nashhot @FreedmanRacing @aus_turf_club pic.twitter.com/m6R0LR6TPL

— SKY Racing (@SkyRacingAU) October 16, 2021
Winning Trainer: Anthony & Sam Freedman (Michael Freedman representing)
On the run: "They felt getting him up to that distance, and obviously a bit of give in the ground today where it wasn't too firm, was much more to his liking. He's a good, genuine stayer and I think the boys will be rapt with that."
On the campaign: "He's been here for a month now or just under. He's enjoying being at Randwick so it's good for the boys to get a win."
On the future: "I don't know what Anthony has got planned for him, whether he might take him back to Melbourne or whether he keeps him here for something else. I'll leave it up to him and he can decide what he wants to do."
Winning Jockey: Nash Rawiller
Thoughts on the win: "I think he really loved that 2600m."
"I probably had him fired up a little bit on a couple of occasions but I didn't want him coming off the bridle when we were chasing too far from home because we both would have gotten tired. I kept him up under me and he showed plenty of intent there over the last 100m.
On his current strong form: "I want to send a cheerio to my family and all of my mates and supporters. They have been unbelievable, especially my wife over the last 12 to 18 months. They've basically let me stay in the basement by myself most of the time. I have a lot of good friends around me who look after me and keep me on track. I'm just really loving my riding at the moment."
Beaten Jockeys:
Tim Clark (Entente): "He ran terrific. Had a lovely run no excuses. Very brave."
Josh Parr (Fun Fact): "Something went amiss with him."
Sam Clipperton (Young Rascal): "Poor effort."
James Innes (Hush Writer): "He had to do a bit to lead and make his own luck, run into the headwind but he didn't disgrace himself."
Kerrin McEvoy (Carif): "Nice run. He's going to improve off that. Just the ground went against him a little bit."
Hugh Bowman (Luncies): "Superb effort. Very proud of him. Winner was just too tough for us today.
Jenny Duggan (Torrens): "Ran a terrific race. He'll get further again this horse."
Robbie Dolan (Master Shuhood): "Just needs a freshen up now."
Alysha Collett (Savvy Valentino): "Ran super."
Regan Bayliss (Purrfect Deal): "She ran well."
Rachel King (High Emocean): "Little bit disappointing. Maybe got a bit lost going this way around."

FP
Silk
Horse, Age & Sex
Sire & Dam
Jockey
Trainer
SP
WT

1st

2. WARNING (AUS) 5yo G


DECLARATION OF WAR (USA) - LIVIA (AUS)

NASH RAWILLER
A & S FREEDMAN
$6.00
57.5kg
W G Johnson, B Baines, T E Dwyer, J A O'Neill, Mrs K Grossek, L Jervis, T L Ewert, E R D Farquharson, W Leaf, T Seccull, A Boyd, J Van De Pol, A W S Blair, Mrs S M Ridgway, Bromfield Park Pty Ltd (Mgr: W C Pearce) & Cedar Racing (Mgr: N Barbar)

2nd

9. LUNCIES (GB) 4yo G


IFFRAAJ (GB) - UNDER THE RAINBOW (GB)

HUGH BOWMAN
KRIS LEES
$6.00
55.5kg
R & C Legh Racing Pty Ltd, L Petagna, B & C Thoroughbreds Pty Ltd, Divor, Mjm Racing, E J Lucas, Gurners Bloodstock Co), W W Guest, R J Date, M F Clemenger, Mrs K D Evers, M E McKeough, E W Kochmanz, P Filipovic & G Thiele

3rd

1. ENTENTE (AUS) 5yo G


DUNDEEL (NZ) - NEXTESS (AUS)

TIM CLARK
G WATERHOUSE & A BOTT
$4.00
57.5kg
Dodmark Thoroughbreds (Mgr: P G Dunn)
4th
8. CARIF (AUS) 6yo G


SO YOU THINK (NZ) - NORZITA (NZ)

KERRIN MCEVOY
PETER & PAUL SNOWDEN
$10.00
55.5kg
5th
12. SAVVY VALENTINO (NZ) 5yo G


SAVABEEL (AUS) - HIGH FASHION (NZ)

ALYSHA COLLETT
BJORN BAKER
$21.00
55.5kg
6th
7. HUSH WRITER (JPN) 6yo G


RULERSHIP (JPN) - STAR OF SAPPHIRE (USA)

JAMES P INNES
G WATERHOUSE & A BOTT
$61.00
57.5kg
7th
13. PURRFECT DEAL (AUS) 5yo M


DUNDEEL (NZ) - OUR KITTY (NZ)

REGAN BAYLISS
MICHAEL COSTA
$10.00
53.5kg
8th
10. TORRENS (AUS) 5yo H


ADELAIDE (IRE) - A LITTLE KNOWLEDGE (AUS)

JENNY DUGGAN
LAURI PARKER
$101.00
55.5kg
9th
14. HIGH EMOCEAN (NZ) 5yo M


OCEAN PARK (NZ) - HIGH JOY (NZ)

MS RACHEL KING
CIARON MAHER & DAVID EUSTACE
$5.50
53.5kg
10th
5. YOUNG RASCAL (FR) 6yo G


INTELLO (GER) - ROCK MY SOUL (IRE)

SAM CLIPPERTON
R & M FREEDMAN
$15.00
57.5kg
11th
11. MASTER SHUHOOD (IRE) 6yo G


TAMAYUZ (GB) - WALAYEF (USA)

ROBBIE DOLAN
RICHARD LITT
$151.00
55.5kg
12th
4. FUN FACT (AUS) 6yo G


THE FACTOR (USA) - FILL THE PAGE (AUS)

JOSH PARR
BJORN BAKER
$11.00
57.5kg