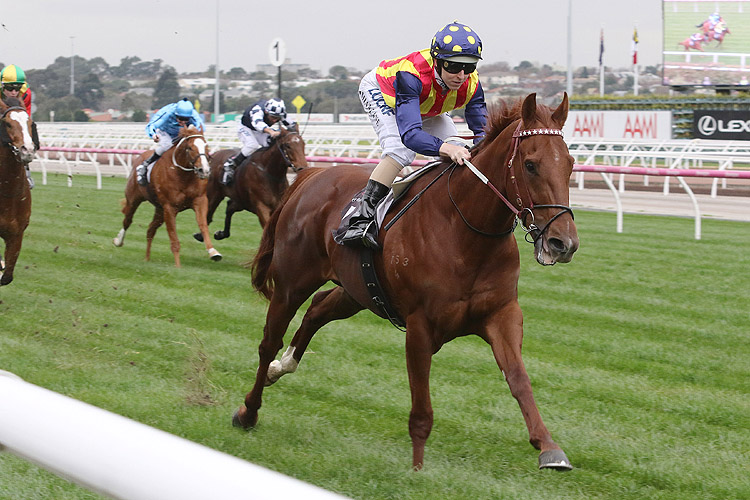 Nature Strip seems to polarise public opinion as he falls into the delightful gap between performance and achievement.
For ratings geeks (the type likely to produce a column on race times with a horrible kitschy title) there is little doubt that he is one of the fastest horses in the land.
Nature Strip ran to a 115 time rating, and did so full of running, when winning at Sandown back in January.
He was below that in a couple of losses prior to Saturday but a stable switch, his third in four runs, may have resulted in a re-booting of sorts.
On Saturday Nature Strip was back at his best, and then some, running a time rating of 118 at Flemington - again the excitement ramps up from the fact that not only was the time rating fast but it came finishing fast. It's likely we've not seen the ceiling just yet.
Nature Strip ran the last 600m (54.45%) of the race in 32.55 seconds. Or 52.28% of his overall time. A more efficient use of his speed could see that time rating around the 124 mark. Group 1 territory.
All things considered Nature Strip has a Timeform rating of 118+. For context, his table-topping sprinting contemporaries Trapeze Artist and Merchant Navy are both rated 126.
Trapeze Artist can boast the best sprinting time of the season with the Golden Rose time figure coming in at 122. Coincidentally Merchant Navy ran to an overall time rating of 118 winning the Coolmore down the very straight that Nature Strip conquered with the same figure on Saturday.
So the ratings geeks are appeased. But not so the angry mob. How can Nature Strip be rated anywhere near those proven Group 1 winners? The ratings folk are under siege. What has he beaten? Nothing. It's a nondescript Flemington handicap in June!
This is a reasonable concern. What we know of the horses that he ran against gives the performance context. As does the race and what we know about it.
Nature Strip's rating does sit as a big outlier in this context. About four standard deviations from the mean, in fact, but his margin over the field (30lbs between his 118 and the second horses 88 on Timeform's scale), and the time he ran, are both outliers as well.
For Nature Strip to be rated as low as he is, the race behind him needs to have been well below average.
As improbable as this nothing handicap in June turning up horses as good as 118+ may seem it has produced three better than that in the past four years. Stradbroke winner Under The Louvre and Linlithgow winner Illustrious Lad both ran in the race before going on to become 119-rated feature winners.
Two years ago the race was won by Spieth who, by clocking in at 110p, was rated well ahead of what could be expected from such humble June fare.
Two starts later he ran to 121 when arguably unlucky (let's face it he was dead stiff) not to win the Darley Classic - the spring's premier sprint in the BE (before Everest) era.
So Nature Strip is fast. Fast enough to add plenty more silverware to his cabinet, but expectation has now been put through the roof, he needs a big trophy for the ratings geeks to justify this high praise.
A Squeeze Of Time certainly doesn't want to be considered a fence sitter, so we will prognosticate that Nature Strip will prove a triumph for ratings folk. He's a Group 1 winner in waiting and there's certainly enough of them in the upcoming season to confidently think that he will have his day.