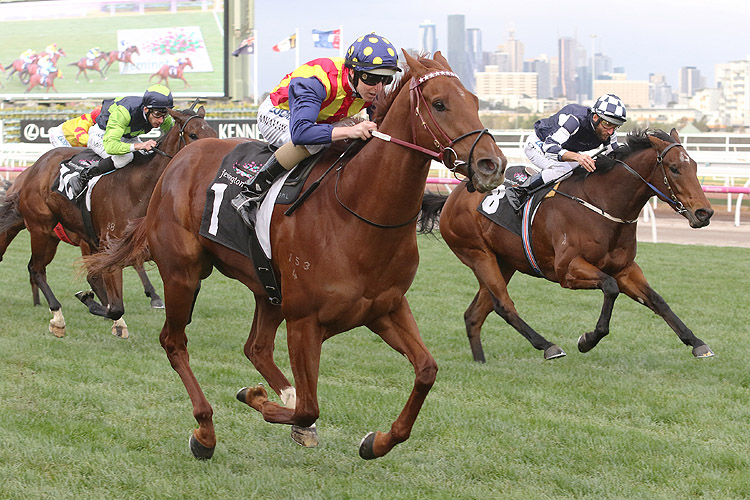 Off the top, it should be said that we didn't really learn a great deal about Nature Strip on Saturday, but for the sake of an article on an interesting subject let's take a look at a couple of the ways we went about not learning a great deal.
The trust-the-eyes crew would see Saturday's win as a dominant performance for 1000m followed by a wobbly last 200m and the numbers back that up.
Nature Strip's finishing speed (expressed as a % of overall race speed) was 100.2% from halfway. Basically, he went out as fast as he came home. From a standing start he has gone plenty fast enough in the early stages but not so fast that it should have had a huge impact on his overall time - 1:10.05.
But what is the worth of that overall time? 1:10.05 means very little in isolation. It could be an outstanding time on one day and a shocking time on another. Context is required.
Nature Strip won one of just two races down the straight course where the wind was working directly against the field for 100% of the journey as opposed to ~30% of the mile races for example.
It was 2.4 seconds faster overall than the other straight race on the card - a listed contest for older horses. That sounds good, but again, it needs some context.
Camdus won that other straight race but did so in a completely different fashion. His finishing speed was 110.4%. It was his speed late on that won him the race. That's the goal of course, but if the goal was to run a fast time then Camdus went far too slowly in the first half of what was a farcically run affair.
In fact, that closing speed points to a whopping mark-up of ~45lbs on his overall timefigure. We can pop on our Bayesian hats here. We know plenty about a horse like Camdus. On his good days he has run time ratings in the mid 90's with the best being a 96.
Given that expectation and that closing speed we can expect to see a timefigure of around 50 to tack our 45 on top of.
This is just one of 100's of data points to investigate on the card but it happens to be one that lands almost right in line with the final assessment.
If Camdus ran to 51, then Nature Strip ran 104. That assessment implies that the straight races have been disadvantaged by the best part of three lengths relative to the mile races.
We know that Nature Strip can run faster than 104, and his Timeform rating remains 118, but nothing about Saturday's win said it was much better than that - or much worse.
There is a margin for error in that assessment but we can say with as much certainty as racing ever affords that he didn't perform to the level he did over 1100m over Saturday's 1200m.
Nature Strip's talents are well clear of 104 and they were covered in the latest edition of 'A Squeeze Of Time' which you can read here.
That previous performance hinted at him being as talented as any in the current Everest picture that isn't named Trapeze Artist, but Saturday failed to answer the 1200m question that many had hoped it would.
It's worth noting that while he didn't prove that he could produce his 1100m peak at 1200m, he also didn't prove that he couldn't. Form is noisy and it is much harder to run fast times than slow times - which is why they are rare.
Last year's Everest winner Redzel is an interesting horse to look at in comparison to Nature Strip.
At the same point in his career - start number nine - Redzel was turned over at 1200m in the Gosford Guineas won by the 102-rated Lady Sniper.
Redzel had some slick times to his name, including a 111 in the lead up to Gosford, but could only manage a 90 up to 1200m in what was his seventh loss in those first nine starts.
It would have been easy then to conclude that Redzel couldn't produce his best over 1200m but six runs over 1200m from that point in time have produced four wins which include a pair of Group 1s, an Everest, and he has finished no worse than his fourth in this year's Doomben 10,000.
One of the keys to that has undoubtedly been some superb training by Peter and Paul Snowden. The brilliant thing about their training of Redzel is that they managed to get him to relax and find his flow but without compromising the horses best asset -his speed.
They have worked with Redzel and not against him and it is easy to envisage a similar path being taken with Nature Strip who, after much chopping and changing, has landed in the ideal hands of Darren Weir.
So while we didn't learn much on Saturday, we already knew plenty, and 'A Squeeze Of Time' is standing by it's assessment that Nature Strip is a Group 1 winner in waiting - we just don't know over how far.