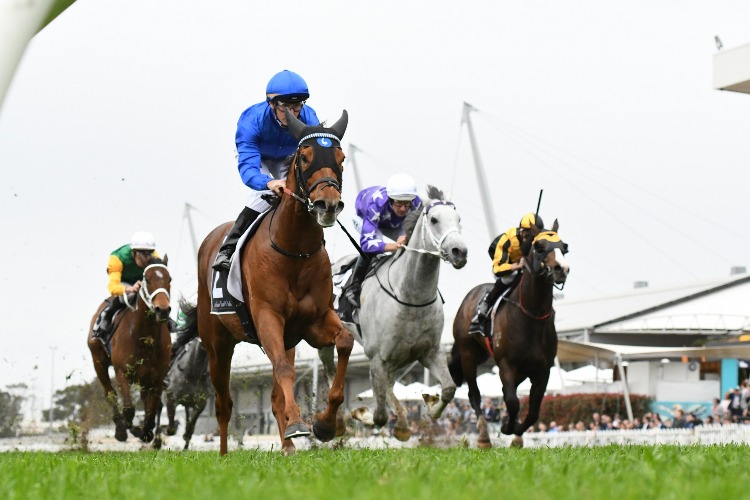 Nature Strip's talents have been covered in the pages of 'A Squeeze Of Time' several times before - a recap of his high-rating Flemington win in June can be read here - and the now 121-rated speedster did his thing again in last weekend's McEwen Stakes at the Valley.
He was fast. The numbers folk love it and the angry mob scream 'what's he beaten'.
The answer to these cries has long been 'the clock'. On Saturday it was the clock and a back-to-best Houtzen. But Houtzen had the gloss knocked off in a three-year-old campaign that didn't scale any great heights and if the mob aren't going to trust the clock they are not going to trust that she was back to her very best. What has she ever beaten?!
And so the Nature Strip debate rolls on. Is he any good? (Of course) And can he win the Everest? (Of course, but...)
It's all been covered before and so 'A Squeeze Of Time' is moving on to look at the Everest's number one seed - Trapeze Artist.
He was beaten on his Rosehill return but the clock says he's back at least as well as he was last autumn. His third-placed effort in the Theo Marks Stakes was a hugely impressive tightening of the carabiners ahead of his October 13 ascent.
Trapeze Artist's mountain trek began by crossing a flood plain called Rosehill. It was heavy out there but all things accounted for the Theo Marks returned a very sharp overall figure.
The winner, Home Of The Brave, is rated 120 by Timeform . So he's very smart. He was perfectly ridden from the front, and met Trapeze Artist on good terms, getting 3.5kgs with the benefit of an ideal springboard run in the Aurie's Star.
Defeat in these circumstances was far from a negative. A speed rating of 115 for Trapeze Artist is identical to the figure he returned first-up in the autumn and his closing effort - best in the race between the 600m and the 200m - points to the performance being around 5lbs better than that.
The positive clues don't end there either. It is well worth noting that he peaked on his terrific first-up run in the final 200m. The sectionals scream that Trapeze Artist is not only better than the bare result of the Theo Marks but also that his fitness gave out late. It's easy to leap to the conclusion that there's plenty more to come from him this campaign.
Given that, his 126-rated best from last season looks well within reach, and that sees him at the summit of A Squeeze Of Time's new and exclusive SRS (Sherpa Ranking System) which stands as follows:
Trapeze Artist (Mountain Rating - Everest)
Vega Magic (Mountain Rating - K2)
Redzel (Mountain Rating - Kanchenjunga)
Nature Strip (Mountain Rating - Lhotse)
U S Navy Flag (Mountain Rating - Makalu)
The other four in this Fabulous Five all have strong recent wins to their name but Trapeze Artist was about as good in defeat as any of them and is seen as the best credentialed mountaineer at this stage.