Fastnet Tempest is getting to top odds at $4 in the 2019 RA Lee Stakes (1600m) at Morphettville on Saturday.
2019 RA Lee Stakes: Final Field, Barriers and Market
2019 RA Lee Stakes: Race History
2019 RA Lee Stakes: Nominations
2019 RA LEE STAKES – RACE ANALYSIS AND TIPS
Once they find a spot it won't be hectic. East Indiaman and Call Me Handsome control it. Hoping he won't be too far back as FASTNET TEMPEST (3) can win the RA Lee Stakes. He got home well at Flemington suggesting the mile is not a drama. He seems well placed down in weight.
HUSSYBAY (6) will be better for the run at the trip again. He has run some top races at the journey here too. CALL ME HANDSOME (4) will be up on the pace battling away. Back a furlong is likely in his favour.
WAGING WAR (9) had very solid form lines from the Spring. He just needs to find that once more. EAST INDIAMAN (14) takes on the older horses and will only run well.
2019 RA LEE STAKES – SELECTIONS
1st – 3 Fastnet Tempest
2nd – 6 Hussybay
3rd – 4 Call Me Handsome
4th – 9 Waging War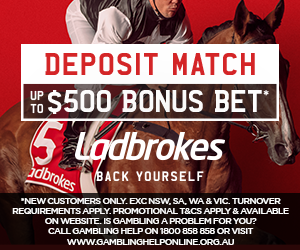 WHEN IS THE 2019 RA LEE STAKES?
WHEN: – Race 5 @ 3:06pm AEST
WHERE: Morphettville Racecourse
Racing and Sports has all the form for Morphettville
* Note that betting odds may differ from time of publication

FP
Silk
Horse, Age & Sex
Sire & Dam
Jockey
Trainer
SP
WT

1st

3. FASTNET TEMPEST (IRE) 6yo G
FASTNET ROCK (AUS) - DAME BLANCHE (IRE)
ANDREW MALLYON
D & B HAYES & T DABERNIG
$7.00
55.5kg
O T I Racing (Mgr: T Henderson), A Gemmell, L Webb, Ms D McKeown, Ms M Webb, W Bowker, J & Mrs J Spence, J Higgins, D & Mrs D Miller, H Gomizel, A Goodfellow, G Sharp & J Wycherley, Fastnet Racing (Mgr: S Driscoll) & Uthmeyer Racing (Mgr: G Uthmeyer)

2nd

9. WAGING WAR (AUS) 5yo G
REBEL RAIDER (AUS) - FARTOO FLASHY (AUS)
RAQUEL CLARK
LEON MACDONALD & ANDREW GLUYAS
$5.00
55.0kg
B H Perks, Ms A M Clough, Mrs D A Jones, H M Perks, B J Couper, G D McCasker, R Hersey, D A Jay, Ms P M Jay, Ms S O Hyde, R F H Zachariah & Est Of Mr R E Jones

3rd

7. BROWN BEN (AUS) 6yo G
BIG BROWN (USA) - INNISHBEG (AUS)
CORY PARISH
TONY MCEVOY
$31.00
55.5kg
P L E Robinson, J A Stott, Mrs J A Robinson & Mrs J Stott
4th
10. CURRAGH (NZ) 6yo G
TAVISTOCK (NZ) - SHOCK (NZ)
JASON MASKIELL
TRENT BUSUTTIN & NATALIE YOUNG
$31.00
55.0kg
5th
4. CALL ME HANDSOME (IRE) 6yo G
Kodiac (GB) - CALL LATER (USA)
CRAIG WILLIAMS
PETER GELAGOTIS
$5.00
55.5kg
6th
11. VINLAND (AUS) 4yo G
SEBRING (AUS) - VIKING TURF BELLE (AUS)
LUKE CURRIE
TONY MCEVOY
$15.00
55.0kg
7th
5. BRING ME ROSES (AUS) 4yo M
HIGH CHAPARRAL (IRE) - FRECKLED FACE (AUS)
DAMIEN OLIVER
TONY MCEVOY
$13.00
55.5kg
8th
8. ALL TOO HUIYING (AUS) 4yo H
ALL TOO HARD (AUS) - MADAME FLURRY (AUS)
PAUL GATT
PHILLIP STOKES
$21.00
55.5kg
9th
14. EAST INDIAMAN (AUS) 3yo G
HINCHINBROOK (AUS) - DASHIE DIVA (AUS)
BAREND VORSTER
TONY MCEVOY
$4.50
53.5kg
10th
6. HUSSYBAY (AUS) 5yo G
HUSSONET (USA) - KURI BAY (USA)
JAMIE KAH
MICK HUXTABLE
$15.00
55.5kg
11th
2. BALF'S CHOICE (AUS) 6yo G
WRITTEN TYCOON (AUS) - NOT JUDE'S CHOICE (AUS)
DWAYNE DUNN
RYAN BALFOUR
$21.00
56.0kg
12th
13. JACKTHEGIANTSLAYER (AUS) 8yo G
EXCITES (AUS) - QUAGLINO (AUS)
ANTHONY DARMANIN
GEORGE KARAYANNIS
$201.00
55.0kg
13th
15. MICA LIL (AUS) 5yo M
TESTA ROSSA (AUS) - GEMSTONE (NZ)
DOM TOURNEUR
MARK MINERVINI
$101.00
53.0kg
14th
1. MAGIC CONSOL (AUS) 9yo G
CONSOLIDATOR (USA) - SHALLY'S MAGIC (AUS)
DEAN HOLLAND
PAUL PREUSKER
$13.00
57.5kg
15th
12. ROSELLI STING (AUS) 6yo G
CASINO PRINCE (AUS) - COULD BE SOMETHING (AUS)
TODD PANNELL
GORDON RICHARDS
$101.00
55.0kg