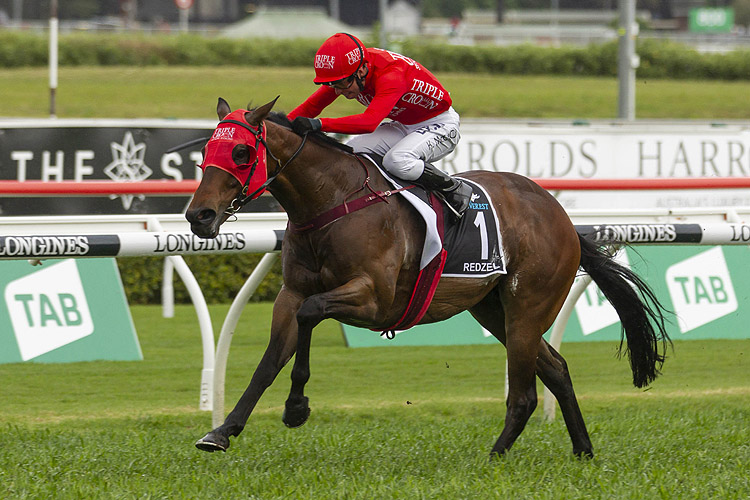 WARWICK FARM August 23
Good 4; Course Proper/Inside Grass
15 Heats – Course Proper 1 x 1000m (Group/Listed); Inside Grass 3 x 1200m (1 Open; 1 Maiden; 1 C1/Maiden); 6 x 806m (3 Open; 3 Maiden); 5 x 802m (5 Maiden)
Everest contender PIERATA was the star, proving a class above in the black type heat where he tracked the leader before taking control over the last 400m and cruising to the line in great style. He's obviously gone from his first trial and this effort indicates he is just where Greg Hickman wants him at this stage of his preparation.
A quality open heat over 806m on the inside grass saw the evergreen speedster BALL OF MUSCLE win yet another trial (number 19!!!) in fast time (47.92; 33.93) to confirm he is in the right form to test any field over a short course up to 1200m. Chasing him home was exciting young prospect EXCEEDANCE, his raw talent evident as he reeled off a sharp sprint from last between the 300m and 100m to run home a comfortable second.
Joe Pride's mare KYLEASE recorded the fastest 806m heat win (47.85; 34.32) beating the classy SYLVIA'S MOTHER, who turned in one of the best efforts of the morning with an excellent second. She motored under a hold and would have won the trial if asked for a serious effort in the last 100m.
NOTED TRIALS
XX Pierata; Ball Of Muscle; Exceedance; Sylvia's Mother
X Archedemus; Scarlet Dream; Finche; Magnificently; Monstrosity; Desert Lord; Grimoire; Condemned; Kylease; History; Intuitive; Birdy; Mount Legend; Lost Light; Ronson; Fight For Love; Threeood; She's So Savvy.
ROSEHILL August 20
Good 4; Course Proper/Inside Grass
16 Heats – Course Proper 2 x 1000m (Group/Listed); Inside Grass 5 x 1030m (2 Open; 3 Maiden); 9 x 893m (3 Open; 1 3YO; 5 Maiden)
Another key set of trials for some big spring contenders, not the least being the Everest hopes Redzel, NATURE STRIP; ENTICING STAR and ARCADIA QUEEN.
What a difference blinkers make to REDZEL. With the gear back on he was his old self showing all his natural speed to lead NATURE STRIP easily in the first 1000m heat on the course proper and doing it easily in sharp time (58.10; 34.90). NATURE STRIP was excellent as he settled kindly two lengths behind Redzel and closed easily under no pressure to be beaten only a half length and looking the stronger through the line. They had more than four lengths on the others but no knock on the easy efforts of BEAU IDEAL, CHAMPAGNE CUDDLES and YES YES YES. Jury is out on CASTELVECCHIO after he tailed out and made no headway – his next trial should tell us more if blinkers are applied.
Former Perth mare ENTICING STAR won the second black type heat in her first hitout for Chris Waller but in much slower time than Redzel (61.00; 35.30) but she did it well within herself after sitting behind the leaders and extending easily when presented with an inside run. Really liked the way the talented NIGHT'S WATCH worked home for second in his first trial for Waller to beat the others easily. He'll be a player in whatever Waller has mapped out for him – worth an early speck in the Epsom?
The boom mare ARCADIAN QUEEN was the centre of attention in her open heat over 893m and while beaten narrowly by GREYWORM she was hard held all the way and should take a lot of benefit from her first Sydney hitout.
A host of other big race entries strutted their stuff with the notable performances among them coming from COME PLAY WITH ME, PENSKE, I AM EXCITED, ZOUSAIN and PROPHET'S THUMB.
The star of the maidens was a brilliant IRESIGN running a fast 53.13 (34.,30) to win his 893m heat by 7.3 lengths, speed that is certain to see him pick up a provincial maiden at least. SALLY'S DAY and COCK MATCH were other maiden heat winners to make an impression.
NOTED TRIALS
XX Redzel; Nature Strip; Night's Watch; Penske; I Am Excited; Arcadia Queen; Prophet's Thumb;l Sally's Day;Cock Match; Iresign
X Champagne Cuddles; Entente; Green Jacket; ZOusain; Mister Sea Wolf; Greyworm; Re Edit; Military Zone; Kubrick; Riverside's Cash.
NEWCASTLE August 19
Good 3; Course Proper/Beaumont Course
15 Heats – Course Proper 2 x 900m (Group/Listed); Beaumont 1 x 1200m (Open); 5 x 1000m (2 Open; 3 Maiden); 7 x 800m (2 Open; 5 Maiden)
The depth of the Kris Lees stable was on show with Newcastle's leading trainer providing all 10 runners in the two black type heats over 900m on the course proper. The cream came to the top with GRAFF beating IN HER TIME and GEM SONG in 55.55 (34.26) while EL DORADO DREAMING had the better of her rivals in the second heat in 55.43 (34.43). They were all out for easy exercise and worked well within themselves.
In the open heats on the Beaumont course the quality stayers SIXTIES GROOVE, RED CARDINAL and OUR CENTURY stood out in their 1200m heat while the talented sprinter JONKER looks to be on the way back after his soft 1000m heat with some nice efforts behind him from McCORMACK and VEGADAZE. APOLLO PRINCE was the one that took the eye in the 800m open heats.
The pick of the maidens had to be ELGIN, HEAD SPINS and CALIPARI. The latter backed up quickly to win at Newcastle on August 24.
NOTED TRIALS
XX Elgin; Apollo Prince
X Graff; In Her Time; Gem Song; El Dorado Dreaming; Regimental Band; Sixties Groove; Red Cardinal; Our Century; Jonker; McCormack; Vegadaze; Erno; Aunty Pugs; Head Spins; Surf Sonic.