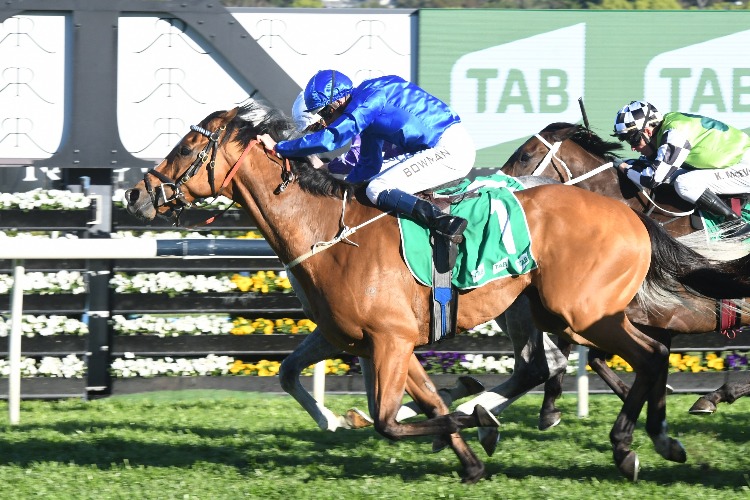 While Mystic Journey deserves to be fav, old Hartnell is value at $13 in the 2019 Makybe Diva Stakes (1600m) at Flemington on Saturday.
2019 Makybe Diva Stakes: Final Field, Barriers and Market
2019 Makybe Diva Stakes: Race History
2019 Makybe Diva Stakes: Nominations
2019 MAKYBE DIVA STAKES – RACE ANALYSIS AND TIPS
No obvious leader and think the big names land right up there with Mystic Journey and Scales of Justice certainly fast enough to take it up. Hartnell will come across and Fifty Stars has blinkers now which could spark him up.
MYSTIC JOURNEY (13) wobbled around the corner fresh but she powered past them once she balanced up and she is only going to be stronger for that run. Gets back to the Flemington mile where she starred in the autumn. Big test taking on SCALES OF JUSTICE (4) who will have no issue getting out to the mile and stood up in a fast Memsie last time. Big win and he won't hand this to the filly without a fight.
Neither will HARTNELL (1) who has chased the pair them home this prep and looks like peaking out to the mile now. His best makes him a threat and every chance we get a generous price about him now. YUCATAN (9) and ROSTROPOVICH (5) are talented and look the most dangerous of the resuming stayers.
2019 MAKYBE DIVA STAKES – SELECTIONS
1st – 13 Mystic Journey
2nd – 4 Scales Of Justice
3rd – 1 Hartnell
4th – 9 Yucatan
WHEN IS THE 2019 MAKYBE DIVA STAKES?
WHEN: – Race 7 @ 4:10pm
WHERE: Flemington Racecourse
Racing and Sports has all the form for Flemington
* Note that betting odds may differ from time of publication

FP
Silk
Horse, Age & Sex
Sire & Dam
Jockey
Trainer
SP
WT

1st

6. GATTING (AUS) 6yo G


HARD SPUN (USA) - STUBBORN (AUS)

JAMIE KAH
DARREN MCAULIFFE
$101.00
59.0kg
Impressive Racing Pty Ltd (Mgr: K S Berry), C R Mathers, H A Money, F W Stanford, S J Trigwell, G J Artemis, N F Viandante, L G Rowland, D Gibson, B J Hayden, V C McKinnel, N A Rampant, D Russell, R K Mason, C J Grover, J Jaworski, N J Magro, M G Paratore, Ms K J Reid & A L Rowland

2nd

13. MYSTIC JOURNEY (AUS) 4yo M


NEEDS FURTHER (AUS) - WHITE GOLD (NZ)

ANTHONY DARMANIN
ADAM TRINDER
$2.11
56.5kg
W G Roser

3rd

12. MR QUICKIE (AUS) 4yo G


SHAMUS AWARD (AUS) - SPECIAL FAVOUR (AUS)

J ALLEN
PHILLIP STOKES
$31.00
58.5kg
Wylie Dalziel Roy Higgins Racing, P G Moody, Snow Road Thoroughbreds (Mgr: G N McNulty), Rosemont Stud Pty Ltd (Mgr: A P Mithen), F Cimera, 21st Century Trade Group No 5 Pty Ltd, B W Hurrell, R Y Recep, C De Bortoli, M A Mitchell, K H Warriner, Shangi Charges & K F McDonald
4th
1. HARTNELL (GB) 8yo G


AUTHORIZED (IRE) - DEBONNAIRE (GB)

CRAIG WILLIAMS
JAMES CUMMINGS
$10.00
59.0kg
5th
4. SCALES OF JUSTICE (AUS) 7yo G


NOT A SINGLE DOUBT (AUS) - BEYMATILLA (AUS)

DEAN YENDALL
LINDSEY SMITH
$4.00
59.0kg
6th
8. FIFTY STARS (IRE) 4yo H


SEA THE STARS (IRE) - SWIZZLE STICK (IRE)

BEN ALLEN
D & B HAYES & T DABERNIG
$26.00
59.0kg
7th
5. ROSTROPOVICH (IRE) 4yo G


FRANKEL (GB) - TYRANNY (GB)

DWAYNE DUNN
D & B HAYES & T DABERNIG
$26.00
59.0kg
8th
7. KINGS WILL DREAM (IRE) 5yo G


CASAMENTO (IRE) - ROAD HARBOUR (USA)

MARK ZAHRA
CHRIS WALLER
$13.00
59.0kg
9th
10. NIGHT'S WATCH (NZ) 6yo G


REDWOOD (GB) - GLORY RUN (AUS)

DAMIEN OLIVER
CHRIS WALLER
$67.00
59.0kg
10th
3. HUMIDOR (NZ) 7yo G


TEOFILO (IRE) - ZALIKA (NZ)

DAMIAN LANE
CIARON MAHER & DAVID EUSTACE
$31.00
59.0kg
11th
14. OOHOOD (AUS) 4yo M


I AM INVINCIBLE (AUS) - BELLA SUNDAY (AUS)

MICHAEL DEE
T & C MCEVOY
$51.00
56.5kg
12th
9. YUCATAN (IRE) 5yo H


GALILEO (IRE) - SIX PERFECTIONS (FR)

BEN MELHAM
LIAM HOWLEY
$17.00
59.0kg
13th
2. GAILO CHOP (FR) 8yo G


DEPORTIVO (GB) - GRENOBLE (FR)

LINDA MEECH
MATTHEW WILLIAMS
$51.00
59.0kg
14th
11. SOUND (GER) 6yo H


LANDO (GER) - SKY DANCING (IRE)

JAMIE MOTT
MICHAEL MORONEY
$201.00
59.0kg
15th
15. QAFILA (AUS) 4yo M


NOT A SINGLE DOUBT (AUS) - ZIGHY BAY (USA)

LUKE NOLEN
D & B HAYES & T DABERNIG
$41.00
56.5kg