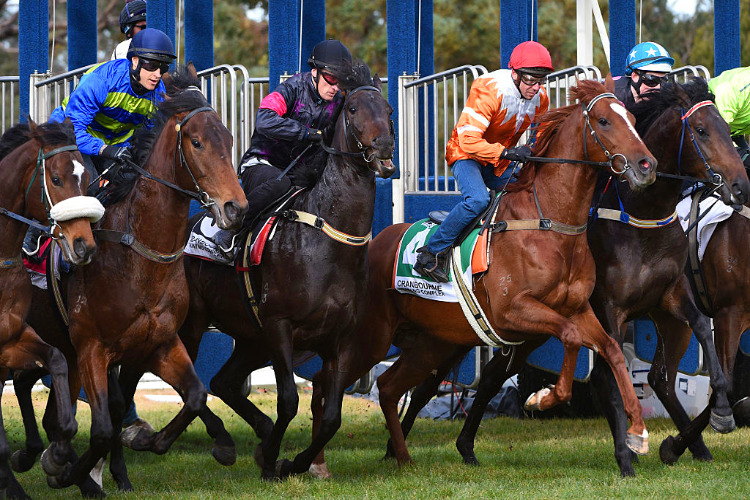 SYDNEY 2YO TRIALS
RANDWICK KENSINGTON – September 23
Soft 5 – 11 Heats
Heats 1-5 852m; Heats 6-11 847m
COLTS
XXX Beyliks; Nitrous; Global Quest
XX Belieber; Barbaric; Aftermath; Blondeau
X War Memorial; Postcode
FILLIES
XX Ticket To Ride; Every Rose; Fall On A Star
X Goddess; In Flanders; Super One Susie; Stellar Pauline; Duchess; Rose Sauvage
HEAT TIMES
847m
50.08 Every Rose (Last 600m 34.17)
50.32 Nitrous (Last 600m 34.24)
50.53 Fall On A Star (34.34)
50.79 Global Quest (34.52)
50.88 Barbaric (34.26)
51.40 In Flanders (34.80)
852m
50.17 Ticket To Ride (34.27)
50.59 Beyliks (34.18)
50.47 Belieber (33.66)
50.81 War Memorial (34.74)
51.04 Goddess (34.68)
HEAT 1 – BEYLIKS (James Cummings): Godolphin have a readymade early winner in this stylish Lonhro colt. Sat off the pace for first 400m then easily ran past leaders and extended in fine style to win with plenty in hand in good time (50.59; 34.18). Professional.
The babies are here! The first trial @royalrandwick has been run! Lonhro colt Beyliks for @JamesCummings88 @godolphin takes it out – is this an omen for the rest of the spring? pic.twitter.com/7UTa6pqbk5

— Sky Racing (@SkyRacingAU) September 22, 2019
HEAT 2 – GODDESS (Ciaron Maher/David Eustace): Well prepared filly from good 2YO stable. Tracked three deep and was pushed along to get the better of those on her inside. Kept responding and had them covered over last 30 metres. Liked the way SUPER ONE SUSIE finished off last 100m. She was tucked in behind the pace until she worked across heels last 200m and responded to riding.
HEAT 3 – WAR MEMORIAL (Peter & Paul Snowden): Bunched finish saw this Fastnet Rock colt from the Snowden stable push through the middle of the pack last 200m after doing no work behind the pace. Did best last bit in an even lot with runner-up AFTERMATH, a stablemate of the winner, perhaps a better trial as he took the eye settling back and three wide before putting in nice work over last 200m.
In a willing affair, $680k Fastnet Rock 2YO colt War Memorial, sticks his head out to score for @SnowdenRacing1 from stablemate Aftermath who caught the eye @royalrandwick trials... pic.twitter.com/oxppgIFfKk

— Sky Racing (@SkyRacingAU) September 22, 2019
HEAT 4 – TICKET TO RIDE (Richard & Michael Freedman): Nice first crop filly by Vancouver did nothing wrong, having the sit on the lead pair and working through her gears nicely over the last 300m to win narrowly from STELLAR PAULINE, who was equally as good last 100m when she worked through on the inside of the winner. There was merit in the fast time (50.17; 34.27).
TICKETS ON HERSELF!

Vancouver filly Ticket To Ride for Michael and @R1CHARDFREEDMAN gets home in heat 4 @royalrandwick . Can she follow in her dad's footsteps and win the Slipper? pic.twitter.com/KdM4gi2WMC

— Sky Racing (@SkyRacingAU) September 23, 2019
HEAT 5 – BELIEBER (Gai Waterhouse/AdrianBott): Typical fast running youngster from the Waterhouse/Bott stable with the natural speed to be a player in the early races. Had to be ridden up last 200m but easily ran the fastest last 600m of the day (33.66), being the only youngster to break 34 seconds. Plenty to like about the effort of runner-up BLONDEAU as he was not pushed to chase the winner but kept working strongly under a hold last 200m.
ARE YOU A BELIEBER? Zoustar colt Belieber burns home in the fastest last 600 of the morning so far for @GaiWaterhouse1 and Adrian Bott @royalrandwick pic.twitter.com/ve5qOIgVJJ

— Sky Racing (@SkyRacingAU) September 23, 2019
HEAT 6 – EVERY ROSE (Mark Newnham): Speed was on from the start and set it up for this stylish Choisir filly with a big white blaze and four white feet to run the fastest time of the shorter 847m heats (50.08; 34.17). She responded well when given a slap in the last 200m and put a good margin on them over the last 100m. The speedy DUCHESS deserves attention as her early urgency to lead set the heat up for the fast time and she didn't shirk it to hold down second.
HEAT 7 – NITROUS (Peter & Paul Snowden): The Snowdens have a precocious natural youngster in this Deep Field colt. He took control under no pressure from the start and travelled well within himself to post the fastest time of the colts (50.32; 34.24) while easily holding another good type in Postcode over the last 150m. Stable should be confident about his early prospects. POSTCODE went back early and impressed with the way he worked into it over the last 300m.
Nitrous by Deep Field leads all the way to give @SnowdenRacing1 another win at the trials @royalrandwick this morning… @jmeharron pic.twitter.com/6u32Tmq4C7

— Sky Racing (@SkyRacingAU) September 23, 2019
HEAT 8 – FALL ON A STAR (Kris Lees): Really liked the way this Kris Lees-trained Zoustar filly swooped home late for a stylish win in one of the quicker heats (50.53; 34.34). She's a raw talent with plenty of scope to improve. There was also merit in the effort of runner-up ROSE SAUVAGE after she sat three deep and was not tested in the run to the line.
A NEW ⭐? $750k filly Fall On A Star by Zoustar looks to have a bright future for @Leesracing @shanemcgrath78 after winning Heat 8 @royalrandwick... pic.twitter.com/viLAE28ygC

— Sky Racing (@SkyRacingAU) September 23, 2019
HEAT 9: - BARBARIC (Peter & Paul Snowden): The Snowdens win another heat with this high priced colt by I Am Invincible doing it easily to sit outside the leader and surge clear for a strong win. His time was the slowest of the colts heats (50.88; 34.26) but he has the foolproof manners and sense to be an early winner.
Pitiless! @SnowdenRacing1 take out another heat @royalrandwick with I Am Invincible colt Barbaric, out of Mimi Lebrock… pic.twitter.com/YR01UuxUyP

— Sky Racing (@SkyRacingAU) September 23, 2019
HEAT 10 – IN FLANDERS (James Cummings): Most fillies in this heat were under pressure at the 200m with the winner out the back early and finishing best down the outside after she was put under a ride. She's a strong type by Exceed and Excel but the time was the slowest of the day (51.40; 34.80).
HEAT 11 – GLOBAL QUEST (Chris Waller): Top stable has a good prospect in this More Than Ready colt after he showed all the right traits to win easily, giving James McDonald five wins in the 11 heats and making his choice of rides in the early races an important guide. This colt cruised in the lead, extended at will and had plenty in hand through the line indicating he could have gone quicker than his 50.79 (34.52). Sharp runner.
"He's sharp, he's natural, he's got a good clean action and a brain on him too" - @CRDuckworth on More Than Ready colt Global Quest, who won the last trial @royalrandwick impressively this morning @cwallerracing @shanemcgrath78 @LizzieJelfs pic.twitter.com/i0boVeWFSQ

— Sky Racing (@SkyRacingAU) September 23, 2019