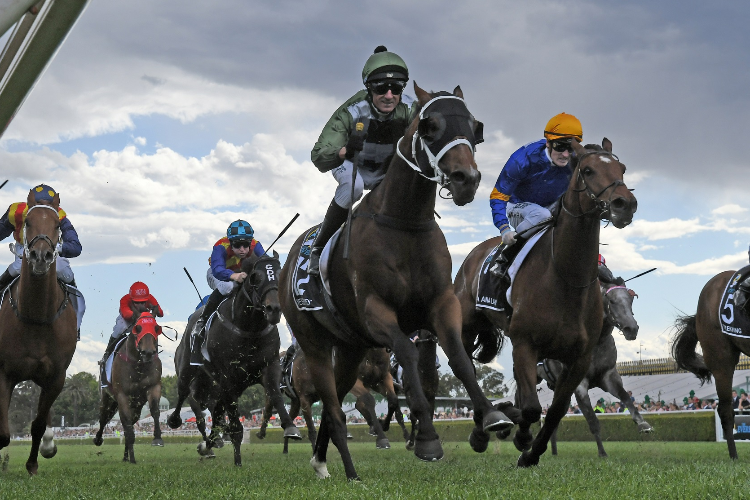 WARWICK FARM October 23
RACE 1: Quintessa (EW)
RACE 6: (11) Live The Moment (EW)
RACE 1: 11-2-10-5
RACE 2: 4-2-1-5
RACE 3: 4-6-9-1
RACE 4: 5-1-6-8
RACE 5: 3-7-1-10
RACE 6: 11-2-1-7
RACE 7: 10-5-11-3
BLACKBOOK REPORT
ELIGIBLE BLACKBOOK RUNNERS – October 23
GEELONG: Supernova (R7)
RECENT BLACKBOOK WINNERS: Designated; Cascadian; Handle The Truth; Spanish Reef; Fierce Impact; Flit; Park Chinois; Surprise Baby; Kings Will Dream; Come Play With Me; Verry Elleegant; Still Single; Ranier; Shadow Hero; Loving Gaby; Twinspier; Finche; Kolding; Enterprise Prince; Tofane; Veranes.
Recommend Blackbook Horses to follow – Selected October 19
(Selected horses be followed at next three starts)
CAULFIELD CUP: A litany of hard luck stories leaves most in two minds about the worth of the form. Going forward to Flemington my best runs were 1. CONSTANTINOPLE; 2 Mer De Glace; 3. Mr Quickie; 4. Vow And Declare; 5; Finche; 6 Mustajeer; 7 Mirage Dancer.
THE EVEREST: One horse stood as the luckless runner – CLASSIQUE LEGEND. Nash Rawiller lost it when he failed to make his run with Yes Yes Yes as the winner went around him at the 450m. From there he was losing momentum as the others were going forward – at this level it was the end of the section. Expect a riding change for the Golden Eagle. Take nothing away from the winner but SANTA ANA LANE was incredibly good late in a race that smashed the clock. The leaders had to stop which made the brave fourth of NATURE STRIP after carving out the breakneck sectionals from the front as good as he has ever gone.
FIESTA: Excellent first-up effort. Classy mare.
BOBBING: Must pick up a good city race.
WARNING: He'll be in his element over the Derby trip at Flemington.
HEIRBORN: Can see a lot of improvement off his fresh effort.
MISS IANO: Would have been in it with any luck over last 400m.
STAR HILLS: Negative ride produced a negative result. Forgive run.
TRIAL WATCH REPORT
NOTED RUNNERS – October 23
WARWICK FARM: Daumier (R1); Quintessa (R1); Statuesquely (R3); High Mist (R6)
HAWKESBURY THURSDAY: War Cabinet (R2); Wicked Wench 9R2); Suave (R3); Fight For Love (R5); Phoenix River (R5)
RECENT TRIAL WATCH WINNERS: Knickpoint; Montserrat; Fierce Impact; Bowery Breeze; Faretti; Willowheart; Daddy Cool; Signore Fox; Brutal; Vox Populi; Still Single; Renewal; Mir; California Zimbol; Manicure; Regimental Band; Mirra Vision; Buzzoni; Arcadia Queen.