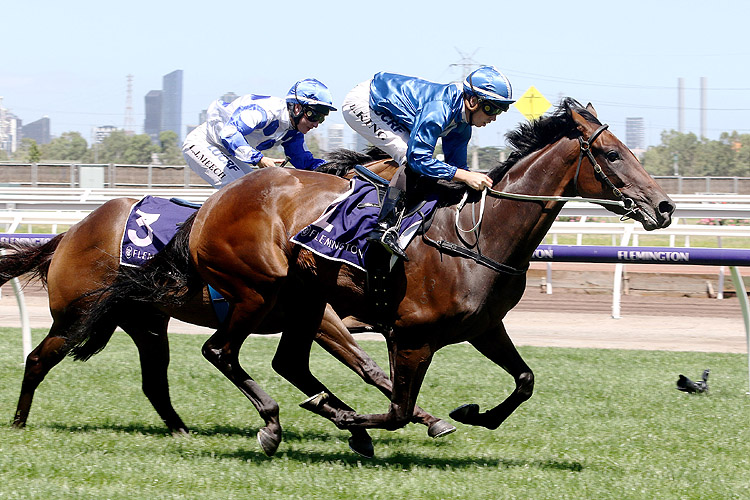 At good odds she wound over the top of rivals while others were a bit unlucky.
You would be very happy if you've stuck with her.

Oceanex wins the TAB Matriarch Stakes at big odds. pic.twitter.com/J6gDy1is26

— Racing.com (@Racing) November 9, 2019
"On days like this it's just unbelievable, couldn't imagine it 12 months ago!"

The @MickPriceRacing stable scores three wins over Cup Carnival! pic.twitter.com/OcZCP5FZDo

— Racing.com (@Racing) November 9, 2019
Winning Trainer: Mick Price & Michael Kent Jnr
From Mick Price: "I was a bit concerned with the six lengths that she was beaten by at Moonee Valley. I thought 'how are we going to make that up?'. I suppose barrier one and the big track at Flemington, she appreciates the big open space. She's had a really good prep without having a lot of luck. But to nail it in a Group 2 makes her such a valuable broodmare now. So all of the bad luck is gone and we landed some good luck. Happy days.
"If this had've been another track, she hasn't got the room and opportunity to wind up. It might've just been a Moonee Valley 'thing' and she was going to come here and be good enough.
On her career: "She's been handy. When J-Mac (James McDonald) rode her, I said 'look she's not good enough to win a mile race here, get out the back and ride her to run a place which is what we did.' I think this is her personal best. She'll go to the paddock now. I think that was about run number seven for her. I don't want to go further with her because this was only start 13. This time next year she'll still be a nice mare. She's got a bit of a soft knee but we'll go to the paddock.
On Jye McNeil: "He rides good, this kid. He has to keep improving. I reckon he's one that maybe can. He's that cool temperament. Hopefully he's smart enough to keep improving. He's an interesting jockey, I reckon. He rode her cool and calm and came out at the right time. The horse went well for him.
"How do the handy jockeys become Group jockeys where people rely on them to ride in the Group races all of the time? Not sure, but he's an interesting jockey. He keeps a lot to himself but he might be cool, calm and collected but the horses go well for him and he's just got to get the opportunities, I suppose."
Winning Jockey: Jye McNeil
"Flemington certainly suited her. I didn't think the barrier was going to suit, especially the way the track was playing early on, but we got to edge away from the fence and she had plenty of time to build into the race. She really deserves this win today."
"I tried not to look into it too much, I just wanted to bounce and ride her where she was happy and play it as it came, I ended up fifth or sixth a few pairs back on the fence and was able to peel out around the runners in front and she ran through the line really strongly."
"She seems to have pulled up really well too, so onwards and upwards."

FP
Silk
Horse, Age & Sex
Sire & Dam
Jockey
Trainer
SP
WT

1st

14. OCEANEX (NZ) 4yo M


OCEAN PARK (NZ) - DANEX (NZ)

JYE MCNEIL
MICK PRICE & MICHAEL KENT JNR.
$17.00
55.0kg
L A Wilkinson, Choices Racing, A W Hall, J J Borg, R J Preston, Poseidon Bloodstock Pty Ltd, Mrs S M Worthley, D H Webster, Oz Racing Ocean, M R D Racing, Mike Honcho, B G Hodkinson, R S Dalgleish, K K Cousins, B T Sullivan, S B Fisher, Bonbeach Coterie No 2, B Doherty, A W Bruhn & S W Bruhn

2nd

9. MISS SISKA (AUS) 6yo M


SO YOU THINK (NZ) - SING HALLELUJAH (AUS)

CRAIG WILLIAMS
GRAHAME BEGG
$21.00
55.0kg
Ms K M Davenport, T J Davenport, Mrs E A Davenport & F Pollio

3rd

10. ARISTOCRATIC MISS (AUS) 4yo M


FOXWEDGE (AUS) - GOLDEN PEDIGREE (AUS)

RYAN MOORE
T & C MCEVOY
$101.00
55.0kg
Seymour Bloodstock (Mgr: D S Thomas), R J Pawsey, G O Mudgway, Mrs D A Hann, Mrs A Heron, P Hoskin, C G Hann, Miss A S Mitchell, D J McLeod, Mrs K J Quinn, S Saric, Mrs A Paulett, G J & Mrs D P Syvertsen, Ms N Chivell, Mrs C Schaefer, R Schaefer, P S Chivell, Mrs M T Kral & M Dawson
4th
8. GREYSFUL GLAMOUR (AUS) 4yo M


STRATUM (AUS) - RIPPLED (GB)

DAMIEN OLIVER
MARK NEWNHAM
$7.50
55.0kg
5th
2. DANZDANZDANCE (AUS) 5yo M


MASTERCRAFTSMAN (IRE) - NIGHT DANZA (AUS)

HUGH BOWMAN
CHRIS WALLER
$15.00
58.5kg
6th
3. AMANGIRI (AUS) 4yo M


ALL TOO HARD (AUS) - SECRET INDULGENCE (NZ)

DWAYNE DUNN
MICHAEL & WAYNE & JOHN HAWKES
$17.00
58.5kg
7th
13. GIRL TUESDAY (AUS) 5yo M


STREET CRY (IRE) - TUESDAY JOY (NZ)

NASH RAWILLER
CHRIS WALLER
$2.88
55.0kg
8th
7. RONDINELLA (NZ) 5yo M


OCEAN PARK (NZ) - VALPOLICELLA (NZ)

KERRIN MCEVOY
ROGER JAMES & ROBERT WELLWOOD
$6.00
55.0kg
9th
6. ANOTHER DOLLAR (NZ) 5yo M


OCEAN PARK (NZ) - MAKE A WISH (NZ)

JAMES MCDONALD
CHRIS WALLER
$13.00
55.0kg
10th
5. ALIFEROUS (AUS) 4yo M


HINCHINBROOK (AUS) - WILLOW (AUS)

BRENTON AVDULLA
KRIS LEES
$21.00
57.5kg
11th
1. SPANISH REEF (AUS) 6yo M


LOPE DE VEGA (IRE) - LEMON REEF (USA)

MARK ZAHRA
K M KEYS
$16.00
58.5kg
12th
12. SCARLET DREAM (AUS) 4yo M


SEBRING (AUS) - ASYLUM SEEKER (SAF)

STEPHEN BASTER
MARK NEWNHAM
$41.00
55.0kg
13th
16. CAMELLE (NZ) 4yo M


CAMELOT (GB) - VIANA (NZ)

BEAU MERTENS
P G CAREY
$151.00
55.0kg
14th
4. NETTOYER (AUS) 6yo M


SEBRING (AUS) - CLEANUP (AUS)

JAMIE KAH
WENDY ROCHE
$16.00
57.5kg
15th
15. NAIVASHA (AUS) 5yo M


STARCRAFT (NZ) - DURBAN (AUS)

DAMIEN THORNTON
P G CAREY
$101.00
55.0kg