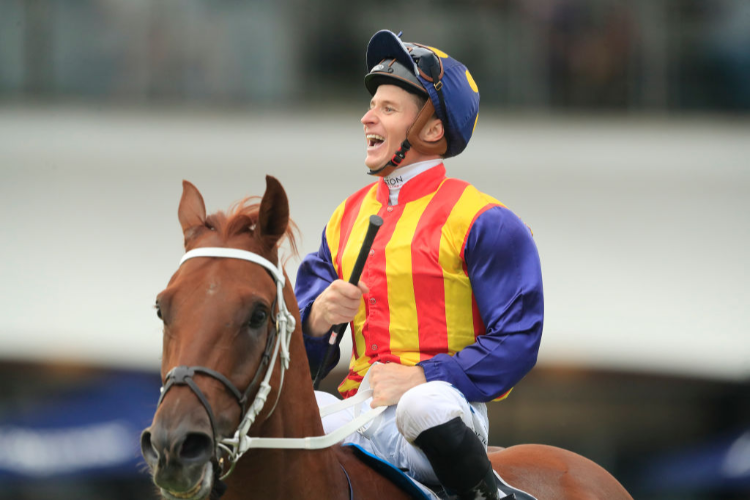 He showed in the Everest he could run 1200m and proved it at Flemington.
That was emphatic!!!

Nature Strip dictates terms in the Darley Sprint Classic and beats them easily. pic.twitter.com/XpCiohwFbw

— Racing.com (@Racing) November 9, 2019
"I know team are pretty keen to get to Royal Ascot in June."

Watch this space! @cwallerracing pic.twitter.com/P9f6PUTxwb

— Racing.com (@Racing) November 9, 2019
"It felt like he was the only horse out there... all those doubters who said he can't run 6, he's run 6 now!"

@mcacajamez pic.twitter.com/XzKbzGvBAX

— Racing.com (@Racing) November 9, 2019
Winning Trainer: Chris Waller
On the horse: "It is capping off a pretty good season for the horse. He's done a great job. He's a winner of three G1 races and that is simply as good as it gets from a sprinters perspective."
On how he travelled and turned things around: "Having good staff helps. Good owners who respect what you do and back your judgement. It's been an all around product. My team do a fantastic job. If we find a problem with a horse we try to work on it. Not fix it overnight but just in time. Not that he hasn't been happy but learn to relax in his races. Credit to all concerned and James McDonald complements the horse."
On running 1400m?: "The way he's doing that you'd certainly need a fast 1400m horse to beat him. There are options there. I've been lucky enough to take the horse over and put a bit of fine tuning on him.
On the straight: "I think it's his third win up the straight. I think it suits his style. Everyone is conscious of not going too hard whereas he just rolls. He's a very fast horse, one of the fastest horses in the world. When James let him a bit of reign, gee he let go."
Winning Jockey: James McDonald
"I reckon he will run seven furlongs now he is going that good. How exciting. I am thrilled for the horse, I'm thrilled for connections. He's just gone to a new level this preparation, he's only had one disappointment and that was first up but apart from that faultless. He's a star!"
"He was just airborne, floating across the ground, I slipped him a little bit more reign at the three and looked at the big screen and though oh no I'm six in front but he was still just going through his gears. He's a star, he ran it out so strongly."
"Chris has got a great team. He's got one rider that rides him all the time and does an amazing job. This preparation from the moment I've sat on him he has just been faultless. We've done a lot of work for him to settle. People said it backfired but he wouldn't have done that today if it wasn't for those little things that we were trying to teach him early on. Credit to the whole team there at Chris's who have done a great job with him."
Beaten Jockeys:
Mark Zahra (Santa Ana Lane): "He was a bit tired today. Once I got the gaps on the fence I thought he'd zoom. Nothing would've beaten the winner today but he just went like a tired horse."
Jarrad Noske (Rock Magic): "Worst run of his career."
Dwayne Dunn (The Bostonian): "Better suited over 1400 metres."
Damien Oliver (Malibu Style): "He ran up to as good as he can go."
Damian Lane (Zoutori): "Honest."
Brenton Avdulla (In Her Time): "She was good. We went through comfortably enough on the back of James (Nature Strip) early. He quickened up midrace and put a gap on us. I thought she tried her guts out."
Hugh Bowman (Alizee): "I was really proud of Alizee. It's hard to make excuses for anything. The winner made the race his own but my mare went really well."
Craig Williams (Loving Gaby): "I don't like running second in any race, let alone a Group 1, but I thought the winner's performance was unbelievable. My filly's performance was amazing as well. They placed her really well last time to win the Manikato and she had the perfect run, everything around The Valley. Whereas today, she had to be really tough. She had good cover for the first part then we had nothing to bring us into the race and really had to chase down the eventual winner. Her performance was outstanding. She's definitely a star of the future."

FP
Silk
Horse, Age & Sex
Sire & Dam
Jockey
Trainer
SP
WT

1st

2. NATURE STRIP (AUS) 5yo G


NICCONI (AUS) - STRIKELINE (AUS)

JAMES MCDONALD
CHRIS WALLER
$3.50
58.5kg
R Lyons, P Harrison, P Kean, S Hansen, G Smith, J Van Duuren, P Balderstone, K Garland, D McCluskey, C Bennett, G Dumesny, F Giampaolo, Ms D McShane, D Slocum & T McHenry

2nd

9. LOVING GABY (AUS) 3yo F


I AM INVINCIBLE (AUS) - MAASTRICHT (NZ)

CRAIG WILLIAMS
CIARON MAHER & DAVID EUSTACE
$7.50
51.5kg
Phoenix Thoroughbred (Mgr: A A Salman)

3rd

7. IN HER TIME (AUS) 7yo M


TIME THIEF (AUS) - HELL IT'S HOT (AUS)

BRENTON AVDULLA
KRIS LEES
$12.00
56.5kg
Orbis Bloodstock (Mgr: W L Hui) & P J Brown
4th
8. ALIZEE (AUS) 5yo M


SEPOY (AUS) - ESSAOUIRA (AUS)

HUGH BOWMAN
JAMES CUMMINGS
$10.00
56.5kg
5th
1. SANTA ANA LANE (AUS) 7yo G


LOPE DE VEGA (IRE) - FAST FLEET (AUS)

MARK ZAHRA
ANTHONY FREEDMAN
$2.11
58.5kg
6th
6. ZOUTORI (AUS) 4yo G


ZOUSTAR (AUS) - ATOTORI (AUS)

DAMIAN LANE
MATHEW ELLERTON & SIMON ZAHRA
$21.00
58.5kg
7th
5. MALIBU STYLE (AUS) 8yo G


MAGNUS (AUS) - ORIGAMI (AUS)

DAMIEN OLIVER
NEVILLE PARNHAM
$101.00
58.5kg
8th
4. THE BOSTONIAN (NZ) 5yo G


JIMMY CHOUX (NZ) - KEEPA CHEVAL (NZ)

DWAYNE DUNN
TONY PIKE
$41.00
58.5kg
9th
3. ROCK MAGIC (AUS) 10yo G


REDOUTE'S CHOICE (AUS) - ROCKABUBBLE (AUS)

JARRAD NOSKE
CHRIS GANGEMI
$67.00
58.5kg