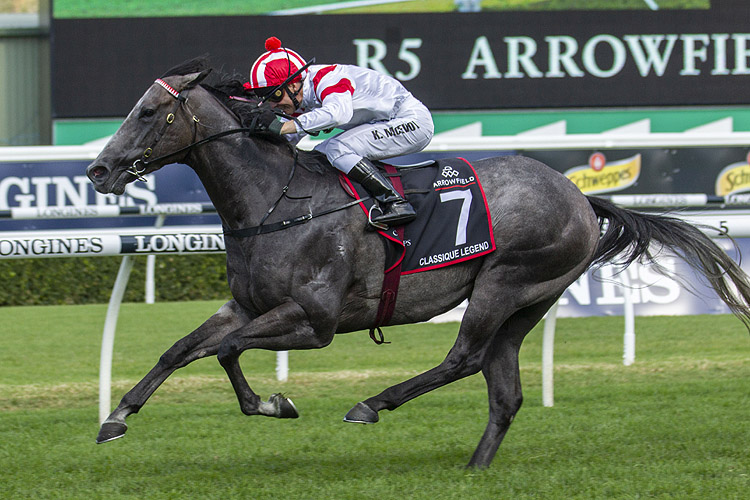 CANTERBURY May 29
Course Proper; Heavy 8
22 Heats – 5 x 1100m (3 Open; 1 2YO; 1 Maiden); 6 x 910m (2 Open; 4 2YO); 6 x 905m (6 2YO); 5 x 900m (3 3YO;2 Maiden)
A difficult morning for participants as the weather deteriorated – suggest it was worse than a Heavy 8 by the end of the session. Obvious pattern evolved as the fast lanes were closer to the outside rail and favoured any runners ridden for speed. Due the conditions a lot of horses were held together and untested.
High class 3YO CLASSIQUE LEGEND provided the highlight of the session with an impressive heat win while Bjorn Baker sent out 11 winners including five in the 2YO heats, adding his reputation for wanting his horses to be tested in their trials.
CLASSIQUE LEGEND was a standout setting the time standard for the morning with his effortless 910m heat win (56.93; 35.43). He sat three four and deep from a wide gate travelling two lengths of the lead before cruising around them on the turn. He glided to a soft 2.3 lengths win, the heavy going not impeding his relaxed, fluent action. Behind him the effort of NIGHT OF POWER to finish third, running through the line strongly, was an eye catcher.
Classique Legend is back with a bang! Reuniting with @KPMcEvoy in this morning's trial as he begins his preparation towards the #TABEverest pic.twitter.com/UEtUEWICrk

— Sky Racing (@SkyRacingAU) May 29, 2020
Despite Baker's big morning the best 2YO trials came from the talented foursome SUPERBELLA (Lee Curtis), LADY BANFF (Matt Dunn), NOT AN OPTION (Richard & Michael Freedman) and OH SAY (Team Hawkes).
SUPERBELLA rebounded from her debut failure to record another impressive trial 910m heat win in the fastest of all the 2YO heats over all distances (57.09; 36.02) while LADY BANFF, a two time Brisbane winner early in the season, wasn't far behind winning her 910m heat with plenty in hand (57.29; 36.35).
OH SAY, an imposing unraced youngster and a noted winner of an earlier trial at Rosehill, looked good finishing a close second under no pressure in her 910m heat (57.55; 36.20) won by Baker's racy filly ITA.
The Freedmans would be happy with the trial form of their recent acquisition NOT AN OPTION following her transfer from Kiwi trainer Tony Pike after she recorded a strong win in the fastest of the five 1100m heats (69.92; 37.69).
Older horses to make an impression included BOOMTOWN RAT, ORDER AGAIN and BEST STONE. The latter, spelled after back to back wins at Canterbury in February, was a class above her rivals in her 900m heat (56.77; 35.52) and is set to build on her impressive record through the winter.
NOTED TRIALS
XX Classique Legend; Best Stone; Superbella
X Able Hill; Boomtown Rat; Brave Song; Brother Fox; Controvert; Easy Campese; Forsetti; Lady Banff; Mr Colorful; Muruntau; Night Of Power; Not An Option; Oh Say; Order Again; Pacific Ocean; Party Lady; Setanta; Sprout Wings; Tourmaster; Travest
Boomtown Rat finishes nicely under a hold from @clarkyhk for @BBakerRacing in Trial 1 at Canterbury. Big morning ahead! pic.twitter.com/RdfBtkjJWF

— Sky Racing (@SkyRacingAU) May 28, 2020
Last year's Lord Mayors Cup winner Grey Lion had a good hit out to win his trial this morning for @mcsmithracing pic.twitter.com/7UV2XWoFTV

— Sky Racing (@SkyRacingAU) May 28, 2020
WYONG May 27
Course Proper; Heavy 9
12 Heats – 1 x 1200m (Open); 5 x 1000m (3 Open; 1 2YO; 1 Maiden); 6 x 845m (1 Open; 3 2YO; 2 Maiden)
NOTED TRIALS
XX Oakfield Hiawatha
X Catesby; Royal Banquet; Brixton Town; Deep Space; Manhattan Mist; Zaniah; Lexi's Choice; Isalute; La Girl; Flying Scotsman; Areya Tuchuzy; Cecilia
An impressive trial from Deep Space this morning who was full of running and went 3 seconds quicker than trial 1! @Leesracing pic.twitter.com/UECDIoP0Yh

— Sky Racing (@SkyRacingAU) May 27, 2020
Judge Judi kicks down the outside in Trial 4 at @WyongRaceClub this morning for @kimwaugh6 pic.twitter.com/44DrfmQoSE

— Sky Racing (@SkyRacingAU) May 27, 2020
RANDWICK May 26
Synthetic Track
7 Heats – 1 x 1250m (Open); 4 x 1080m (1 Open; 2 2YO; 1 Maiden); 2 x 780m (1 Open; 1 2YO)
EMBRACER (Gai Waterhouse/Adrian Bott): Sent for a break in February after a strong summer campaign, this impressive trial sets him up to add to what is already a classy record of five wins from 11 starts. Under a big grip from Tim Clark from the start, he settled back and wide before working strongly around the pack from the 400m and going to the line with plenty in reserve for an easy third behind stablemates YOU RANG and ECHO GEM in their 780m heat that featured the fastest last 600m of the session (45;38; 32.94).
You Rang lifted in her trial at @royalrandwick this morning for @GaiWaterhouse1 with @nashhot in the saddle pic.twitter.com/snoHXiKvHm

— Sky Racing (@SkyRacingAU) May 25, 2020
NOTED TRIALS
XX Embracer
X Acrophobic; Broadside Armour; California August; Camerlengo; Danzette; Lakia; Mini Boom; Poetic Charmer; SIxgun; Zou De Moon
Up-and-coming @JohnOSheaRacing 2YO Acrophobic ran home well in his trial at Randwick this morning, finishing a nice 2nd. He's currently $26 in the JJ Atkins (All In) Market. pic.twitter.com/6x0LMmOsRV

— TAB (@tabcomau) May 26, 2020