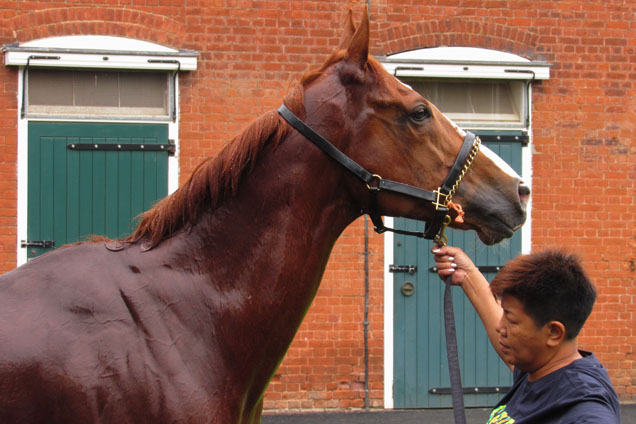 Following an inspection by RV stewards in conjunction with the RV veterinary department, the barn in which Ms Loos' horses are stabled has been declared an "infected place" pursuant to Australian Rule of Racing 89(4) thus requiring the horses within to be quarantined.
Ms Loos' shares the barn with licensed trainer Sonny Coombes, while licensed trainer Chris Calthorpe has also had horses within the stables meaning that the quarantine restriction extends to horses in the care of all three trainers. The quarantine period will be for a minimum of 14 days and until RV veterinarians have approved them for release.
The stewards have advised Ms Loos, Mr Coombes and Mr Calthorpe that they are not permitted to enter horses until otherwise advised and that no horses are permitted to leave their stables unless approval is granted by RV.
In accordance with this ruling, stewards have ordered the withdrawal of the Mr Coombes-trained Swanky Cat and the Mr Calthorpe-trained Krishna Cove from the Geelong meeting tomorrow, 17 July.
On the basis that the barn in question and on-course stabling at Geelong Racecourse are located in a different area to the raceday tie-up stalls and mounting yard, RV's veterinary department are satisfied that tomorrow's race meeting can proceed as planned.
Stewards have also advised that training may continue at Geelong without any restrictions on other stables, however the equine pool has been closed until further notice.
The Geelong Racing Club (GRC) will be undertaking additional cleaning and disinfection of common areas utilised by horses in training including the treadmill and sand rolls. Local trainers are also being advised to maintain a close eye on the health of their horses.
As Naval Envoy raced at The Valley last Sunday, 12 July, the trainers with a horse stabled either side of it in the tie-up stalls, Tony Parker and Donna Mott, have been advised to also maintain a close eye on the health of their horses.
Following a review by RV stewards and veterinarians, Mr Parker and Ms Mott's horses have not been placed in quarantine as the risk of transmission having occurred on raceday was deemed low. Furthermore, it was noted that Naval Envoy travelled to the races in Ms Loos' float without another racehorse.
Strangles is an infectious bacterial condition that is transmitted via direct contact between individual horses and/or through indirect contact in several ways. Contaminated feed, water, bedding, stables, stable utensils, halters, brushes, boots, clothing and transport vehicles are important in the spread of infection.
Strangles usually causes upper respiratory tract disease, but can also affect the lungs. It is highly contagious although rarely fatal.