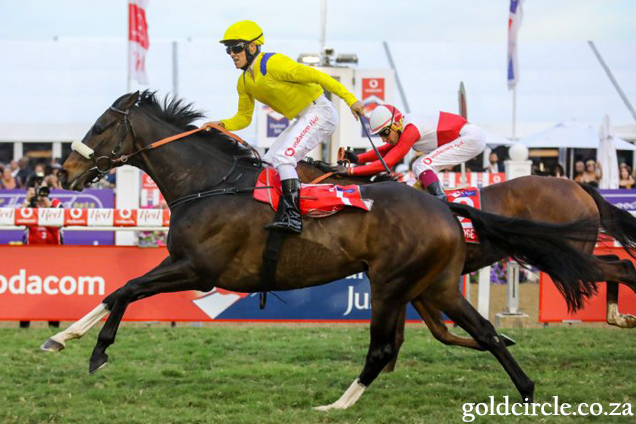 It is a handicap so many horses get their chance. Do It Again became a hero winning it again in 2019. What does the 2020 Durban July (2200m) at Greyville have in store?
2020 DURBAN JULY - RACE HISTORY AND BACKGROUND
The Durban July is a Grade 1 race run under handicap conditions at Greyville.
The Durban July is run over 2200m. It was first run in 1897 and won by Campanajo over a mile and run for 500 sovereigns.
This is acknowledged as South Africa's biggest race, similar to the Melbourne Cup being a staying handicap.
The race distance has gradually increased from 1800m in 1913 to 2000m in 1915 then in 1941 it was 2100m and in 1970 the current 2200m.
This feature South African thoroughbred horse race is held annually on the first Saturday of July – hence the name. It was delayed to the end of July however in 2020 due to the coronavirus.
The lightest weight carried to win was 38.5kg by Nymagee in 1904 while the heaviest was 66kg by Campanajo in 1898. Since the race went to 2200m in 1970, 12 horses have carried more 55kg or more to win but 7 in recent times.
Two horses ran in the Durban July five times - Gondolier and Beau Art.
Igugu was a brilliant filly unbeaten in her 2011 prep. She was related to Australian horse Honorius.
One of the local champs was Pocket Power and he won the race carrying 58kg in 2008.
In 2019 Do It Again made it back to back wins in the Durban July. He carried 60kg, up 6kg on the year before. The short favourite Hawwaam was a late scratching but it took nothing from the achievement.
Most wins as a trainer is with Sydney Laird who took it out seven times.
The record of four winners was held between Harold 'Tiger' Wright, Anthony Delpech and Piere Strydom until Anton Marcus bettered it in 2018 and also set the South African record of 101 G1 winners on that day.
Some notable winners of the Durban July include Campanjo (x2), Corriecrian (x2), Pamphlet (x2), Milesia Pride (x2), Colorado King, El Picha (x2), Ipi Tombe, Hunting Tower, Pocket Power/Dancers Daughter (D/H), Igugu and Do It Again (x2).
The Durban July was worth $4.25m South African Rand in 2020 due to the impact of the virus.
The 2019 Durban July was won by Do It Again from Rainbow Bridge and Twist Of Fate.