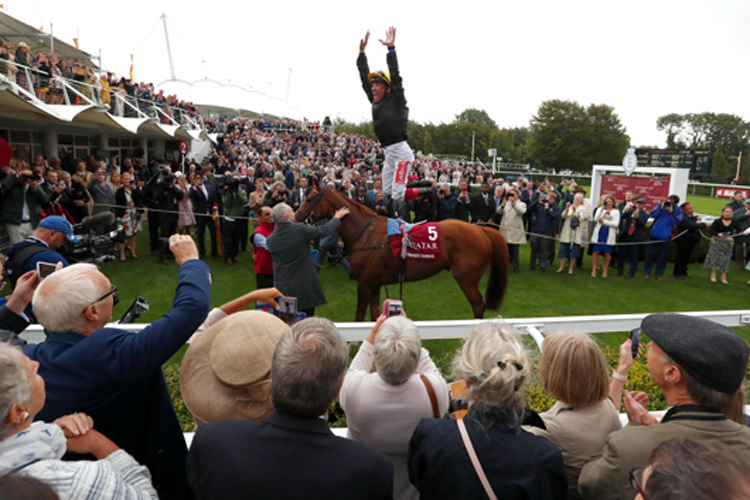 Stradivarius has won the last three editions for the marathon stayers. Is the 2020 Goodwood Cup (3218m) at Goodwood on Tuesday another one for the big names?
2020 GOODWOOD CUP - RACE HISTORY AND BACKGROUND
The Goodwood Cup is a Group 1 race run under Weight For Age conditions for the stayers at Goodwood conducted by the Goodwood Racecourse.
The Goodwood Cup is run over two miles. It was first run in 1812 and was won by Shoestrings.
It is the feature staying race of the Goodwood Festival in late July or early August known as 'Glorious Goodwood'.
Initially a Group 2 race in 1971, it was downgraded to G3 in 1985 but back to G2 in 1995. In 2017 it was awarded Group 1 status.
The Goodwood Cup forms part of the British Stayers' Triple Crown including the Gold Cup and Doncaster Cup.
Many a Melbourne Cup runner has won the Goodwood Cup before heading to Australia.
Double Trigger was joined by Stradivarius in winning the race three times. Stradivarius was in the middle of another dominant season winning the race again.
Big Orange was under two lengths from winning it a third time in 2017.
English soccer hero Michael Owen bred and owned a top young stayer called Brown Panther and he won the Cup in 2013.
Five jockeys have won the race five times – Jem Robinson, George Fordham, Steve Donoghue, Lester Piggott and Pat Eddery. John Scott trained seven winners in the 1800s.
The Goodwood Cup was worth £250,000 in 2020 due to coronavirus.
Notable winners of the Goodwood Cup include Stradivarius (2017/2018/2019), Big Orange (2015/2016), Brown Panther (2016), Opinion Poll (2011), Yeats (2006/2008), Distinction (2005), Persian Punch (2001/2003), Kayf Tara (1999), Double Trigger (1995/1997/1998), Further Flight (1991/1992), Ardross (1981), Le Moss (1979/1980), Proverb (1973/1974), Zarathustra (1956), Alycidon (1949), Marsyas (1946), Brown Jack (1930), Merman (1899), Count Schomberg (1896/1897), Isonomy (1879), Doncaster (1874), Virago (1854), Canezou (1849/1850), Charles The Twelth (1841/1842), Harkaway (1838/1839), Glencoe (1834), Priam (1831/1832) and Fleur de Lis (1829/1830).
The 2019 Goodwood Cup was won by Stradivarius from Dee Ex Bee and Cross Counter.