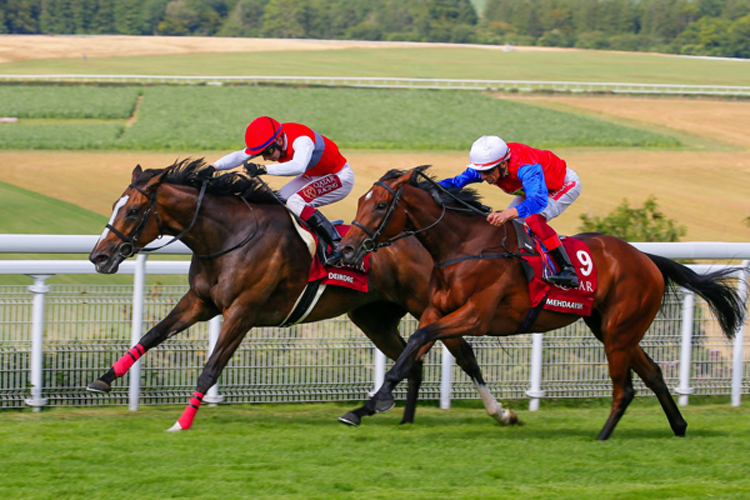 Deirdre from Japan took it out. What will the 2020 Nassau Stakes (1985m) at Goodwood on Thursday provide?
2020 NASSAU STAKES - RACE HISTORY AND BACKGROUND
The Nassau Stakes is a Group 1 race run under Weight For Age conditions for the fillies and mares at Goodwood conducted by the Goodwood Racecourse.
The Nassau Stakes is run over almost a mile and a quarter. It was first run in 1840 and was won by Rosa Bianca.
After initially being for 3yo fillies in 1840, older mares could run from 1975.
It was a Group 2 from the start then a Group 1 in 1999. The original distance was a mile then a mile and quarter in 1900 before the small reduction in 1911.
It is run during the Goodwood Festival in late July or early August known as 'Glorious Goodwood'.
The name Nassau relates to the association between the former owner of Goodwood racecourse, the 5th Duke Of Richmond and the Netherlands Royal Family (House of Orange-Nassau).
The Nassau Stakes is the follow on from the Falmouth Stakes and before the Yorkshire Oaks in the pattern.
The Nassau Stakes was not run during the War years.
The fillies did win 11 in a row from 1993 but since then, it has been around 50:50.
Nat Flatman and Sir Gordon Richards have most wins with six as a rider while Sir Henry Cecil has eight as a trainer including Midday.
Midday is the only mare to win three times in 2009/2010/2011 for Cecil and Tom Queally.
The race had international attention in 2019 when the Japanese G1 winning mare Deirdre railed home to win.
The Nassau Stakes was worth £250,000 in 2020 due to coronavirus.
Notable winners of the Nassau Stakes include Deirdre (2019), Winter (2017), Minding (2016), The Fugue (2012), Midday (2009/2010/2011), Ouija Board (2006), Alexander Goldrun (2005), Russian Rhythm (2003), Islington (2002), Ryafan (1997), Ruby Tiger (1991/1992), Roussalka (1975/1976), Aunt Edith (1965), Happy Laughter (1953), Saucy See (1925), Winkipop (1910), Cherry Lass (1905), Pretty Polly (1904), Sceptre (1902), La Fleche (1892) and Virago (1854).
The 2019 Nassau Stakes was won by Deirdre from Mehdaayih and Rawdaa.