Unbeaten in three starts, Clairvoyance only faced three rivals on Saturday, but that didn't take away from her performance, as she again gave the clock a nice hammering.
Bounced straight to the front by Chris Parnham, she had the race won a long way out, dropping them at the 200m and drawing clear to score by 5.3L.
While some may query 'what has she beaten' the fact is she's already dominated the best two fillies in Perth.
At her second start she beat the Gimcrack Stakes winner, Starfield Impact by 20 pounds and on Saturday she beat Sires' Produce winner, Watch Me Dance by 22 pounds.
She is by far and away the best 3YO in Perth and while it is still early days she has quickly established herself as one of the best fillies in the country.
Prior to Saturday she was rated 105, a very high figure this early in the season.
Click here to read the summary of her second start
Following Saturday's success she is now rated 110, leaving her third on the Timeform 3YO Leaderboard.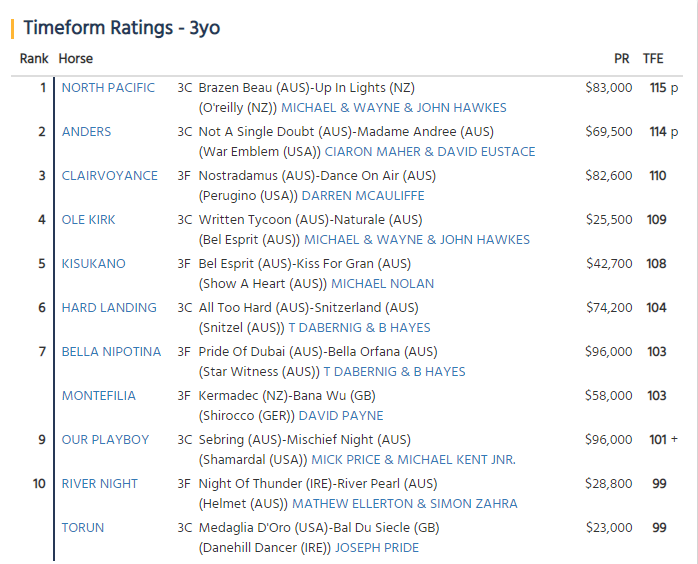 Factor in her two kilogram fillies' allowance and that figure sees her right up to both North Pacific and Anders.
Last season's highest rated filly was Away Game: 114+, while Cellsabeel was rated 110 and Dame Giselle/Personal/See You Soon were all rated 109.
We are yet to see any of these fillies return and they do have a bit of catching up to do, given Clairvoyance has already run that figure as a three-year-old.
As we see every year, the best at two aren't always the best at three as it becomes harder to stay at the top, with many progressing at different rates.
After her second win, I wanted to say she could win the Winterbottom, but reigned myself in as she was yet to be tested beyond 1000m.
Now having ticked that box, she can certainly go very close.
In 2019, Flirtini ran 105 when finishing fifth, in 2018 Enticing Star ran 110 when finishing second, while Viddora ran 115 when successful in 2017. Sheidel also ran 113 when a narrow second in 2016.
She's not quite at that level yet, but given she in essence is still a 2YO (DOB: 25/08/2017), you'd be very brave to suggest she doesn't have more to come.
Sent out at prohibitive odds ($1.30) on Saturday, unless of course you played top tote and got served up the delicious $1.70 on Tatts, she is unlikely to be a betting proposition anytime soon.
Unfortunately, we aren't the only ones who have worked out she is very fast.
Not afraid to campaign his horses in the East, would love to see Darren McAuliffe bring her over for a race like the Coolmore Stud Stakes.
2019 - Libertini (3rd) - 114
2018 - Sunlight (1st) - 116
2017 - Invincible Star (2nd) - 115

While we are yet to see the "Big Guns" return, on the whole it didn't appear an overly strong crop at two, Farnan being the only horse rated >120.
We anticipate a few will take that next step at three, but she couldn't have done much more to this point and if able to continue her upward trajectory "you don't need a crystal ball to know what the future is for this filly." - line courtesy of the great Darren McAullay.