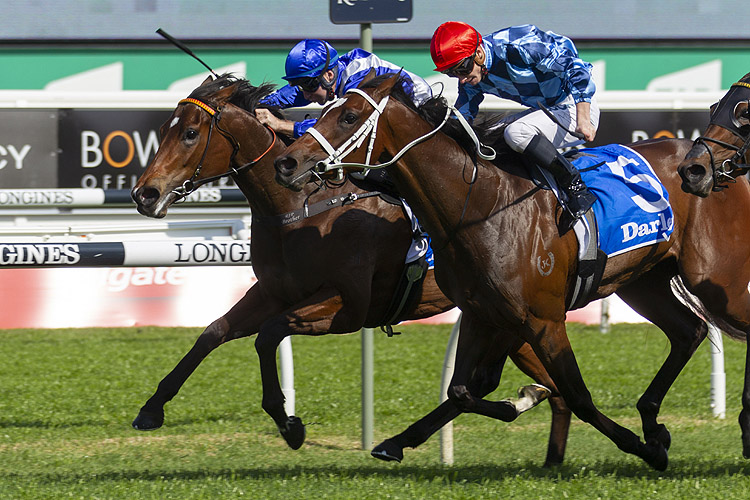 Many have done the double including Funstar last year. Who takes the 2020 Tea Rose Stakes (1400m) at Randwick on Saturday?
2020 Tea Rose Stakes: Nominations
2020 TEA ROSE STAKES - RACE HISTORY AND BACKGROUND
The Tea Rose Stakes is a Group 2 race run under Set Weights conditions for three year old fillies at Randwick conducted by the Australian Turf Club.
The Tea Rose Stakes is run over 1400m. It was first run in 1980 and was won by Dark Eclipse.
The Tea Rose Stakes was always run at Rosehill (bar 1991) but has been at Randwick since 2012.
The Tea Rose Stakes was originally 1400m, then predominantly 1500m until the shortening when moved to Randwick.
The Tea Rose Stakes was Listed until 1982 then Group 3 up to 1985 then Group 2.
This is the traditional lead up to the Flight Stakes. Only three times since 1999 has the Tea Rose Stakes not provided the winner of the Flight.
Foxplay came back in the Autumn in 2017 to win the G1 Queen Of The Turf Stakes at Randwick over The Championships.
Fillies to take the Furious Stakes/Tea Rose Stakes double (17 times) – last time was Foxplay 2016.
Fillies to take the Tea Rose Stakes/Flight Stakes double are Funstar, Alizee, First Seal, Guelph, Streama, More Joyous, Samantha Miss, Cheeky Choice, Ha Ha, Unworldly, Danglissa, Sunline, Assertive Lass, Pontal Lass, Danarani and Angst.
Burst and Ha Ha are the only two Golden Slipper winners to win the Tea Rose Stakes.
The 2007 race was not held due to the Equine Influenza break out.
The Tea Rose Stakes was worth $200,000 in 2020.
Notable winners of the Tea Rose Stakes include Funstar (2019), Alizee (2017), Foxplay (2016), First Seal (2014), Guelph (2013), Streama (2011), More Joyous (2009), Samantha Miss (2008), Cheeky Choice (2006), Mnemosyne (2005), Shamekha (2003), Victory Vein (2002), Ha Ha (2001), Unworldly (2000), Danglissa (1999), Sunline (1998), Stella Cadente (1997), Assertive Lass (1996), Pontal Lass (1995), Danarani (1994), Angst (1993), Burst (1992), Bold Promise (1991), Whisked (1990), Tristanagh (1989), Emancipation (1982) and Dark Eclipse (1980).
The 2019 Tea Rose Stakes was won by Funstar from Probabeel and Libertini.