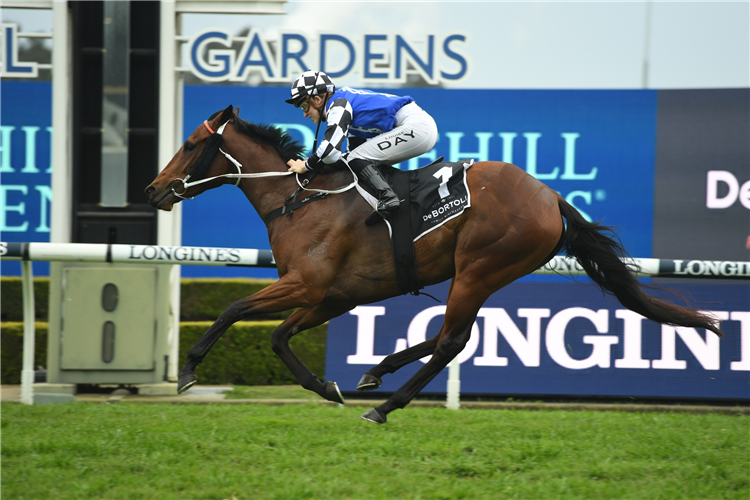 Wandabaa is so consistent and is a $6 chance in the 2020 Tibbie Stakes (1400m) at Newcastle on Friday.
2020 Tibbie Stakes: Final Field, Barriers and Market
2020 Tibbie Stakes: Race History
2020 Tibbie Stakes: Nominations
2020 TIBBIE STAKES – RACE ANALYSIS AND TIPS
Fast tempo as Electric Girl will kick up to hold the rail off the inside gate while Best Stone pushes forward from the extreme outside draw.
WANDABAA (5) is hard fit and in form. Mona Lisa effort when making a sustained run was terrific. ASIAGO (2) only managed to grab her 50m out. She's come a long way in a few months. Awkward alley but has come from behind to win some good races before. Wide open race but deserves to be favourite. ASIAGO (2) was given no respect by the market first-up but a peach by Rachel King helped her take out the Mona Lisa at Wyong a few weeks ago. Very underrated and her second-up form is just as strong. Threat.
ALL SAINTS' EVE (11) has the X factor. Nobody knows how good she is and the booking of McDonald is a big pointer. Watch the market. YAMAZAKI (8) was a sneaky run last time out. She's a talented mare but is dependent on so much luck coming from the back. Will be an each-way price in the race and there is plenty of worse bets than that.
2020 TIBBIE STAKES – SELECTIONS
1st – 5 Wandabaa
2nd – 2 Asiago
3rd – 11 All Saints' Eve
4th – 8 Yamazaki
WHEN IS THE 2020 TIBBIE STAKES?
WHEN: – Race 7 @ 5:20pm AEST
WHERE: Newcastle Racecourse
Racing and Sports has all the form for Newcastle
* Note that betting odds may differ from time of publication

FP
Silk
Horse, Age & Sex
Sire & Dam
Jockey
Trainer
SP
WT

1st

11. ALL SAINTS' EVE (NZ) 4yo M


SACRED FALLS (NZ) - HALLOWEEN (AUS)

JAMES MCDONALD
JOHN O'SHEA
$5.00
56.0kg
M J Chittick, Rosemont Stud Pty Ltd (Mgr: A P Mithen), G J Chittick & Mrs I O'Shea

2nd

8. YAMAZAKI (AUS) 5yo M


REAL SAGA (AUS) - WABEEL (AUS)

TOMMY BERRY
DAVID PFIEFFER
$7.00
55.0kg
D Merola, D E Oates, S W Hackney, D A Vedelago, D Paiva, Rejak (Mgr: R K Kostadinovski), Ms L Beaver, T Bozinovski, J Krsteki, A J Durbin, F Carvana, B Barreto & P Saunders

3rd

5. WANDABAA (AUS) 4yo M


WANDJINA (AUS) - MABKHARA (AUS)

BRENTON AVDULLA
KRIS LEES
$7.00
55.0kg
Australian Bloodstock (L Murrell), Mrs G Smith, P Johnson, Bfp Thoroughbreds, Webb Douglas Racing, Howdy All Racing, A Smith, Ms A Palmer, N Williams, D Horne, Shire Racing, I Trapman, Trendsetters, M Horne, C Brown, A Pratten, J Coghlan, T Macrae & J Lovett
4th
4. INTO THE ABYSS (AUS) 5yo M


FOXWEDGE (AUS) - MOONBOAT (AUS)

NASH RAWILLER
JOHN P THOMPSON
$13.00
56.0kg
5th
14. BEST STONE (AUS) 4yo M


I AM INVINCIBLE (AUS) - DASH ON RUBY (AUS)

REGAN BAYLISS
JOHN P THOMPSON
$41.00
55.0kg
6th
6. HOUSE OF CARTIER (AUS) 5yo M


ALAMOSA (NZ) - SHEZ SINSATIONAL (NZ)

SAM CLIPPERTON
J G SARGENT
$31.00
55.0kg
7th
2. ASIAGO (AUS) 4yo M


MEDAGLIA D'ORO (USA) - DISPUTES (AUS)

MS RACHEL KING
JAMES CUMMINGS
$5.50
57.5kg
8th
18. AIR TO AIR (AUS) 4yo M


SMART MISSILE (AUS) - HONOR NET (NZ)

JASON COLLETT
JASON COYLE
$13.00
55.0kg
9th
3. MISSYBEEL (NZ) 6yo M


SAVABEEL (AUS) - SITTING PRETTY (NZ)

TIM CLARK
BJORN BAKER
$31.00
57.0kg
10th
1. MISS SISKA (AUS) 7yo M


SO YOU THINK (NZ) - SING HALLELUJAH (AUS)

HUGH BOWMAN
MATTHEW SMITH
$9.00
58.0kg
11th
9. STELLA SEA SUN (AUS) 5yo M


REDOUTE'S CHOICE (AUS) - JELLICLES (AUS)

JIM BYRNE
KRIS LEES
$31.00
55.0kg
12th
10. ELECTRIC GIRL (AUS) 4yo M


DECLARATION OF WAR (USA) - ELECTRA (AUS)

ROBBIE DOLAN
GWENDA MARKWELL
$15.00
55.0kg
13th
12. GAME OF THORNS (AUS) 4yo M


ANIMAL KINGDOM (USA) - ONLY ROSES (AUS)

ANDREW GIBBONS
KRIS LEES
$21.00
55.0kg
14th
17. REGIMENTAL BAND (AUS) 4yo M


I AM INVINCIBLE (AUS) - LILLIBURLERO (AUS)

KERRIN MCEVOY
KRIS LEES
$41.00
55.0kg
15th
19. FRENCH RESPONSE (AUS) 5yo M


DALAKHANI (IRE) - FREEDOM BELLE (AUS)

MITCHELL BELL
MARK MINERVINI
$151.00
55.0kg
16th
20. LA LA LOOPSY (AUS) 9yo M


RAHEEB (AUS) - NOMEN (AUS)

REECE JONES
BRYAN DIXON
$301.00
55.0kg