The pair have come agonisingly close to snaring a major twice already in 2020, with seconds in the Doncaster Mile and Winx Stakes, and in what is shaping as a very tactical Group 1 $500,000 Fujitsu George Main Stakes (1600m) Clipperton said he'll need to get his ride inch perfect.
There's a confident streak about Clipperton's riding, though it's frustrating when you're narrowly denied a Group 1, and he makes a significant point about how tough it is to get the better of horses like Verry Elleegant, who just outpointed them in the Winx.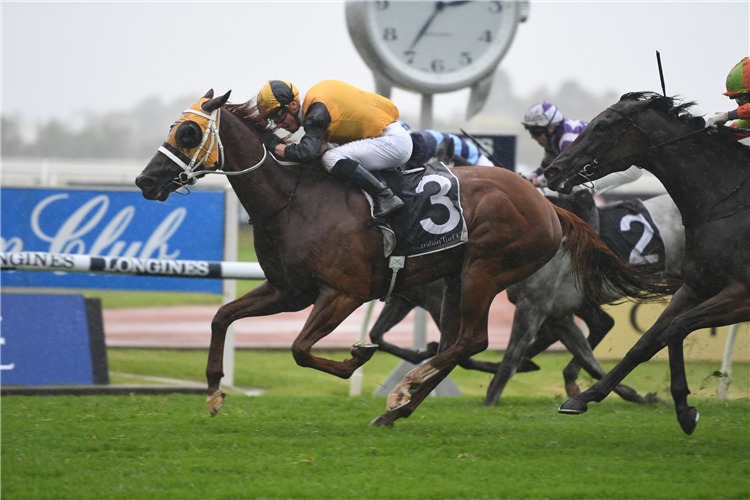 "His Doncaster run was huge, his Winx Stakes run was huge but if you go back a year he was running third in an Epsom and third in The Gong,'' Clipperton said.
"In that year he's definitely improved a few lengths and this spring could be his time.
"He has a very good turn of foot but he might only have it for 250m or so. Mind you I'm not trying to get past benchmark horses, these horses are all proven at the top level and they are no walk in the park to get past."
Verry Elleegant looms large over the George Main as the $2.30 favourite with TAB, she held a half head margin over the Star Of The Seas, $8.50, in the Winx and Clipperton said in that race he felt he had the mare cold at the 200m.
It wasn't to be but he was rapt with the six-year-old's return and said there's only upside for the remainder of the spring.
"It worked out well, Verry Elleegant had a hard run and I was able to follow her everywhere she went,'' Clipperton said of the Winx Stakes.
"I sprinted up to her like I was going to go straight past her but James (McDonald) had something up the sleeve and she was too tough the last 50m.
"My horse would have taken a lot from that run, he's had a nice trial in between and he does perform well on the fresher side.
"I certainly wouldn't swap him, I seem to click with the horse, I love riding him and I hope for the horse's sake and the connections' sake we get across the line with our head in front."
The gelding produced the fastest last 600m of the Winx Stakes, running 35.11 (Punter's Intelligence).
Star Of The Seas has 55.5kg in the TAB Epsom, where he's at $11, and that might be his big chance under handicap conditions but the George Main is the immediate goal and Clipperton said he's going to have to back himself to get the timing right.
"I feel like I'm riding with good judgment and it's only a matter of time before things go my way,'' he said.
"Even though it's a small field sometimes these smaller fields can be harder to ride than larger fields so it will be a tactical race.
"Verry Elleegant looks to be the one to beat but there's a few old soldiers in there.
"Dreamforce will be hard to get past, Kolding's run last start suggests he could be building to something, Avilius is there and Imaging was huge last start. It's a proper race and I'm sure it will be an exciting race."
On Centimental (Tea Rose): "Her win at Newcastle was very good, it looked like she needed that win to get a bit of confidence. She's no doubt a filly that has stakes potential but just lacking in confidence. The barrier draw doesn't help but we might try to find a backside and track into it and finish off strong."
On Irish Songs (Shorts): "He's a horse with quite a lot of potential. The trial was my first sit on the horse for well over a year, I've won races on him and he was a hot, high energy, horse but when I trialled him the penny's obviously dropped with him. He might be a real late maturer and if he was able to get a spot in the Kosciuszko he'd be competitive for sure."
On Clearly Regal (TAB Highway): "I quite like this horse, he has a lovely big action and moves like a horse better than Highway grade. He's a bit like what Irish Songs was like a year or year and a half ago. He's a little highly strung, he trialled up beautifully with the likes of Trekking and Greyworm and franked that by just going down in the Highway. He got to them and I think he probably though the job was done, he has some potential and with any luck in running he's going to be one of the main ones to beat."