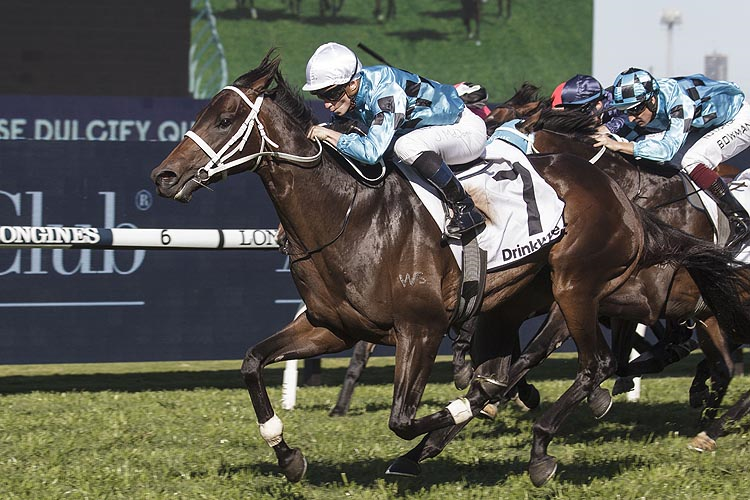 All three tend to have a fair sway on the early market for the Caulfield Guineas, however surprisingly a horse that didn't run in any of them is the early favourite - Mo'Unga.
By remaining in his box he still manages to hold favouritism, which when you think about it, has to be questionable.
I'm just not sure how he is still deemed more likely than Ole Kirk, who has since won a Golden Rose.
It almost suggests that had he run in the Golden Rose, he too would have won, which seems a bit of a stretch.
Surely in early markets you want to lean to what has happened, not what could have maybe/possibly happened.
Unbeaten in three starts he is very promising, though he'd want to be having only won a weak Listed race last start and it's not hard to line up his form.
You can draw a straight line through both Global Quest and Yardstick, who subsequently ran in the Golden Rose on Saturday.
Global Quest was beaten 9L while Yardstick was beaten 11.3L.
In the Dulcify, Global Quest gave Mo'Unga weight and was beaten 1.5L, while Yardstick met him on level terms and was beaten 2L.
I concede it is more how he did it as opposed to what he did, but still, it's a fair leap of faith.
Currently rated 106p by Timeform, he has a bit of catching up to do and you really should be rewarded for siding with him, not paying a premium for his anticipated improvement.
After Saturday Ole Kirk is rated 119, North Pacific 118 and King's Legacy is rated 116.
Of the Melbourne brigade Tagaloa is rated 120, Glenfiddich is rated 115 and Crosshaven is rated 112.
The Golden Rose still looks to be the A1 form, as it usually is.
In the last 10 years, the Guineas winner has run in the Golden Rose five times, not a bad strike rate given they've provided just 20% of the participants.
2018 - The Autumn Sun
2016 - Divine Prophet
2015 - Press Statement
2014 - Shooting To Win
2011 - Helmet
Saturday's race should give Ole Kirk, North Pacific and King's Legacy the perfect platform for the Guineas whereas Mo'Unga faces a tougher scenario.
By electing not to run in the Golden Rose, he will go into the Guineas with four weeks between runs, stepping up to the mile from 1500m.
Take away what you know/already think about Mo'Unga, on the bare form he's only won a Listed race in Sydney, now heads down to Melbourne, first time left - handed, fourth career start against horses who are close to 3L faster than anything he has raced.
Not saying he can't win, I really like the horse, but this just illustrates how hard it is to find value in the All-In markets.
He has such a big hill to climb, you should be getting at least $15 this far out.
The booking of Oliver is a nice push, but if you do like Mo'Unga I suggest you wait, I just can't see him starting favourite on the day.
To mark him favourite in that line up, you are fudging some numbers, I've tried, you just can't.