Race Result:
1st: Miami Bound (J Kah/D O'Brien) - $26
2nd: Shared Ambition (J McDonald/C Waller) - $4.20F
3rd: Oceanex (D Yendall/M Price & M Kent Jr) - $10
Winning Time: 2:39.66 Last 600m: 37.89
Margins: 2½L x ½L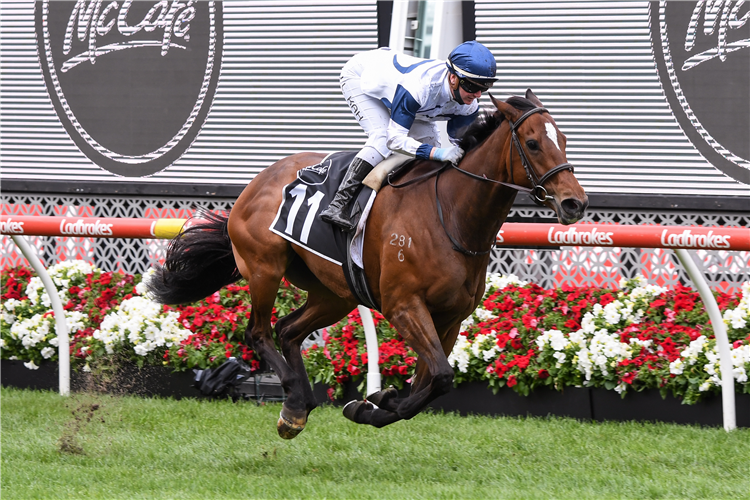 It's Jamie Kah again! Last year's Oaks winner Miami Bound wins the Moonee Valley Gold Cup in stylish fashion. pic.twitter.com/DLRXuM7gkl

— Racing.com (@Racing) October 24, 2020
Winning Trainer: Danny O'Brien
"We've been very happy with her, to be fair, all spring but she's a much better horse when she gets out in distance - a mile-and-a-half at least. Obviously she grows a leg on the soft so there's a few things in our favour today, but we're thrilled to see her win today.
"She gave us a great thrill last spring in the Oaks and it's still a great effort to come back here and beat all the boys in the Moonee Valley Cup.
"We've been really pleased with her but she has been running on firm tracks and probably at unsuitable distances. She was ok in the Herbert Power but that was on a Good 3. Soft 7 today and she grew a leg - she was never going to get beaten."
Melbourne Cup: "I would think she'd definitely be an acceptor now. She won that impressively. When you're that close it is pretty hard not to run. It's more a difficult essay for those fillies that had won an Oaks and come and win a Melbourne Cup, I don't think it's been done for 30 or 40 years. I think we'll be there on the first Tuesday and we'll give it a crack."
Winning Jockey: Jamie Kah
"That was a good win. The best thing about riding for Danny is the horses are so fit. Thank-you for the team for putting me on her again.
"She didn't like being on the rail last start. Daniel Moor said to me the horse is flying. I was going to call him a bad judged after her last start, but like I said I don't think she liked being crowded.
"Today she got the beautiful run down the back straight and it was a tough win."
After riding last start: "I didn't want to go inside horses then because of her last start. I was happy to bide my time, come out wide on her. She is flying, going super.
Beaten Jockeys:
Mick Price on Oceanex: "Today was stand up day. I thought she did stand up after having to do a bit of work early and hitting the front too soon. For her to run third, beaten a short margin, was excellent.
"It's a measure of timing. The soft track was helpful and the Melbourne Cup will be great for that mare.
"A soft track would be good for her and you can see the timing of it is working. Like I said, today was a test and I thought she passed it no problem."
Willie Pike on Selino: "It was a bit of a funny run. I couldn't get him to show any interest and he just followed them around really. It's hard to draw conclusions whether he handled the ground or not. I suppose that's the easy option. We'll have to judge him on his next run."
James McDonald on Shared Ambition: "He ran really well. He's a better ground horse."
Billy Egan on Etah James: "I thought that was a nice run and she's going to get a lot of benefit out of it."
Craig Williams on Hush Writer: "He's not effective on that type of ground."
John Allen on Trap For Fools: "Track is probably a bit soft for him and he's always a query at 2500 metres."
Mark Zahra on Sound: "He went ok. Just thought that when I needed to quicken with the clear air he hit a flat spot and got held up a touch."

FP
Silk
Horse, Age & Sex
Sire & Dam
Jockey
Trainer
SP
WT

1st

11. MIAMI BOUND (NZ) 4yo M


RELIABLE MAN (GB) - ARAPAHO MISS (AUS)

JAMIE KAH
DANNY O'BRIEN
$26.00
54.0kg
D T O'Brien, Mrs J O'Brien, Balmerino Racing Partnership (Mgr: J S Rosham), P J Prendergast, C D Mathieson, J Kanga & Mrs S Kanga

2nd

4. SHARED AMBITION (IRE) 4yo G


BORN TO SEA (IRE) - ALMANSA (IRE)

JAMES MCDONALD
CHRIS WALLER
$4.25
56.0kg
Mrs K I Callander, Saric Racing (Mgr: S Saric), Ms T L Saric, Mrs J C Saric, J V Saric, Miss A E Saric, B F Sokolski, A Stephenson, J M Simmons, J A S L (Mgr: A Rogers), M Phillips, Mrs L Phillips, D M Ackery, Mrs K Ackery, P Webster, S J Katz, D C Seargeant, S M Filipek, M R Duff & W Lasky

3rd

8. OCEANEX (NZ) 5yo M


OCEAN PARK (NZ) - DANEX (NZ)

DEAN YENDALL
MICK PRICE & MICHAEL KENT JNR.
$10.00
55.0kg
L A Wilkinson, Choices Racing, A W Hall, J J Borg, R J Preston, Poseidon Bloodstock Pty Ltd, Mrs S M Worthley, D H Webster, Oz Racing Ocean, M R D Racing, Mike Honcho, B G Hodkinson, R S Dalgleish, K K Cousins, B T Sullivan, S B Fisher, Bonbeach Coterie No 2, B Doherty, A W Bruhn & S W Bruhn
4th
3. ETAH JAMES (NZ) 8yo M


RAISE THE FLAG (GB) - ETAH (NZ)

BILLY EGAN
CIARON MAHER & DAVID EUSTACE
$31.00
56.0kg
5th
1. GALLIC CHIEFTAIN (FR) 7yo H


TAMAYUZ (GB) - KATERINI (FR)

DAMIAN LANE
ARCHIE ALEXANDER
$21.00
57.0kg
6th
7. SOUND (GER) 7yo H


LANDO (GER) - SKY DANCING (IRE)

MARK ZAHRA
MICHAEL MORONEY
$5.50
55.5kg
7th
9. CARIF (AUS) 5yo H


SO YOU THINK (NZ) - NORZITA (NZ)

KERRIN MCEVOY
PETER & PAUL SNOWDEN
$17.00
55.0kg
8th
10. SELINO (GB) 4yo G


CHAMPS ELYSEES (GB) - AIR KISS (GB)

WILLIAM PIKE
CHRIS WALLER
$9.00
55.0kg
9th
12. POLLY GREY (NZ) 6yo M


AZAMOUR (IRE) - ALLANAH (NZ)

JYE MC NEIL
CHRIS WALLER
$8.00
53.0kg
10th
5. TRAP FOR FOOLS (AUS) 7yo G


POET'S VOICE (GB) - OLD MONEY (AUS)

J ALLEN
LINDSEY SMITH
$7.00
55.0kg
11th
6. LEVENDI (AUS) 6yo H


PIERRO (AUS) - LIPARI (AUS)

JASON MASKIELL
PETER GELAGOTIS
$21.00
55.0kg
12th
2. HUSH WRITER (JPN) 5yo G


RULERSHIP (JPN) - STAR OF SAPPHIRE (USA)

CRAIG WILLIAMS
G WATERHOUSE & A BOTT
$16.00
56.5kg