Race Result:
1st: Peltzer (T Clark/G Ryan & S Alexiou) - $2.80
2nd: Prime Star (T Berry/R & M Freedman) - $4
3rd: Real Peace (T Sherry/C Conners) - $26
Winning Time: 1:36.81 Last 600m: 35.98
Margins: 2¾L x Head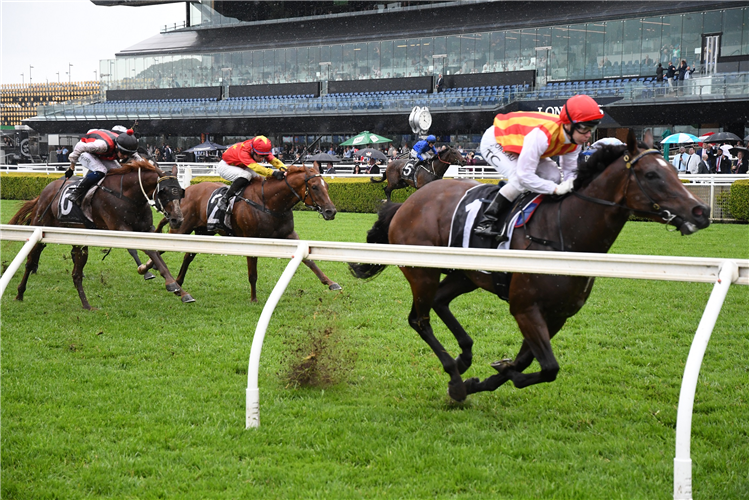 Peltzer takes out the $1M Bondi Stakes with a gun ride from @clarkyhk for @GRyanRacing! pic.twitter.com/emqMBTidY8

— Sky Racing (@SkyRacingAU) October 24, 2020

Winning Trainer: Gerald Ryan & Sterling Alexiou (Gerald comments)
On the conditions: "The conditions were in his favour today with the wet track and a bit of rain around. He got a comfortable lead in front. Timmy rated him well and the way he worked Tuesday morning was sensational."
On the horse: "He's just a good colt. It just didn't work in the Golden Rose but there is plenty of money around in races just off the top. I reckon next year as a 3yo, races like the Stradbroke are right up his alley."
On winning a million dollar race: "Not many horses win five out of eight. Not many horses win four out of four at Randwick. He keeps up on the speed. He's just a nice colt."

Where to next: "He's had 26 days off since January. He'll go out MOnday and he'll have a nice spell. He may improve or hold his own. He's a horse who could improve. He has a great attitude for a colt and come back a nice horse in the Autumn. There is so much to pick from in the Autumn for good 3yos. It worked for Trapeze Artist. The Stradbroke is a handicap so be patient and placing him right."
Winning Jockey: Tim Clark
On the wet track: "The wet track really played into his hands, he revelled in that ground. I think that was the reason he didn't look quite as impressive the other day, because of the ground.
"Getting his toe right into it today he was just a different horse. He really quickened well at the 300m when I asked him and put the race beyond doubt pretty quickly."
On the horse: "He was tried against the best three-year-olds and probably just came up a little short. Smart play by Gerald and Sterling, just coming back that notch.
"He's a Group 2 winner and now he has won a million dollar race so I think it was really smart planning by them and they deserve a lot of credit.
On his future: "Going forward, now that he has shown he can run out a strong mile, he's got a really nice attitude, he doesn't worry about things and he's a beautifully natured horse to ride.
"In the autumn where generally we do get wet tracks I'm sure he will be able to measure up to some better races."
Beaten Jockeys:
Tommy Berry (Prime Star): "Just beaten by a better horse. He had a beautiful run. Thought we were the winner at the top of the straight but the winner found too much."
Nash Rawiller (Acrophobic): "Never comfortable on the ground really. He was there to go up and join the winner but as soon as I asked him for an effort, he floundered in the ground."
Regan Bayliss (Street Dancer): "He has come to the end of his prep. He is not favoured on this sort of ground. Still whacked away nicely."
Rachel King (Namazu): "Really struggled on that heavy track but he will be a nice horse going forward."
Tom Sherry (Real Peace): "Huge effort. He will be a nice horse next prep over a bit further."
Koby Jennings (Stylebender): "He actually ran pretty good. Once he gets gelded and over 2000m. I know he was a massive price today, he wasn't that bad."
Robbie Dolan (Elizabeel): "She ran really well. She will be more effective on a drier track. She copped a bump out of the gates and she just didn't settle in the mid-stages. Should be better next prep."
Brenton Avdulla (Red Stiletto): "Struggled in the ground."

FP
Silk
Horse, Age & Sex
Sire & Dam
Jockey
Trainer
SP
WT

1st

1. PELTZER (AUS) 3yo C


SO YOU THINK (NZ) - MISS OTTO (AUS)

TIM CLARK
G RYAN & S ALEXIOU
$2.75
57.0kg
Nms Racing (Mgr: D J Raphael), N L Pinder, Mrs C A Pinder, S M & Mrs S L Layton, A T & Mrs R K Rastall, Miss L K Barrett, G Pratt, I C Burford, Mh Wood,garyan

2nd

2. PRIME STAR (AUS) 3yo G


STARSPANGLEDBANNER (AUS) - BARINKA (NZ)

TOMMY BERRY
R & M FREEDMAN
$4.00
57.0kg
C Lamond, P Byrnes, Z Byrnes, J A Wilson, K Wilson, C J Lawlor, Mrs L C Lawlor, S A Tilley, M Barakat, S A Aboud, A J Newhouse, M J Blundell, Mrs D Ipkendanz, Dr T Steel & China Horse Club Racing Pty Ltd

3rd

6. REAL PEACE (AUS) 3yo C


REAL IMPACT (JPN) - KIROVSKAYA (AUS)

TOM SHERRY
CLARRY CONNERS
$26.00
57.0kg
VICTORY LODGE (C E & M CONNERS), M D HEAD, L W KIDD, J GIDDY, OKAMI THOROUGHBREDS (S T ROBINSON) & VIZZONE RACING (J J VIZZONE) DUGONG (JJ VIZZONE)
4th
9. ELIZABEEL (AUS) 3yo F


POWER (GB) - NOW AND AGAIN (NZ)

ROBBIE DOLAN
J G SARGENT
$4.50
55.0kg
5th
4. STREET DANCER (AUS) 3yo C


PRIDE OF DUBAI (AUS) - DANEHILL SMILE (AUS)

REGAN BAYLISS
ANTHONY CUMMINGS
$26.00
57.0kg
6th
3. ACROPHOBIC (AUS) 3yo C


DISSIDENT (AUS) - SENSE OF HITE (NZ)

NASH RAWILLER
JOHN O'SHEA
$7.00
57.0kg
7th
7. STYLEBENDER (NZ) 3yo C


TAVISTOCK (NZ) - MARY D'OR (FR)

K JENNINGS
BRYCE HEYS
$151.00
57.0kg
8th
5. NAMAZU (AUS) 3yo C


MEDAGLIA D'ORO (USA) - EARTHQUAKE (AUS)

MS RACHEL KING
JAMES CUMMINGS
$21.00
57.0kg
9th
10. RED STILETTO (AUS) 3yo F


SIZZLING (AUS) - GLORIOUS RED (AUS)

BRENTON AVDULLA
ANTHONY CUMMINGS
$31.00
55.0kg