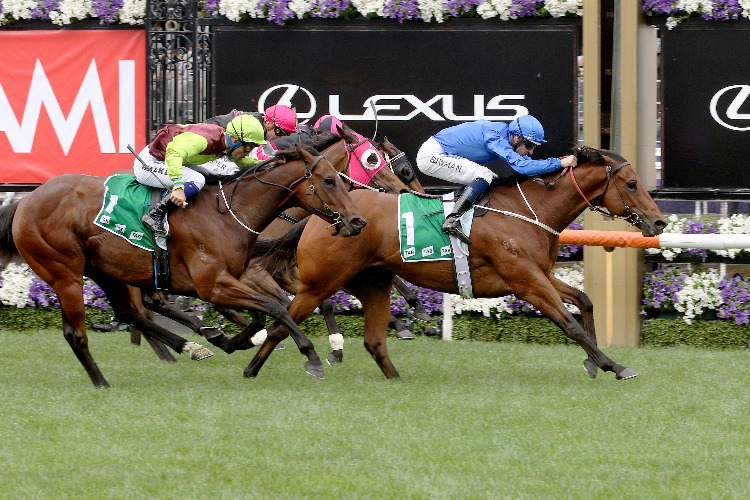 Osborne Bulls was always in the big races but couldn't win one. Is the 2020 Linlithgow Stakes (1200m) at Flemington on Saturday going to provide one?
2020 Linlithgow Stakes: Nominations
2020 LINLITHGOW STAKES - RACE HISTORY AND BACKGROUND
The Linlithgow Stakes is a Group 2 race run under Handicap conditions for the sprinters at Flemington conducted by the Victoria Racing Club.
The Linlithgow Stakes is run over 1200m. It was first run in 1868 and was won by Gulnare.
The race has been named as the Tab Stakes since 2014 after several name changes but was the Linlithgow Stakes for the vast majority of its existence.
Early runnings of the Linlithgow Stakes were over six furlongs then up to seven from 1887, a mile from 1908 then back to seven furlongs in 1968 until 1992. It has been 1200m since.
The Linlithgow Stakes was a Principal Race then a Group 2 from 1979.
This used to be run later in the carnival but moved to Derby Day from 2008. The history of the race is slightly distorted with the winners of the race at WFA included and the records swapped with that of the now Darley Classic.
Last horse to do the Linlithgow Stakes/VRC Sprint Classic Cup week double was Glamour Puss in 2005.
After winning this race in 2018, Osborne Bulls would create history by running second in five straight G1s in the Autumn.
The Linlithgow Stakes was worth $300,000 in 2020.
Notable winners of the Linlithgow Stakes include Osborne Bulls (2018), Deep Field (2014), Fontelina (2012/2013), Eagle Falls (2009), Hot Danish (2008), Magnus (2006), Glamour Puss (2005), Fastnet Rock (2004), Choisir (2002), Belle Du Jour (2001), Pharein (1999), Toledo (1998), Mahogany (1996), Redelva (1988/1990), Placid Ark (1987), Campaign King (1986), Always Welcome (1978), Scamanda (1974/1975/1976), Vain (1969), Wenona Girl (1963), Sky High (1962), Noholme (1959), Wiggle (1958), Prince Cortauld (1954), High Caste (1940/1941), Ajax (1937/1938), Chatham (1931/1932/1933), Phar Lap (1930), Amounis (1926/1927/1929), Violoncello (1922), Gladsome (1904/1905), Carbine (1888/1889) and Barbelle (1870/1871/1872).
The 2019 Linlithgow Stakes was won by Kemalpasa from Order Of Command and Zoutori.