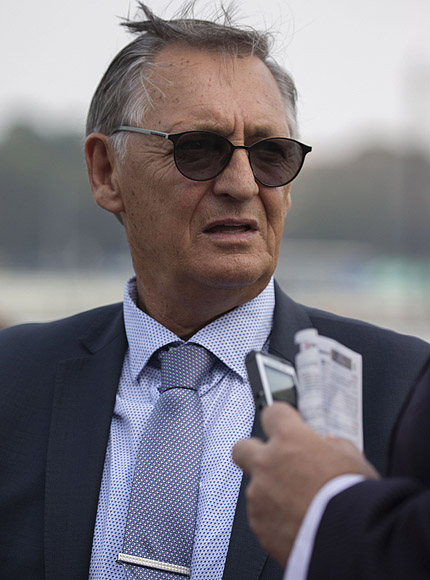 Thoughts on Wild Ruler after Flemington trial last Thursday: "I thought he trialled pretty good actually. He is a naturally freegoing horse but he wasn't over the top but had a good look where he was going."
"I think there is no substitute if you give them that trial before you race them here. It is a big advantage and I'm happy with the way he went."
"He'd need to be. This is the hardest race of all. It is the grand final for a lot of horses. It will be a cracking race. I am happy with his progress. I am more happy with him this prep than I am with him last prep. He is a more seasoned horse now. He travelled down really well. He has been down here for a bit over a week now and he has settled in beautifully. He trialled on Thursday so only a bit of easy work this morning but he was nice and relaxed which was good to see because he can get over the top and get running hard. Really happy with how he has settled in."
"I think he has shown good natural improvement. His two-year-old prep he was going well but I think he is a more mature horse now. He is relaxing better, he is giving himself a better chance to find the line and that will be important here over the last 100m on Saturday."
Thoughts on King's Legacy after Guineas disappointment: "I look back everyday since that and I can't work it out at all. It just wasn't him, he has never ever run a bad in his life. His lead ups, his two runs heading into it were perfect. The horse travelled down perfect and was spot on on gameday but just finished well below his best."
"We've done every test you can name. We've scoped him, we've X-rayed him, we've trotted him up, we've had bloods done and we could find nothing wrong with him. It is a bit of a head scratcher why but I suppose the hoodoo of Caulfield sometimes - I don't believe it but I've got to put it down to something because I can't find nothing wrong with the horse. He had a trial on Thursday, he trialled excellent. His work this morning, Glen Boss rode him this morning, had a feel for the horse and he feels terrific and looks really well."
"I am just going to put that run behind him and back his ability and say he is going to go into that race with a great chance on Saturday."
"Not many three-year-olds run in this race. I won't say it was frustration because he was third-up in the Guineas and I won't say that he was going one too many, it was only fourth-up, so I'd like to think that his best runs are still to come. Judging by what I saw at Caulfield I'm sure there's another good one in him."