Race Result:
1st: Mrs Beckham (M Ellerton & S Zahra/Damian Lane) - $4.20
2nd: Moor Wanted (P Chow/Mrs Laura Lafferty) - $26
3rd: Capodanno (Shea Eden/Jye McNeil) - $8
Winning Time: 1:18.04 Last 600m: N/A
Margins: 2¼L x Nose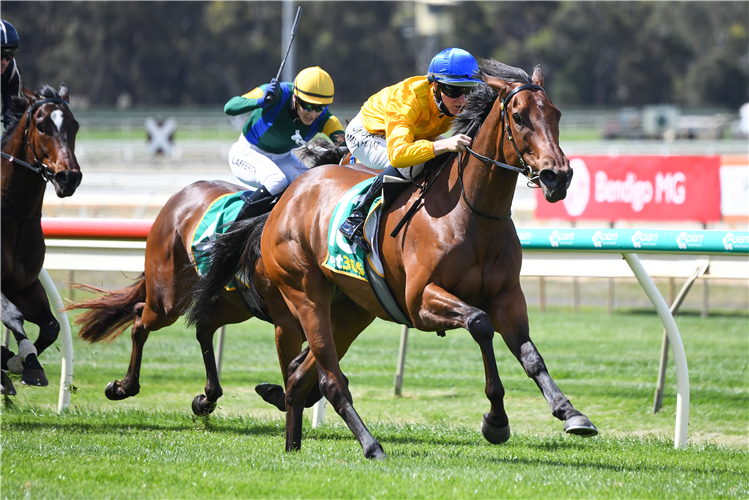 Mrs Beckham made it look easy. @LaneDamian @ellertonzahra pic.twitter.com/Frt4pVwaGZ

— Racing.com (@Racing) October 28, 2020
Winning Trainer: Mat Ellerton & Simon Zahra
"He (Lane) was always planning to go forward. Didn't spend a penny, got into a lovely spot. Just peeled out at the right time. Just gave her plenty of time to balance up and she went through her gears nicely.
"She didn't quite come up (after) her run at Sandown - sort of knocked her up a bit. Then she was pretty average at her next couple of starts. So we went her up to the farm, just gave her three weeks up there so her coat can come out a bit. Her two runs back since then have been outstanding.
On their farms: "We've got David Moodie's farm, Yungaburra, then we've got out pre-trainers and obviously we send horses up there to spell but also to freshen up in the paddocks during the day. We do take some into Kyneton and gallop on the grass there a couple of days a week, as well.
"We're just expanding like everyone else. We're trying new things and the freshen ups really seem to be working with a lot of our horses. You can keep them up longer, you can run them for nine or ten months of the year now just with freshen ups and things like that. Doing all of that pre-training and doing all of that for raceday, you can do that twice a year and it takes its toll.
"The less you have to do that the better and the better the return if you can keep them up longer."
What's next: "The was confidence booster so we'll find a race maybe at Sandown or just wait and get her through the summer and get a bit of prizemoney."
Winning Jockey: Damian Lane
"She made it easy for me. She jumped well and travelled strong. She's a mare with a little bit of talent that has taken a while to come to hand this prep, so hopefully now she can go on with it.
Is the more this time in: "Hopefully. She's not quite back at her best where she was once-upon-a-time but hopefully she'll get there now."

FP
Silk
Horse, Age & Sex
Sire & Dam
Jockey
Trainer
SP
WT

1st

13. MRS BECKHAM (NZ) 4yo M


TORONADO (IRE) - POSH (NZ)

DAMIAN LANE
MATHEW ELLERTON & SIMON ZAHRA
$4.25
57.0kg
K J Hickman

2nd

4. MOOR WANTED (AUS) 6yo G


WANTED (AUS) - MARSTON MOOR (AUS)

LAURA LAFFERTY
PETER CHOW
$26.00
58.0kg
J Mackenzie, Davross Syndicate, Desperate Diva Syndicate, P Johnson, R Smedts, B Smedts, J Smedts, A Smedts, K Smedts, S Finlayson, C Finlayson, S Bishop, C Bishop, J Bishop, D Bishop, A Summerville, G Chow & S Chow

3rd

2. CAPODANNO (AUS) 5yo G


DECLARATION OF WAR (USA) - STATEN ISLAND (NZ)

JYE MC NEIL
SHEA EDEN
$8.00
60.5kg
K H Eden, T A Wilson, S J O'Rourke, G P Heffernan, J Quirk, D J Cooper, V Del Nigro, A Macnee, N J Cox, T Rae, T G Kelly, D H Herbert, C Scheibel, J Campbell, B W Tonks, G Willoughby, Keep It Hush (Mgr: E Minutello), One Chain (Mgr: G A Hislop) & Rebeie (Mgr: S H Eden)
4th
7. JESTA DREAMA (AUS) 7yo G


BON HOFFA (AUS) - JEST DREAMIN' (AUS)

BEN ALLEN
WENDY KELLY
$41.00
58.5kg
5th
9. DUNE FIELD (NZ) 4yo G


SHAMEXPRESS (NZ) - SAHARA DESERT (AUS)

LUKE NOLEN
JAMIE EDWARDS
$11.00
58.0kg
6th
12. DIAQUIN (NZ) 4yo M


SACRED FALLS (NZ) - PINOT GRIS (NZ)

WILLIAM PIKE
NIGEL BLACKISTON
$13.00
57.5kg
7th
8. SHADOW GODDESS (AUS) 5yo G


SMART MISSILE (AUS) - CLASS APART (AUS)

BILLY EGAN
PATRICK PAYNE
$12.00
58.5kg
8th
10. EXCELIDA (AUS) 4yo M


EXCEED AND EXCEL (AUS) - LADY SAYYIDA (NZ)

DAMIEN OLIVER
T DABERNIG & B HAYES
$10.00
58.0kg
9th
3. CHIPSAREDOWN (AUS) 5yo G


REDENTE (AUS) - LUJAWAY (AUS)

MICHAEL RODD
SYLVIA THOMPSON
$12.00
60.5kg
10th
6. KENT STREET (AUS) 6yo G


SWINGING BACHELOR (AUS) - PARADE OF DREAMS (AUS)

MICHAEL POY
PETER CHOW
$41.00
59.0kg
11th
14. PART TIME LOVER (AUS) 5yo M


ZOUSTAR (AUS) - PALOMITA (GER)

JAMIE KAH
MATHEW ELLERTON & SIMON ZAHRA
$9.00
56.0kg
12th
11. IGNITER (AUS) 5yo G


SNITZEL (AUS) - ROYAL GLOW (AUS)

JAMIE MOTT
R & M GRIFFITHS & DE KOCK
$101.00
58.0kg
13th
5. HEIRBORN (NZ) 4yo G


CHARM SPIRIT (IRE) - ZALOOT (NZ)

MARK ZAHRA
A & S FREEDMAN
$6.50
59.0kg
14th
1. SMART ELISSIM (AUS) 5yo G


SMART MISSILE (AUS) - NOBODY BUT YOU (AUS)

MATTHEW CARTWRIGHT
T DABERNIG & B HAYES
$21.00
60.5kg