Race Result:
1st: Princess Jenni (David Brideoake/Jye McNeil) - $TBA
2nd: Pondus (Joseph O'Brien/Damian Lane) - $TBA
3rd: Haky (Archie Alexander/Jamie Kah) - $TBA
Winning Time: 2:29.32 Last 600m: N/A
Margins: Short Head x 2L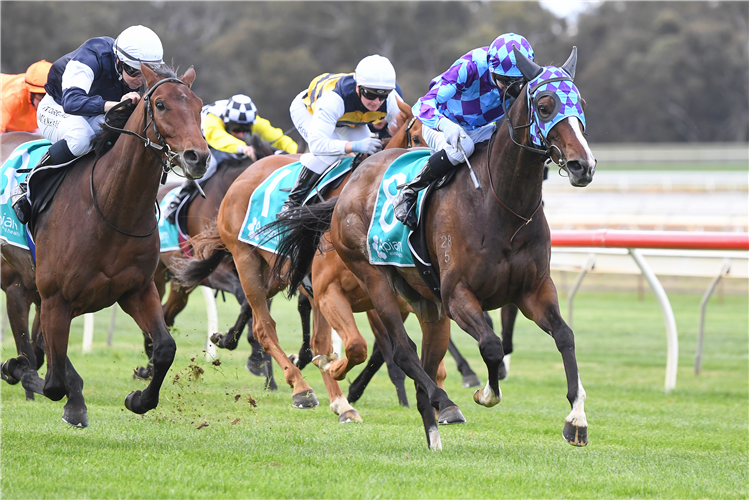 Wow, Princess Jenni, what a win! In a miraculous performance, she beats home Pondus and Haky in the Bendigo Cup! @Country_Racing @RacingInsider @BendigoJc pic.twitter.com/dqzYaaNYji

— Racing.com (@Racing) October 28, 2020
Winning Trainer: David Brideoake
"Terrific. She's such a good horse and, honestly, this preparation she hasn't done anything wrong, she's just had a series of gates and bits and pieces that didn't allow us to get a result. But, today it is a good result.
Ear Muffs on: "Her first couple of runs this time were with ear muff and then we took them off when we were back at the mile and put them back on today."
For the owners - Tony Ottobre: "They'll be so happy. It's a good job. He puts his money in, he buys nice horses and he's had good success. Just lately we've had good success and it's fantastic."
What's next - Matriarch Stakes: "That's possibly where we're going to go."
No temptation to try for the Melbourne Cup: "We just didn't get enough mile-and-a-half work into her. There's always next year."
"She's just such a good horse and I knew she was in good shape, to lift like that. But the ride, the ride was outstanding."
Winning Jockey: Jye McNeil
Geelong and Bendigo Cup in seven days: "It's great. Her form probably wasn't going the best into it but a small little gear chance and everything going well during the racing she put her best foot forward and was quite a nice performance, I thought
Up to 2400m wasn't a problem: "I was travelling so well before the turn that I nearly fell into the trap of improving too early but she was starting to peak a little bit on her run late. The race was over by then and the way things went during the race it was just perfect."
Has he been able to cut himself some slack with weight since Cox Plate: "I've got to get back down for Odeum in the Empire Rose this weekend but after that I can get back into my tucker and drinks."
Beaten Jockeys:
Willie Pike on Zebrowski: "I had better memories last year (winning). He had his chance. He just wasn't good enough today."
Damien Oliver on Saracean Knight: "He ran well. He had his chance."
Damian Lane on Pondus: "He ran well. He had his chance."
John Allen on Furrion: "He travelled like the winner, just might be a half run behind."
Michael Dee on Inverloch: "Might be feeling the effects of a couple of firm tracks. He's a horse that goes better on softer ground."
Jamie Kah on Haky: "Really good run. He's just not jumping well. He missed the start and that probably cost us, honestly. I think he probably would have won if he jumped cleanly and was on the pace. "

FP
Silk
Horse, Age & Sex
Sire & Dam
Jockey
Trainer
SP
WT

1st

8. PRINCESS JENNI (NZ) 5yo M


HIGH CHAPARRAL (IRE) - GLITZABEEL (NZ)

JYE MC NEIL
DAVID BRIDEOAKE
$26.00
56.5kg
A Ottobre, Mrs L Ottobre & M Ottobre

2nd

3. PONDUS (GB) 4yo G


SEA THE MOON (GER) - DIABLERETTE (GB)

DAMIAN LANE
JOSEPH O'BRIEN
$3.75
59.0kg
N C Williams, Mr & Mrs L J Williams, A L & Mrs B A Green, B N Singer, M Ruff, P Mehrten, C L Marks, V J Sammartino, M S Gudinski, M D Wizel, J A Ingham, Jacobsen Bloodstock P/L, M J Symons & G Ryan

3rd

1. HAKY (IRE) 6yo G


MUHTATHIR (GB) - MARAH DUBAI (FR)

JAMIE KAH
ARCHIE ALEXANDER
$12.00
59.0kg
Oti Racing (Mgrs: T Henderson & S Driscoll), J Paltridge, Mrs C Weston, J Boyd, A & Mrs P Goodfellow, Mrs T Joel, R Koch, D Miller, L Webb, Ms D McKeown, N Webb, N Wilson, R Menchise, Oceans Six Racing, Maverick Racing, Mimor & Vmed Racing
4th
13. SARACEN KNIGHT (IRE) 5yo G


CAMELOT (GB) - ZA'HARA (IRE)

DAMIEN OLIVER
DANNY O'BRIEN
$5.50
55.0kg
5th
6. ZEBROWSKI (NZ) 4yo G


SAVABEEL (AUS) - POLISH PRINCESS (GB)

WILLIAM PIKE
MICHAEL & WAYNE & JOHN HAWKES
$6.00
58.0kg
6th
16. REALM OF FLOWERS (AUS) 4yo M


SO YOU THINK (NZ) - ASTRAL FLOWER (GB)

BILLY EGAN
A & S FREEDMAN
$26.00
55.0kg
7th
11. GOOD IDEA (AUS) 6yo G


SO YOU THINK (NZ) - FAINT PERFUME (AUS)

MICHAEL POY
PHILLIP STOKES
$16.00
55.0kg
8th
17. RED ALTO (AUS) 8yo G


HIGH CHAPARRAL (IRE) - LA SANGRE (AUS)

DEAN HOLLAND
BRENT STANLEY
$151.00
55.0kg
9th
15. JACK REGAN (GB) 5yo G


ROCK OF GIBRALTAR (IRE) - CHELSEY JAYNE (IRE)

ZAC B SPAIN
TRENT BUSUTTIN & NATALIE YOUNG
$61.00
55.0kg
10th
12. MASAFF (IRE) 4yo G


RAVEN'S PASS (USA) - MASIYMA (IRE)

MICHAEL WALKER
CHRIS WALLER
$8.50
55.0kg
11th
10. MIDTERM (GB) 7yo G


GALILEO (IRE) - MIDDAY (GB)

PATRICK MOLONEY
M & L CERCHI
$67.00
55.0kg
12th
18. LOFTY HEIGHTS (AUS) 6yo G


HIGH CHAPARRAL (IRE) - NOBENTLEYFORME (AUS)

H COFFEY
JULIUS SANDHU
$101.00
55.0kg
13th
7. FURRION (GB) 5yo G


CAMELOT (GB) - ACQUAINTED (GB)

J ALLEN
T DABERNIG & B HAYES
$21.00
57.5kg
14th
4. INVERLOCH (IRE) 6yo G


FASTNET ROCK (AUS) - IDEAL (GB)

MICHAEL DEE
TRENT BUSUTTIN & NATALIE YOUNG
$21.00
58.5kg
FF
14. SUPER GIRL (AUS) 6yo M


SO YOU THINK (NZ) - HAILBELLA (AUS)

JORDAN CHILDS
JOSHUA JULIUS
$15.00
55.0kg